High Country Grizzlies finally arrive in Boone
Football was back on display in the High Country Saturday night, but it wasn't the App State Mountaineers. For the first time in Boone, the High Country Grizzlies, Boone's inaugural National Arena League team, played their first home game of the season at Holmes Convocation Center.
Just a week after picking up their first ever win to start the season 62-29 over Albany, Georgia, the Grizzlies did not fail to entertain the packed crowd for the first home game, but ultimately fell short 48-42 to the Lehigh Valley Steelhawks despite multiple comeback attempts.
"We are so blessed to be a part of a community that loves football and has a great student environment," Grizzlies owner Donald Thompson said. "App State has been great letting us use the facility and working with us to make this happen. The fans were totally engaged, loud and we had the victory right in our grasp over a more established team. There is no good taste from losing, but we want to come back and be better and stronger. We want our guys to hold their head high and get back to the winning way for next week."
The National Arena League is in its first season as a league, but the Lehigh Valley Steelhawks joined from the defunct American Indoor Football league, where they won the 2014 championship.
Lehigh Valley proved to be a test for the Grizzlies from the get go, pulling ahead 13-0 in the first quarter with a QB keeper run, and then a Grizzlies fumble recovery that was returned 18-yards for the touchdown.
"They got up on 13-0, and we came back and got our groove, but we can't have that and must start well from get-go," defensive back Brandon Fuentes said. "We can grow and learn from it heading into our next game."
Down by double digits, the Grizzlies began to put strong defensive pressure on the Hawks, as defensive lineman Larry Ford picked up a safety with 2:23 remaining in the first quarter to make it a 13-2 game.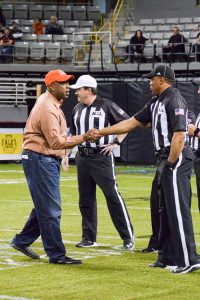 Hoping to use the momentum to get back into the game, Grizzlies quarterback Stephen Panasuk, a week removed from winning offensive-player of the week after a six-touchdown performance against Georgia, threw the first of three interceptions on the night at the end of the first quarter. Panasuk finished the night with five touchdowns.
"We had a couple of mistakes with turnovers," head coach Josh Resignalo said. "We have to not turn the ball over because possession is important in arena football. Possession is important in any game of football. We are young and have a bunch of fighters, and they kept grinding and finding a way, and that is what we have to do to win."
Having a handful of former App State Mountaineer football players, recent graduate and fan favorite, wide receiver Malachi Jones electrified the crowd with a 20-yard touchdown reception with 11:48 remaining in the first half, to bring the Grizzlies within four, 13-9.
"The fans are the reason you play the game," Jones said. "This game is not made unless we have fans. This whole game is about the fans. I love it, and I will sit here two, three, four or five hours signing autographs. Without the fans, we don't exist."
Ford continued to spark the defense with a fourth down sack in the second quarter, and Panasuk drove the Grizzlies back down the field, throwing a one-handed touchdown pass to wide receiver Mackenzie Williams to take the first lead of the night, 15-13.
Just a minute later with 2:43 remaining in the first half, Panasuk threw another 29-yard touchdown pass to another former Mountaineer wide receiver, Dexter Jackson, for a 21-13 lead after missing the two-point conversion.
With a tie ball game at 21-apiece at halftime, the fans were ecstatic with Jones and Jackson, who scored a memorable touchdown in the 2007 Michigan game, scoring first half touchdowns.
"They're former Mountaineers, great players and great people," Thompson said. "When you put it all together, it gives that weaving we need to create that fan base we are looking for. We will continue to look for people with that App State heritage to further their pro career."
Panasuk opened the second half throwing his third interception of the night, leading to a 42-yard touchdown pass from the Hawks, for a 28-21 lead. Failing to answer, the Hawks pulled ahead 34-21 with 4:01 remaining in the third for their second double-digit lead of the night.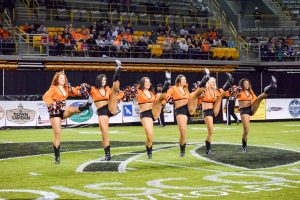 However, a stellar fan base would not let the Grizzlies back down.
"I thought the crowd was great, and I am glad we got the crowd that we have and can spread the word," Resignalo said. "The crowd got going and was loud, and for an away team to face the "ninth man," I was excited about that. Hopefully they can go back and take something from this and share it to come out next week."
Jones used the fan support to catch a 30-yard touchdown pass, his second of the day, from Panasuk just a minute later to bring the score to 34-28.
"This type of game is quick paced and fast going," Jones said. "In outdoor football, two TD's means a lot. Sometimes guys score four to five in arena ball. But anytime you score double TD's is a great day. I thank my quarterback and offensive line."
In the fourth quarter, the Grizzlies took advantage of Lehigh Valley's missed field goal attempt, and wide receiver Daron Clark caught a 25-yard TD to regain the Grizzlies lead 42-34 with 6:13 to play.
"It's big to comeback from double digit deficits twice," Fuentes said. "It shows how much heart and passion we have. This is the type of game we have to have a short memory. You have to come back the next play and get after it."
With 3:46 remaining in the game, Lehigh Valley scored a long touchdown on third down, but missed the two-point conversion to trail 42-40.
Looking as if the Grizzlies would put the game away, the Grizzlies turned the ball over on downs, leading to a Steelhawks wide-open touchdown to take the lead 48-42 with 19.3 seconds remaining in the game.
"In that situation it was tough, and we did a great job in putting ourselves in position to score," defensive back Daniel Lee said. "But we didn't come out on top and we have to come back next week and be ready for the next game."
Unable to get a game winning drive, the Grizzlies fell to 1-1 on the season in their first ever-home game, but are leaving with an optimistic mindset.
"Give 100 percent effort every day. I felt our team did that, and everyone left everything on the field today. It wasn't for a lack of effort or skill," Thompson said.
"We had a couple of breakdowns that didn't go our way, and if they did, we would have won. Those are things in sports you have to take accountability for and clean up, and the outcome will be better next time."
The Grizzlies will return to Holmes Convocation Center on April 1 to take on Dayton at 7 p.m.
Story By: Jason Huber, Sports Editor 
Photos By: Lindsay Vaughn, Staff Photographer