Under a water oak tree in Morganton, amongst a peaceful landscape surrounded by tall trees and rolling hills, Chris Markey turns on his chainsaw. 
Markey works in the thriving craft industry creating wood carvings that he sells in galleries, such as Mountain Made Gallery in Asheville, or at craft festivals. 
"I grew up in rural Michigan. They had a small festival in Maple Rapids, and one year they had a chainsaw carver come to the festival," Markey said. "I have this childhood memory of the carver being the center of attention. Everyone thought it was really cool, and they all talked about it at school for the next few days." 
Once he moved to North Carolina, Markey picked up chainsaw art and wood carving as a hobby. It took him a year to begin to feel confident in his craft. Though people began to purchase his statues, he said he was still nervous that he was going to mess it up.
"I've done live chainsaw carving at festivals. My first festival I ever did was in Taylorsville, earlier this year," Markey said. "I had a friend visit me, and I looked at him as I fired up my chainsaw and I said 'I have no idea what I'm doing.'"
Prior to his career in carving, Markey worked as a quality technician and a computer numerical control operator.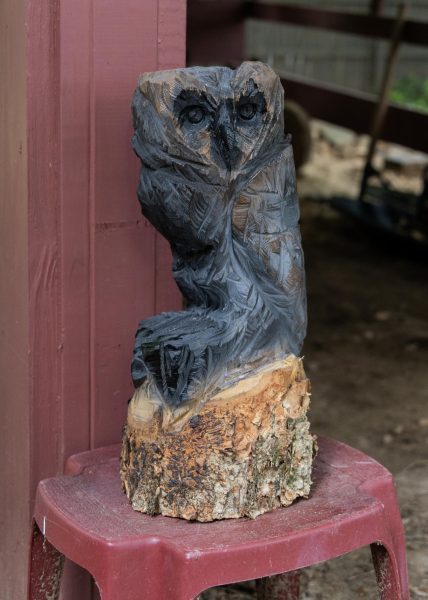 "Although I was really applying myself in the field I was working, I didn't think it was going to go anywhere," Markey said. "I made the decision that working in the craft industry would be a better work experience for me in the long run."
Despite the fact that Markey left the manufacturing industry, he still sees connections in what he does today.
"I noticed that a lot of people knew a lot more than me in certain areas, but I am a lot more of a safety-minded person," Markey said. "It's especially important being self-employed because if you were to hurt yourself, then you don't have a corporation to back you up."
Markey's creative process usually begins with taking note of the type of tree he's working with.
"The straighter the tree, usually the better for standard carvings. A lot of the time I work with trees that have knots, and what I try to do is envision how I can integrate an animal or something while keeping the knots," Markey said. "I especially look at the knots and the wood grain, and if there's a feature I think will look pretty in the end, I try to keep it."
Once he's finished the main carving, he fine tunes the details with a chisel or a small knife and stains the wood before putting it on display. 
Since chainsaw carving is a niche topic, Markey started his journey by watching YouTube videos.
He watched videos by Canadian chainsaw artists Ryan Cook and Chainsaw Chad, who are based in Michigan.
"Locally, I particularly admire the work of a Maggie Valley location carver who goes by Mountain Mike," he said. 
Markey's family has been a driving force in his carving career. His father made sign carvings, and Markey can see parallels from witnessing his father interact with customers when he was young to how he interacts with customers at festivals. 
His wife and kids also help him as he creates. While he does his live carvings at festivals, his wife interacts face-to-face with the customers. His son strips the bark off of the logs, moves things around and loads the wagons. In exchange, Markey teaches him how to whittle, passing on the knowledge his father once gave him to the next generation.