Hunter Greer: student created clothing line, 'Pissed Off Kids'
As Winter Storm Jonas swept through Boone in mid-January, students were forced to stay indoors and wait for a break in the weather. Trapped in his house and alone with his thoughts, one student began planning for his future and was inspired to start his own clothing line.
Hunter Greer, a senior journalism major, said the idea to start his line Pissed Off Kids developed within three days. After the idea originated, Greer began manufacturing his street wear and looking to market his brand.
"Deep inside of us, there is a pissed off kid somewhere," he said. "It's often viewed as immature or naive, but we all have the right to be upset about something. And I don't think it's anything we should be afraid of, so I thought, 'Why not wear it on your chest?'"
Greer acquired his start in the fashion industry two and a half years ago when he began working in Charlotte at Brooks Brothers. It began as a Christmas break job, but was later extended to full-time.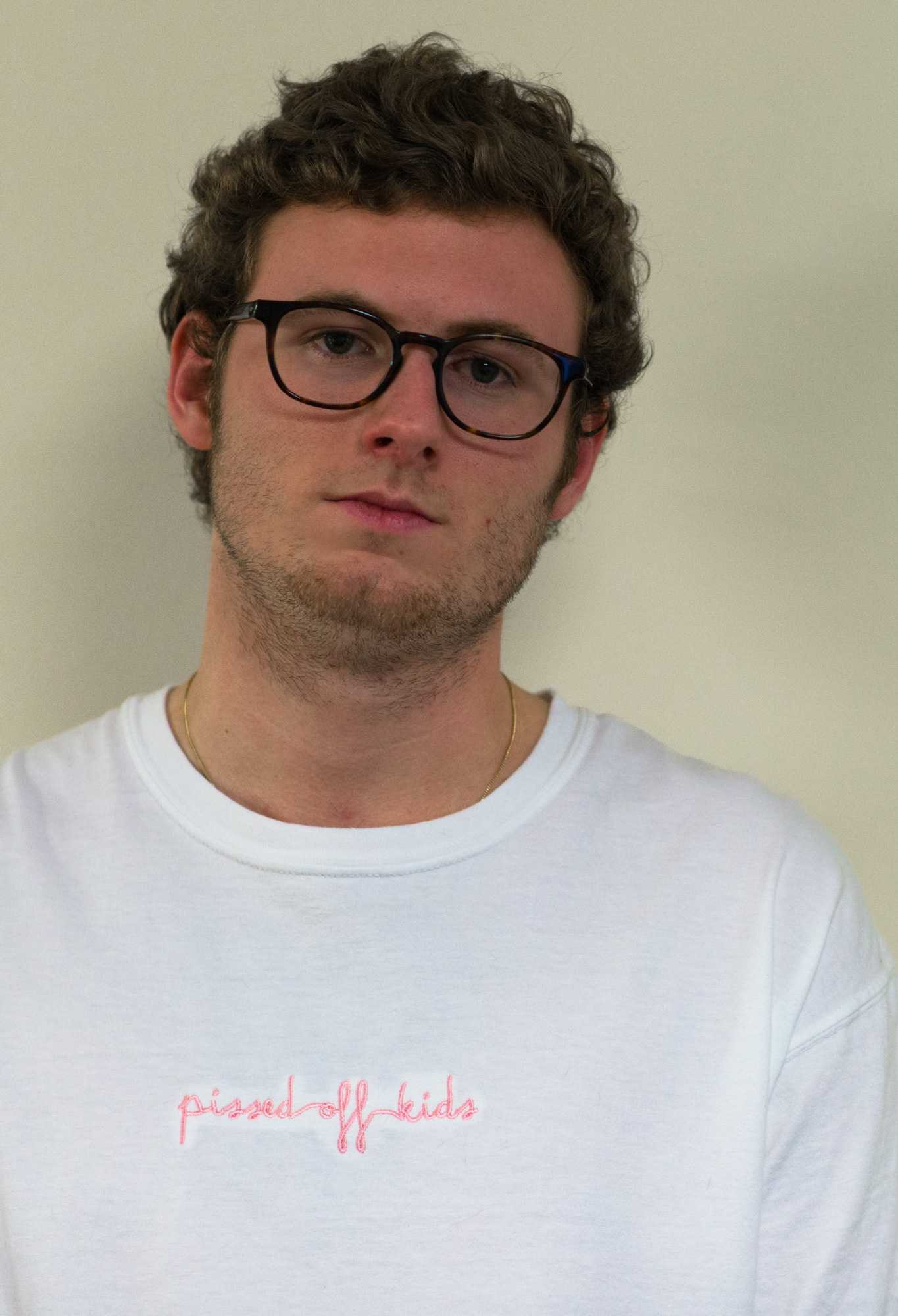 "I walked in and I asked [for a job]. They gave me an interview and I called them every week for three months," Greer said.
His own personal style and brand, however, draws style inspirations from artists such as Ian Connor and A$AP Rocky because "They're not afraid to express themselves and let their personality shine through what they wear," Greer said. "They dress in a way that's entirely free of the judgement of others and that's who I strive to be."
The line currently consists of the brand's logo on a T-shirt, however, hats, crewneck sweatshirts and other items will be added soon. The items are designed on a computer by Greer and are made in Charlotte.
Greer has sent items from his line to celebrities such as Ian Connor, Playboi Carti and Bryson Tiller in hopes that they will wear and endorse his brand.
Locally, Pissed Off Kids has grabbed the attention of Greer's fellow students, including freshman athletic training major Nicholas Meegan. Meegan liked the idea behind Pissed Off Kids because the general sense of indignation and resentment towards society that a lot of today's youth has is reflected in the brand. He said that because Greer is a friend it makes him want to support Pissed Off Kids even more.
"The way he's approaching it, making sure the product he puts out is going to be quality stuff," Meegan said. "Pieces that people are going to want to wear and that will last are really cool, it shows he isn't taking it lightly, he really wants to do this right."
The concept and construction behind the line makes his designs unique, Greer said. He sells garment dyed T-shirts, which is a process where the shirt is dyed after it has already been made. Most companies screen print, which Greer said makes the prints fade, but not the shirt itself.
"It allows the product to fade and age with time, and most companies don't do that," Greer said. "We're doing the opposite, the embroidery doesn't fade, the T-shirts do."
Josh Biggerstaff, a high school friend of Greer's, is also helping with the brand. Biggerstaff had reached out to Greer about buying a shirt, but Greer invited Biggerstaff to stake a claim in the company.
"Hunter explained what the brand was about and it was definitely something I could get on board with," Biggerstaff said. "Pissed Off Kids is Hunter's brainchild."
Thus far, Biggerstaff's role in the company has been to curate the products. In addition, he is in contact with a fashion blog for promotion of Pissed Off Kids and will assist with designing in the future.
So far, Pissed Off Kids has produced two main orders. The first order consisted of 26 shirts and all were sold.
The shirts currently come in four colors: light blue, light pink, white and acid wash black. They are $25.
"After multiple washes, your Pissed Off Kids garment-dyed tee will have a look and feel unique to you," Greer said.
Greer is working to create a website, but anyone can purchase a shirt by contacting him through his social media pages and by email.
Story by: Rachel Brunner, Marketing Desk