Cameron "Cam" Hunter, sophomore molecular biology major and App State track team member, lives almost 304 miles from the Florence-devastated North Carolina coast, but the will to make a difference stands close. Collecting thousands of water bottles for survivors, Hunter is far from being finished.
Starting as a conversation with fellow resident assistant and sophomore recreation management major Caitlyn Brewer, days before Hurricane Florence hit North Carolina's coast, Hunter turned App State's hopes to help the coast into a reality. Brewer, passionate about having empathy for those no matter the location, is appreciative of her and Hunter's teamwork to start the cause.
"I was a part of the initial conversation and idea, and he moved forward with his water bottle drive," Brewer said in an email. "Cam is extremely passionate and extremely driven. He had this idea, and he has ran with it full force."
Hunter made it clear he had to do something to help, ignoring the five hour drive to eastern NC. He knew his position as athlete could truly make the RA's and his dreams a reality by calling Pierre Banks, App State football alumnus and director of student-athlete development.
"I told myself, 'what is there that I can do to help out?'" Hunter said. "(Banks) thought it was great, so he ended up stating, 'well, if you can get the water, I'll find you a source of transportation, and I'll get you an area to put them in.'"
Before Banks allowed water to be stored in Kidd-Brewer Stadium, Hunter collected cases of water in his dorm, lining the walls of the room.
"I filled my closets with them," Hunter said. "I put them anywhere I could."
At the beginning of the water drive, Hunter and his team collected 410 cases in four days. The group has recently taken a break in collecting water and donations, regrouping after receiving almost 14,000 water bottles from 545 cases.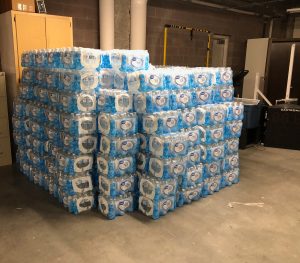 "We don't necessarily have a limit yet. We plan to keep going for a while and will probably start sending them off sometime next week," Hunter said. "We're looking for drop off locations now."
Sophomore english major and App State Popular Programming Society member Sarah Kelley said she is ecstatic with the group's success so far and with Hunter's leadership and friendly personality. Many from Kelley's coastal hometown of Wallace, North Carolina, were affected by Florence, so she finds pride in the water drive's efforts in helping small communities.
"Knowing that I am here and can't help breaks my heart, so participating and helping Cam with this mission was so important," Kelley said in an email.
Kelley met Hunter through APPS and they later became best friends. Now, she is not only a friend, but a fan of Hunter's charity work and mindset.
"When he wants something done a certain way he is definitely not afraid to tell you (but honestly with something like this who isn't)," Kelley said in an email. "This water drive is personal and seeing him so passionate about helping others he doesn't even know makes me so proud of him."
While friends and family are proud of Hunter and his accomplishments so far, Hunter is proud to go to a school that supports minorities so highly. After being accepted to UNC-Chapel Hill, North Carolina State and UNC-Charlotte, App State was an easy pick for Hunter.
"I chose App State because they chose me," Hunter said. "There's so many opportunities for minorities. Any other school, I'm thinking, 'maybe I wouldn't be able to do this.'"
Along with being the head director of the water drive, Hunter serves as an athletic senator in student government and the residential association council for Bowie Hall. He is also a member of APPS and Habitat for Humanity.
Hunter takes App's athletic slogan "Make an Impact" seriously not only on the track, but everywhere.
"I'm more than just an athlete and use that slogan throughout any organization or club I'm in," Hunter said.
Besides the numerous possibilities Hunter saw and chased at App, he said he felt at home with his twin brother and high school peers at the school. He is satisfied and motivated here in Boone.
"I'm happy that I'm here," Hunter said. "Go App, let's make an impact."
Story by Emily Broyles
Photos courtesy of Cam Hunter
Featured photo caption: Cam Hunter's dorm room crammed full with water bottles. Hunter is the creator of "MAKE AN IMPACT," an initiative to collect 25,000 water bottles to support the victims of Hurricane Florence.