Indigenous Alaskan chef visits App State, serves food
On Wednesday, a guest chef who has served a variety of meals to famous individuals including former president Barack Obama visited App State and served a menu of dishes to students.
Rob Kinneen served the Indigenous Alaskan menu to students at Rivers Street Cafe, hosted by Campus Dining.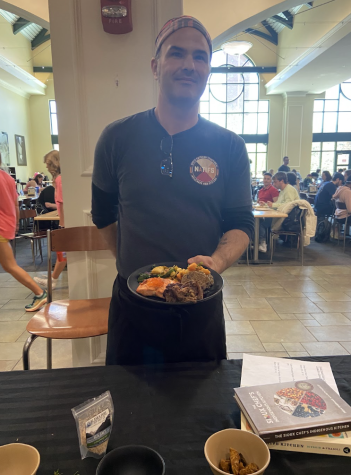 Kinneen served gluten and dairy-free cedar-sumac braised bison with wojape sauce. He also offered a vegan entree — three sisters, which is a dish made of corn, beans and squash, with hominy, roasted squash and beans. A number of sides were prepared to accompany his dishes.
Kinneen is an indigenous Alaskan with Tlingit heritage. He attended culinary school and lived in New Orleans and Durham before going back to Alaska to learn about preparing farm-to-table regional foods.
He said that 96% of Alaska's food is imported, making Alaska a "food desert."
"It's kind of a disconnect being Tlingit with 10,000 years of heritage on a piece of land in a food desert," Kinneen said. "That's when I kind of started focusing on that aspect on traditional foods from regions."
Kinneen became passionate about using regional food before he took the job as outreach director for Native North American Traditional Indigenous Food Systems, known as NĀTIFS. He said he partnered NĀTIFS to "start focusing on regional and local flavors."
Kinneen has served dishes to famous chefs, made several television appearances and has authored a cookbook titled "Fresh Alaska Cookbook." He has also worked on projects that involved food security and food sustainability.
The dishes were served to students from 10:45 a.m. – 2:30 p.m.
Junior health care management student Luke McLellan said he liked the dish. 
"I think overall it was pretty good," McLellan said.
Student Sergio Coloma also said what he liked about the dishes, saying the greens in the wilted kale with roasted apples and pumpkin seeds were "excellent."
At App State, Kinneen focused on using regional and local sources of food to Alaska in his dishes served in the dining hall to express heritage and tradition.
 "All these flavors are special," he said.