Marching band festival draws high school bands from across the region
Braving cold and rainy conditions, the Rho Tau chapter of Phi Mu Alpha Sinfonia fraternity hosted 20 high school bands on Saturday for the 38th annual Appalachian Marching Band Festival.
Bands arrived from across the region to compete, from Myrtle Beach, South Carolina to Abingdon, Virginia. Festival performance categories were based on band size, A being the smallest and AAAAA being the largest.
An audience made up of parents and friends cheered them on from the stands in Kidd Brewer Stadium. Estimated attendance at the festival was around 4,000 people.
Wendy Moran, a parent of a percussionist in the Dan River High School marching band, said that she greatly enjoyed coming to Appalachian State for her son's performance.
"It blesses me to see him succeed at this," she said. "It's very pleasant to be here, to see the mountains and watch the band perform here."
The bands were judged by a panel of 10 music experts who assessed performance visuals, music, percussion, colorguard and drum majors. In a new addition to the panel this year, drum majors from Appalachian State's marching band judged high school drum majors, drawing from their experiences in their own performances and classes.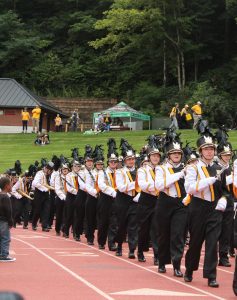 While 34 bands were originally scheduled to perform, adverse weather conditions forced event coordinators and band directors to cancel AAAA and AAAAA category performances and shift the schedule. An exhibition performance from the Marching Mountaineers was also cancelled.
The final awards ceremony gave out awards for categories A through AAA, as well as an award for overall competition winner, known as the Symphonion Cup award. This year's overall winner was Marvin Ridge High School.
Josh Belvin, the band director at Lincolnton High School, said that staff and volunteers at the festival were very knowledgeable, helpful and friendly.
"In spite of the rain, I think they handled the contingency plan very well," he said.
Belvin also said he was proud of his band's performance. "I thought it was one of our stronger performances," he said. "The rain, the colder temperature, how the bands responded to that is a mark of success."
John Sullivan, a junior public relations major and co-director of festival hospitality, has been involved in the festival for three years. He said he enjoys helping run the event.
"It's really nice and fun to see the kids have a good time," he said. "Competing in a place like Kidd Brewer Stadium would be a dream come true, and making that dream happen is really nice."
Story By: Macon Atkinson, A&E Reporter
Photos By: Mickey Hutchings, Staff Photographer