Enthusiasm, passion and drive are all traits that help Appalachian State University's marching band succeed, from game day performances to weekly rehearsals.
The Marching Mountaineers are 289 members strong and work to maintain their title of "North Carolina's Band of Distinction."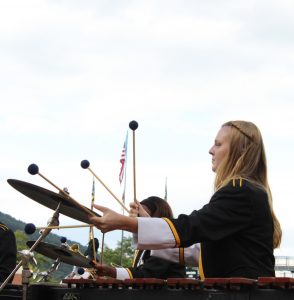 "We take the best of the best," Molly Allman, a sophomore music education major and piccolo player, said. "There's a lot of good sound."
The band is made up of 11 sections, ranging from clarinet to color guard. Roughly 40 percent of the band is comprised of music majors, while the other 60 percent is made up of a variety of majors.

Rehearsals take place on Tuesdays and Thursdays in Kidd Brewer Stadium, or if it rains, in Broyhill Music Center. They consist of a leadership meeting, section warm-ups, music and marching practice. Section leaders are responsible for setting the drills, taking attendance and overseeing visuals. 
But according to Zach Gutierrez, a senior risk management insurance major and mellophone section leader, the majority of detailed rehearsal happens before the fall semester even begins.

Band camp, which takes place the week before classes start, is where band members from "rookies" to "veterans" all prepare for the upcoming semester. Music is distributed for memorization; band leaders work out details for pre-game and halftime shows. Band members practice the 8-to-5 step—the basic movement that covers five yards in eight steps—while drum majors and section leaders supervise. Gutierrez said each day contains around six hours of music rehearsal and three hours of marching.

The band performs at more than just home football games; they also play at Appalachian's Open House, Fan Fest, in the homecoming parade and at bowl games.
"Away games are a different facility and different energy, but it's still an energy that makes you excited," Rebekah Betts, a senior health and physical education major and band advisor, said. "Also it's cool to see the techniques of other bands."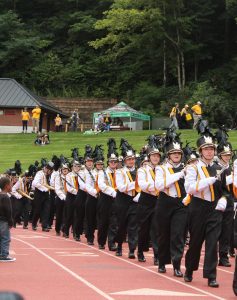 JaQuan Wiley, a senior music education major and drum major, said traveling is a matter of transferring over everything the band already knows. "You just have to take it game by game," he said. "It's fun to see the inner workings of things. You just have to be flexible, and have fun."

But according to Wiley and Gutierrez, there's nothing like a home football game, where the band gets the opportunity to perform several times throughout the day. "Home games are electricity all the way through," Gutierrez said. "It's like a constant stream of energy."

Game days begin with a morning rehearsal, then dispersal across campus to perform for tailgaters. After a quick break for lunch, the band performs a concert on Walker Hall's lawn, which gives fans the opportunity to see up close what the band has been working on. Following that is the pre-game show, where the band marches into the stadium and performs for the crowd.

"Pre-game is lit," Gutierrez said, laughing. "It's amazing to feel appreciated here."
Allman said that during her first game experience as a transfer student, she "teared up during [her] first march onto the field. Playing in that big of an ensemble and being in such an excellent band, it's one of the greatest experiences of [her] life."

Halftime is another opportunity to perform a variety of shows, such as this year's "Earth, Wind and Fire," "Country and Western," or "Veteran's Show," which is reserved for the second to last game in November. The final performance of the day is the post-game show, which is played as spectators leave the stadium. In total, the band's performance schedule begins at 9 a.m. and finishes around 7:30 p.m.

Besides the performance experience, Betts said the marching band also has social and interactive elements that band members enjoy.

"It's a great way to make friends who have a lot in common with you," Allman said. "Everyone is super nice, the leadership is fantastic. Everyone wants you to get better, but we all look out for each other."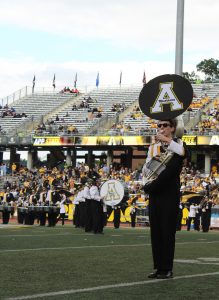 Wiley has an analogy he likes to use to describe band; he compares it to living on a cul-de-sac, surrounded by friends. And that environment of collaboration isn't just limited to within the band; the athletics department, for example, brings ice cream to the band's last rehearsal before the first football game of the season and listens to what they've been working on.

As for what it takes to succeed in marching band? "What you put into classes and rehearsals really sets the mood for your experience," Betts said.
Wiley recommends enthusiasm, passion and drive. "Be open to new experiences, be receptive," he said. "It's truly an experience of a lifetime."
Story By: Macon Atkinson, Intern A&E Reporter
Photos By: Mickey Hutchings, Intern Photographer