Natural Styles: Appalachian student crafts earth inspired jewelry
Spring's hot new trend is one that would make Mother Nature proud just in time for Earth Day: nature inspired jewelry. This season, jewelry and nature are joining to create incredible pieces of wearable art. The natural world has inspired many artists across the world, including Caroline Clark, a senior at Appalachian State University.
Caroline Clark, a psychology human services major and studio art minor, has been involved with art since high school. Clark has always enjoyed art. When she went to college, she knew that she wanted to be a studio art minor.
In the past, Clark would normally experiment with different mediums in the art room. She said she has and always will love trying out new things. One day, Clark decided that she wanted to pick one concentration and stick with it. Clark chose metals.
"I chose metals because of the professor who was there at the time, but then I just really loved it," Clark said. "Metals are cool. Most of the time, you are taking a sheet of metal and changing its form into something that is so hard and tough into something that you can make look delicate."
Each piece is inspired by an outside force, such as a person or nature itself.
One piece in particular that Clark created is very special. Clark was assigned to create a piece that commemorated a person who was important in her life, her grandfather. The tie with Clark, her grandfather and the natural world is that her grandfather had 80 acres of land in Yadkinville, North Carolina, that had many beautiful trees. Clark created a necklace made out of copper, steel and bronze called the "Greenhouse Effect." She fabricated all of the flowers out of wax, and then she cast them into gold bronze.
"I grew up going to his house, at least once a week, and helped him with his gardens and greenhouses. So, I wanted to do a piece that was for him," Clark said. "I cast the dogwood flowers for the North Carolina State flower, and I cast the flaming azaleas because that was his favorite."
Sarah Schrenker, a sophomore global studies major, said that the design of the necklace is unique.
"I think the craftsmanship behind this piece is absolutely stunning. The geometric shapes compliment each other so well," Schrenker said.
At her grandfather's house, Clark found a wasp nest and made the nest into another beautiful piece of art. The wasp nest brooch is a bit more fragile than Clark's other pieces. Therefore, she made a copper back flat piece and prongs to make the wasp nest more sturdy. Then, Clark added crystals into some of the hollowed areas that naturally occur in the wasp nest.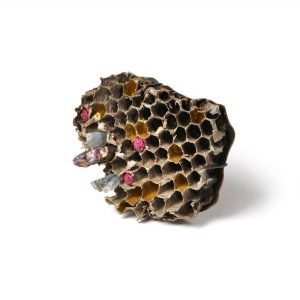 "This is a natural material I found that I used with metal," Clark said.
The wasp nest brooch along with all of Clark's pieces were recently in the Smith Gallery on Rivers Street. Once a year, the Smith Gallery does an art expo where students may submit work in any media. To submit your work, you must submit pictures and a brief description of what the work is and what materials you used. Two jurors review the artwork and decide which pieces will be put on display in the Smith Gallery.
Clark said that the jurors chose 51 out of 500 submissions last year with her wasp nest brooch winning third place.
Another one of Clark's pieces was inspired by her favorite moth, the luna moth.
"We would sit out dark fabric and lights to attract the luna moths," Clark said. "I did that a lot growing up."
The luna moth piece is made with enamels and powdered glass that she fired in the kiln.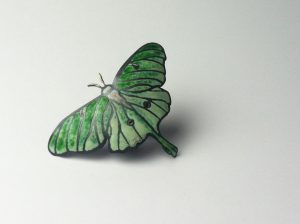 Next, Clark created skull pins, made out of copper and enamel, that were specifically inspired by the High Country.
"The skull pins were inspired by plants and animals in the Blue Ridge Mountains. So I tried to choose plants that were native to this area," Clark said.
Clark said she illustrates her love for nature through her jewelry.
"I feel like Earth day must mean something to me because so much of my work is inspired by nature," Clark said. "Being outside is where I feel most alive and most free. I try to bring that into the studio."
Sierra Bell, a junior English major at Appalachian State University, said that each piece of Clark's is unique.
"They are unlike any art I have ever seen done by a student before," Bell said.
The amount of time Clark spends on each piece varies.
"The necklace, Greenhouse Effect, probably took me four weeks or so. It was a lot of work," Clark said.
Currently, Clark is not selling any of her jewelry, but she is working on a piece for one lucky friend. Clark will graduate from Appalachian State University this December. As for the future, Clark may join the Peace Corps for a bit, and then go on to graduate school, but she will always continue creating art.
Story by; Julianne Blaylock, A&E Reporter