New face, same pace
Do your job: a slogan made famous in the world of football by the New England Patriots, but has been an undertone of sports for ages. If all eleven players on the field do their job, then everything will go according to plan. This is the role that freshman running back Darrynton Evans found himself in early in his career.
Recruited out of New Smyrna Beach High School in Oak Hill, Florida, Evans tallied over 1,600 yards and 25 touchdowns in his final two seasons despite missing six games. He was recruited by an abundance of NCAA Division 1 programs, including Sun Belt rival Georgia Southern, but chose Appalachian State over all of them.
As a freshman, Evans has already been a key factor for the Mountaineers.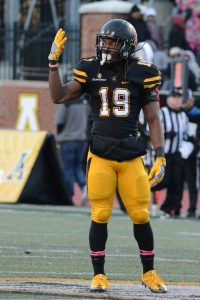 Coming into the season, Evans was the third running back on the depth chart and didn't see a snap in the first game of the season, an overtime loss to the Tennessee Volunteers. Come game two against Old Dominion, in what was the first home game for App State, Evans saw his first collegiate carries.
"I was ready to go," Evans said. "I told my parents it's a big step but I've been playing football since I was six. It's kind of the same thing, just a little bit faster and the people are bigger but at the end of the day it's still football."
He totaled eight carries for sixteen yards on the day in their 31-7 rout of of the ODU Monarchs 31-7. With starting running back Marcus Cox already rolling to start the season recording two back to back 100+ yard rushing games as well as sophomore running back Jalin Moore producing good numbers, nobody really knew who Darrynton Evans was outside of the team.
Next came the biggest home game in Mountaineer football history, a battle against national heavyweight No. 25 Miami Hurricanes of the ACC conference, and 34,658 fans in attendance saw what ultimately was a deflating loss on such a promising day for App. But it was what happened during the game that was potentially worse than the loss itself. Cox was injured in the first half on a long touchdown run, that was called back on a penalty, which caused him to miss the next couple of weeks.
This would bring Evans into a larger role than he expected this season.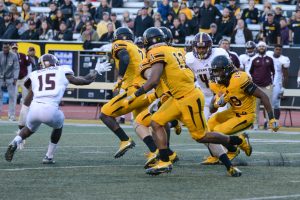 He tallied another five carries ending in eighteen yards, with Jalin Moore receiving most of the carries when Cox went out.
Evans' overall role in the offense would increase against Akron in week four. With several key runs in the game to keep offensive drives alive, along with a 23-yard reception, Evans was feeling good. What could have attributed to his success in the game was his new role in the kick return game.
"Its opening kickoff and you get that first hit out of the way and you don't have to worry about it the rest of the game," Evans said.
He returned six kicks for 154 yards giving in 199 all-purpose yards in the game, good for second on the team behind Moore's 274 yards, en route to a 45-38 victory.
There was certainly no lack of confidence in Evans to get the job done within the coaching staff.
"I had all the confidence in the world in Evans," said running backs coach Stu Holt. "Those guys had a great camp, they all work hard and those guys are all fighting to get on the field and we would be just fine."
After his first game in a bigger role, some might have expected him to stumble a little being a true freshman and not getting the same volume of reps as the other guys. But in the games following the game against the Akron Zips, Evans kept producing in key moments.
Posting 243 all-purpose yards in the next four weeks, Evans found his role with the team.
"What speaks volumes about him is his ability to pick up what we're doing," Holt said. "And to be able to do it at a high level is uncommon for a true freshman, so he's been extremely valuable in the past couple of weeks and certainly look for him to continue to get better."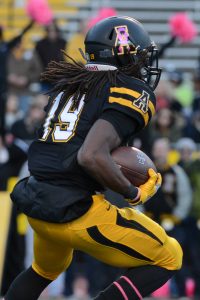 With Marcus Cox returning from injury, Evans can now spread his talents around in the offense, being utilized more in the receiving game as well as rushing and returning.
"We wanted to play him more at receiver," Holt said. "Due to injury he's played more running back than we originally thought. He'll continue to have a big impact in the kicking game and certainly have an impact on offense."
With Cox being in his last year and set to graduate, Evans is looking to be a key contributor of the Mountaineers future.
Only three games remain on the schedule for the Mountaineers, Evans looks to continue coming up clutch when his team needs him and hopes to help lead the team to another Bowl Game victory and Sun Belt championship.
Story by: Taylor Story, Sports Reporter