Next man up mentality
The next-man-up mentality has been key this season for App State men's basketball redshirt junior Craig Hinton.
When freshman guard Kelvin Robinson suffered an injury in early January, Hinton had an opportunity to step in and help fill the void left by Robinson.
Playing in his first eligible season after sitting out last season due to NCAA transfer rules, Hinton's late season minute increase has led to a huge impact during the final stretch of App State's regular season and conference schedule.
Averaging just eight minutes a game through the Mountaineers first 13 games, Hinton has averaged 18 minutes since the start of the new calendar year, and has started six of the last eight games for the Mountaineers.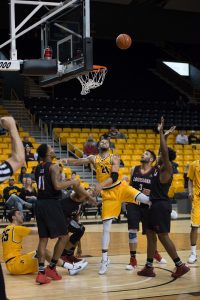 "Losing Kelvin was obviously a big disappointment, but I just wanted to come in and make an impact," Hinton said. "I just wanted to help my team during his absence."
Stepping into a new role is nothing new for Hinton. Originally from Winston-Salem and attending East Forsyth High School where he played under former Mountaineer coach Mike Muse, Hinton chose to attend Virginia Military Institute as a business major and continue his basketball career.
Recruited by current App State assistant coach and then VMI associate head coach Jason Allison, Hinton signed with VMI in 2013, and had to make the quick transition to a college military student and a collegiate basketball player.
"I went through a lot at VMI that not everybody gets to do and go through," Hinton said. "It was really different and challenging, but it was a school that helped me grow as a man. It helped give me discipline, and even though it was difficult, I really learned a lot and benefited from it."
Hinton worked his way up to the starting lineup as a freshman, but after six games, he suffered a knee injury that caused him to miss nine games. When Hinton returned, he had to work his way back into the rotation, only starting two more games that season, but helping the team to a 22-win season.
Hinton averaged 2.6 points his freshman year, but increased to 5.6 points per game and 2.5 rebounds his sophomore season, including a career high 23-point game against Maryland.
Allison would leave VMI after that season to join head coach Jim Fox at Appalachian State, and a year later, Hinton decided to transfer to App State.
"When you bring a player in with what we were trying to inherit here at App, I knew off the bat I didn't have to worry about his character at all," Allison said. "Being a VMI kid, his character is unflappable. He is responsible and has strong accountability. You don't have to lose sleep about him over night. He wants to do his part and win. He is a pleaser."
With the transfer, Hinton once again had to learn another new system, much different than VMI's but similar to his high school's under Muse.
"As a coaching staff we didn't know what position to play him at," Allison said. "Now he has settled in at the three with his size and with the Sun Belt level size. He has been better defensively, but he can guard multiple positions, and is a great shooter."
Coming onto a young team with a handful of freshmen, Hinton's redshirt year gave him the opportunity to put on some weight and learn the system better, but he also had to learn patience.
"Redshirting was the toughest part," Hinton said. "You get so used to playing in the games, and then not traveling with the team can be rough. But it gave me a chance to work more on my game and improve. I gained a lot of weight. I wasn't the biggest player, and I made sure to put on a lot of weight over the offseason, which would really help me on the court defensively."
When the team traveled to Italy during the summer after his redshirt season, Hinton had the opportunity to bond more with his teammates and begin to take on a leadership role with the younger players.
"Italy was a great team bonding experience. Especially working with the new freshmen, it was their first time working with the team and gave us all a chance to bond," Hinton said. "Being young is really good because it will just give us another year to be even better."
Finally being able to suit up for the Mountaineers, Fox's fast-break system that requires the ability to consistently read and set screens was different from VMI's press-and-spot up shooting, and became an adjustment for Hinton.
While only being in his first eligible season for the Mountaineers, Hinton quickly became a leader by example on the court.
"He is a year older, and toughness is something we really wanted to see and I think he showed that," Fox said. "The tough thing for him was he really sacrificed for the team and we asked to play two positions which is really hard. Craig really sacrificed for the good of the team, and when Kelvin was out, he was a major piece in starting for us and getting some victories."
Hinton's minutes began to increase when Robinson went down with a lower body injury, and Fox made the decision to put Hinton in the starting lineup on Feb. 4 against first-place Arkansas State. Hinton racked up a 10-point, 10-rebound double-double, leading to the Mountaineers win.
"He has been working hard on his game and his jump shot," sophomore guard Ronshad Shabazz said. "It was time for him to step up and play, and he took advantage of the opportunity. Coach told him what to do and he took care of business. It definitely helped him confidence wise, and show him it was his time to shine."
Explosive dunks were Hinton's trademark in high school, and Allison said if Hinton can get a fast start in a game, he is hard to stop.
"A lot of it depends on how he starts the game off. If he has a good hustle play early, he gets good vibes," Allison said. "If he feels good early he can really explode throughout the game. He has to get a good mojo."
Hinton may be young and fairly new to App State, but the experience of a military student, the experience of transferring, being a student-athlete and pursuing a career in business has already made him a key piece for the Mountaineers basketball team.
"The maturity level is totally different," Allison said. "He is very responsible, good at leading by example, and he is just different."
Story By: Jason Huber, Sports Editor 
Photos By: Matt Sloyer, Staff Photographer