The nerves begin to set in as show day arrives. The band practiced the day before to make sure they were tight and ready. They hang out and await the time to leave for the venue, something they'll most likely be late for because they waited until the last minute to load up the cars with instruments and equipment.
The band reaches the venue, and hurries up pre-show necessities like setting up the stage and sound checks. Once that's done, all that's left is for them to wait for the crowd to roll in and fill the venue.
Then the four, 20-something-year-old bandmates take the stage, dressed in clothes typical to Boone: a button-down and a military jacket, a plain sweater and khakis, plain T-shirts and graphic tees. Their look is the same on the stage as it is off. They are genuine.
They take their positions with their starting instruments, walk up to the microphone and begin.
"Hey, we're From Bears."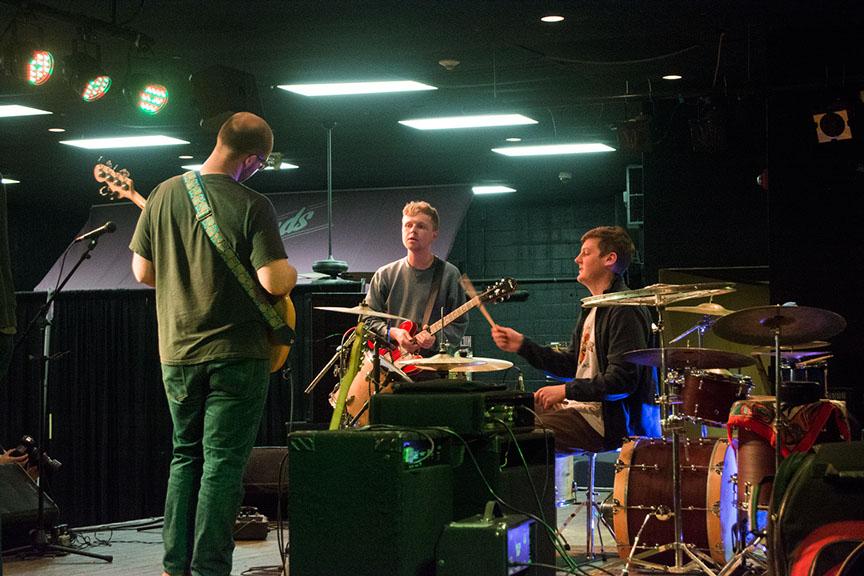 EARLY DAYS
One way or another, From Bears — made up of Ben Taylor, Matt Nemeth, Trent Mason and Doug Little — found music early on. Ben has been playing in bands since high school. Matt's first band came in seventh grade after messing around with a guitar his dad had bought, but didn't play anymore. Trent can trace his love back to listening to music as a kid with his mom, and his dad had an old acoustic guitar.
Doug came to music early as well, but only started playing after his dad started teaching guitar full-time after being laid off from work. With guitars all over the house and half-speed AC/DC being taught to middle-schoolers, the then-fifth-grader Doug made music a part of his identity.
Raleigh-born, Ben came to Appalachian State University hoping to find others who wanted to be in a band. Ben and Matt were roommates freshman year and met Trent the same year before forming a little band called The Mountain Friendly.
They took the band to their first Battle of the Bands at Appalachian. They came in last.
Then they met Doug, who is from Raleigh as well, at the beginning of their sophomore year and they seemed to find their groove. And despite being the last to join the group, Doug said they began to jive quickly, even though it was a little intimidating at first.
"But once we started playing music more often and having weekly practices and taking it more seriously, it became pretty clear that we meshed pretty well together, personality-wise and with our playing styles," Doug said. "I was really excited early on because it was the first time I had played music with a group of people where I really liked the music we were making, like when I would listen to the music that we were putting down."
Junior graphic design major Maggie Sherwood said the guys started out originally just as friends as she met them before there even was a From Bears. She liked them because they were approachable and friendly.
"By the time they first started practicing, I was mesmerized by their sound," she said. "They sounded soulful and gritty. They reminded me of angst and passion. They've seriously blown up throughout the years. It's actually pretty surreal their popularity. Their fan base is broad and so many people love them now."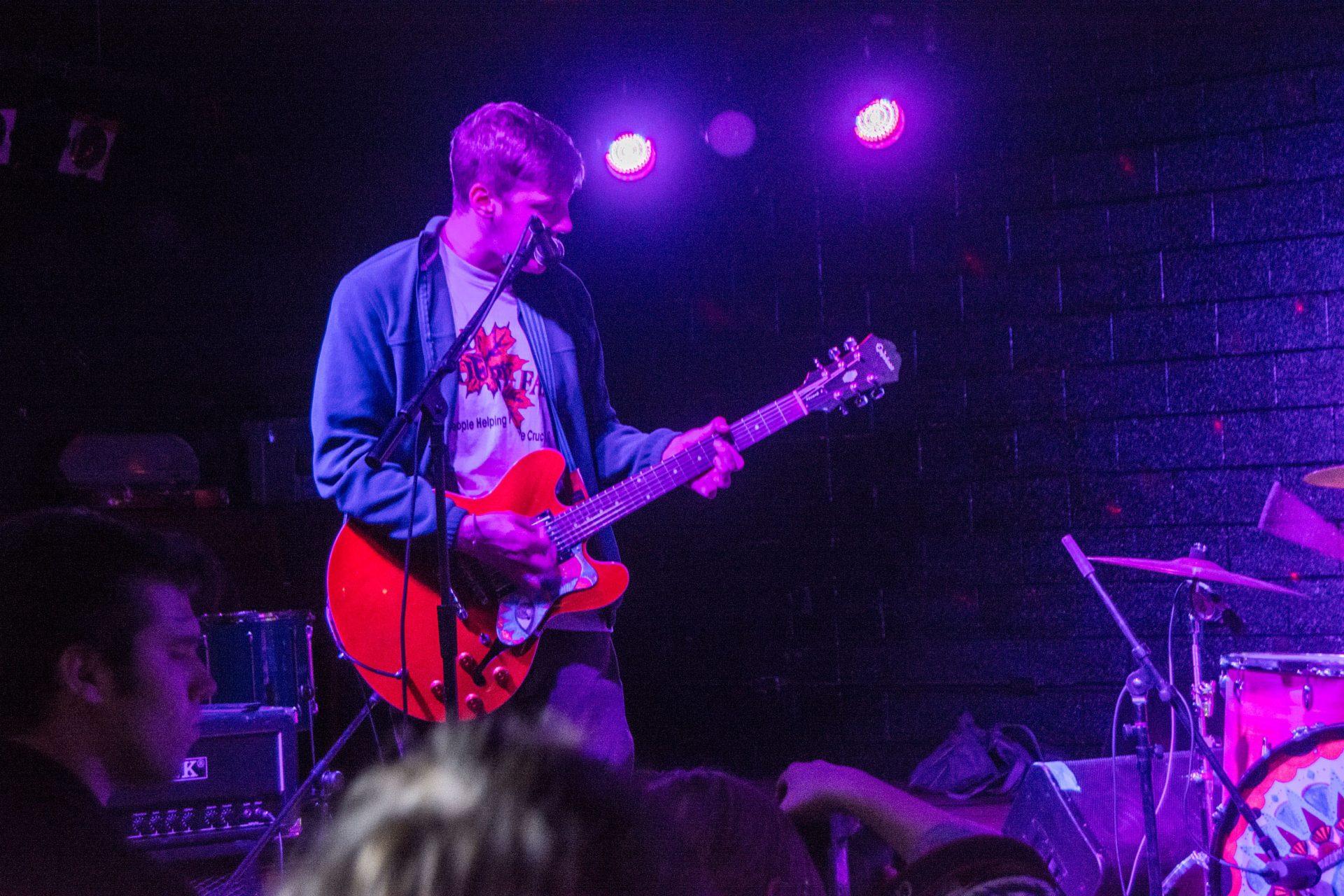 FINDING RHYTHM
Moving from the dorms to a house where they could play loud also helped immensely.
"In the dorms you couldn't really do much, it was all just quiet, simple stuff, no drums or anything," Ben said. "But once we moved into a house, we were able to start playing in the
basement and that's kind of how we started making our way into the scene."
Only Ben and Matt lived in the house and Trent lived in an apartment. Now those three live in a new house together, while Doug lives in the original house.
But once they were all together as a band, their music began to change.
"I feel like we've all kind of, or at least myself, gotten weird and psychedelic with our styles," Ben said. "It's funny, because [Doug's] very into hip-hop and stuff and I'm more into '80s punk and stuff and Trent is into electric and Matt is into like Animal Collective, which was the main band [Matt] showed me that definitely had an impact on me. But it's been really weird to see what all those styles have created."
Charlotte-native Matt said this difference of tastes and merging of talents has made them better as they try to push themselves to make more complicated music.
"So I feel like, with that, our taste in music has become like we have ADD, we can't just sit and listen to a song where it's just like three chords over and over again," Matt said. "We still like the classic punk songs and stuff but I think our music taste has evolved to try to be more complex because that's what we try to go for when we write music."
Ben said they're always looking for the newest and weirdest thing they can do to stand out. But perhaps one of the weirdest things about the band is the name itself. From Bears sometimes gets odd looks when mentioned.
"Honestly, I think ultimately we were like, it's going to cause so much confusion and I just love that," Ben said. "And we can always sign off things saying like, 'From Bears.' But we started as Running From Bears."
They called themselves Running From Bears because of the meme of the little girl running in the river that went viral.
"We played like one house show with that name and I remember I was at home in Raleigh and I was just thinking 'Man, that's just not a great name,'" Ben said. "So I texted the group and was like, what about this even worse name. Just take 'Running' out."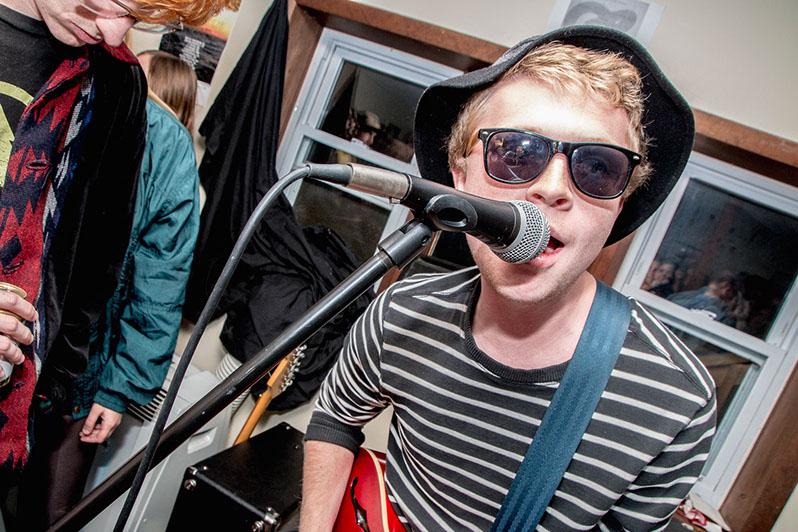 Doug's thing, when people ask about the name change, is to say, "We're not running anymore. We don't have anything to run from."
"We're not running anymore. We don't have anything to run from."
And while the decision was made at the beginning of the band's history, the metaphor for where they are now is in the name change. One of the more popular bands in Boone, venues now contact them to perform instead of them chasing opportunities. They've solidified themselves a "psychedelic, post-punk, progressive rock band" after going through phases of styles.
"I think we each kind of go through – at least I know I do – phases of musicians," Clayton-native Trent said. "We've gone through a lot of those phases now living together, through college, and I'm always trying to incorporate all the new types or niche genres that we're listening to and create something different, incorporating all those elements. That's really gotten our songwriting further, I guess. Made it progress in a good way."
They draw influence from Tame Impala, Grizzly Bear, Sparklehorse, Pixies, Led Zeppelin and Joe Walsh, just to name a few.
But their biggest pressure to progress and improve comes from their live shows. They even practice in the dark with the show lights going to get in that mindset.
"We play a lot of shows now, so we always want to keep our sets fresh because we do play in town a lot," Matt said. "So a lot of people come out to see us, like who are regular fans of ours, so we don't want to bore them with the same sets and stuff so there's definitely a push with that to try to make sure people get their money's worth when they come and see us."
Ben said they feed off the energy of a crowd, which is admittedly easier with large crowds, but they try to make the best show for whatever size crowd they have. And sometimes, it's more than just an audio experience.
"We also like to just have awesome visual representations of what we want our shows to be, like we have a projector and cool lights and we just bought a bubble machine," Ben said.
They used the new bubble machine for the first time at Black Cat show Feb. 27. And even though they were worried about the floor getting slick with the bubbles, it was a big success, furthering their commitment to creating high-energy shows.
"I like getting through a set and getting that groove and it's all working real well and it's just a great feeling," Trent said. "The endorphins just rushing through your body."
One of their goals moving forward, however, is to get their shows down to a more organized set list, because a lot of they end up winging a lot of their shows, even if they tried to have a plan.
"There have been occasions where it's been a little sloppy," Matt said. "Because we switch instruments a lot, so there have been open gaps between songs where we're awkwardly walking around to other instruments so we're trying to get a little more organized."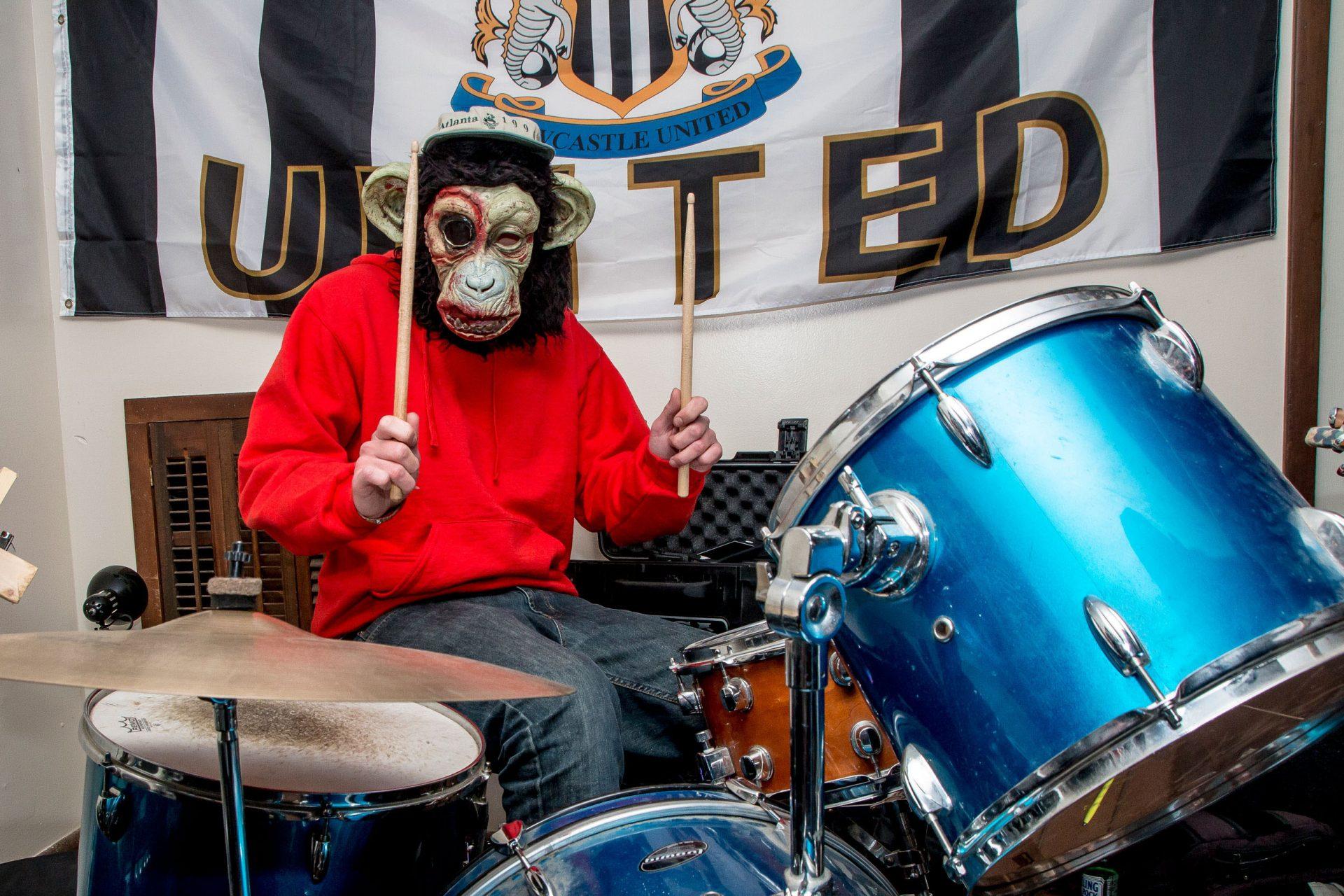 LIFE AFTER APPALACHIAN STATE
With their college careers coming to an end soon, the band has turned its sights on playing more outside of Boone and looking for a label. They've released three albums so far: "Drone Star," "Wompus & Son," and "Aphelion." All three are available on SoundCloud, iTunes and Spotify.
Finding a way to get their music on Spotify was a major point in their history.
"It's cool to see the rankings of the most popular songs on Spotify," Matt said. "Because we did a song with the music school for a kid who had a project and the song was called 'Crunch.' And it ended up turning into a very poppy song, which a lot of people liked."
"Crunch" was No. 1 on their Spotify profile for a long time before it was replaced by their recently released music, which the band said made them feel good about the status of their new work. Seeing what songs have been popular has been big for the band as they judge what they release. If something is very popular, they're more likely to play it more live. Currently, "Noiseless" is No. 1.
Spotify has also helped spread their name and the exposure has helped them get shows outside of Boone. Playing a variety of places has allowed them to make more band friends and make connections.
In music, there are many bands that are very friendly and collaborative, but there are also bands that aren't well liked. From Bears tries to be the former.
"We always try to make friends with any band we play with because I feel like there's no reason to make enemies when we can all help each other out," Ben said. "It's only going to be a positive thing and now we get to hang out with a lot of bands."
Right now, they've started playing in Asheville and Raleigh more often, but are looking forward to going to New York this summer and playing a lot of shows on the way. And while they can easily play before 100-150 people in Boone at Black Cat or Legends, when they play for maybe 30 people in Asheville, that's the real test. But they welcome the challenge.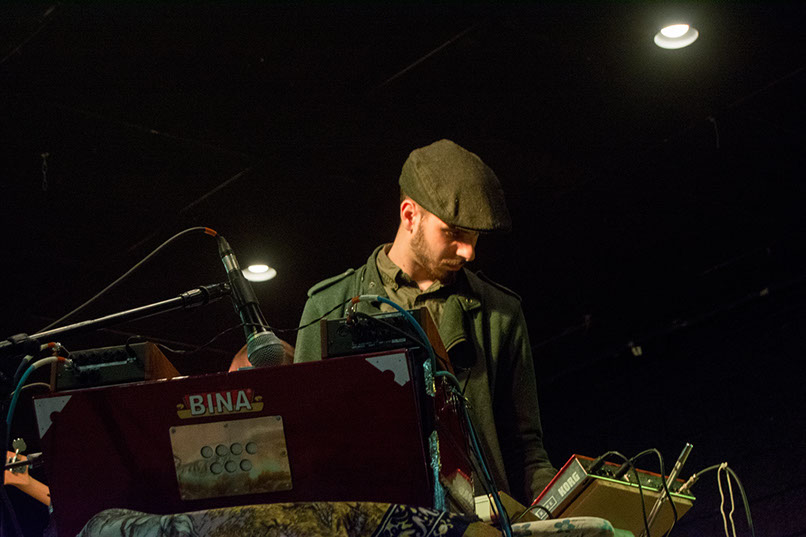 "We don't want to exhaust our fan base because we play too often and people get bored," Matt said. "That's been the one weird thing because we kind of got used to, you know? You don't really have to fake it when you're playing in front of a loud crowd and into it, but the real test is when you're playing out of town in front of a small crowd and you still have to bring that energy."
And as they're beginning to look toward their post-Boone career, they're still not done with the town just yet. The band will be headlining Legends for the first time April 10.
From Bears is ready to continue working together as friends and making the most of experience.
"Like, when we do shows, we're doing something," Doug said. "It's not related to class at all. It feels like our own and I appreciate that."
Doug said the community has a lot to do with that and it's great to be a part of what feels like a group of artists having fun playing together.
Being in a band isn't always an easy process, there are good times and bad. But at the end of the day, these four men from North Carolina understand that it's all about friendship.
"Creativity is really a sensitive subject, too, so there have been tiffs of course," Matt said. "It's easy to step on people's toes. But I think we just realize that at the end of the day, we're still friends. So whenever a conflict arises, we're able to surpass it and then realize that we're all friends still."
"I'm glad we're friends."
—
Article by Andrew Clausen, Contributing Writer
April 7, 2015