Whether you're a seasoned athlete or have never run a mile, the gym is a great place to be able to rip yourself away from your laptop screen to do something both healthy and enjoyable. 
One important pillar within the realm of physical fitness would be goal-setting. This is a way to personalize your workout experience and be able to notice your results the quickest. Everyone has different goals, and the first step to physical fitness is knowing what type of "fit" you're trying to achieve.
Some wish to gain while others wish to lose; there are track runners, powerlifters, bodybuilders and callisthenic enthusiasts to name just a few, but no matter what your goals are, App State offers three great options to choose from. The question is, which one is for you? 
Mount Mitchell 
Located on the third floor of the student union, Mount Mitchell describes itself as a "cardiovascular and weight training fitness facility that also contains a multipurpose area for a variety of aerobic classes for students and faculty." It features three different sectioned areas called the cardio area, strength area and the group fitness room. The facility offers various classes such as yoga, barre, mindfulness and pilates. 
Upon entering Mount Mitchell, one word will probably come to mind: cardio. You're met with an overwhelming amount of treadmills and stairmasters. Powerlifters and bodybuilders may be taken aback by the lack of weight machines and power racks. It should also be noted that Mount Mitchell prohibits weights from being dropped, therefore prohibiting deadlifts. Mount Mitchell also lacks the proper racks and weights for most deadlift needs. Mitchell is a good option for East-side students, but isn't a great option for those interested in weight training.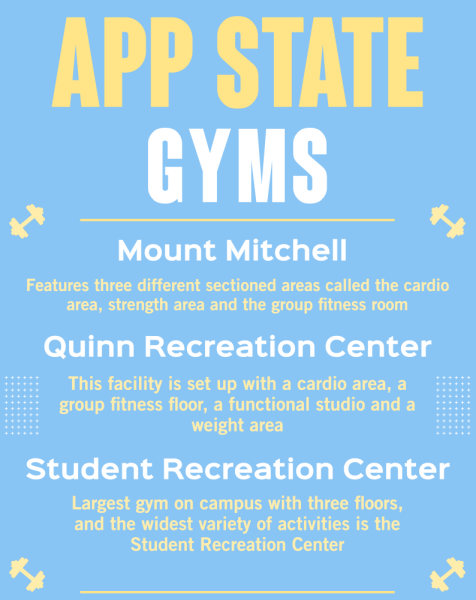 Mitchell is a female-dominant gym, which may make women who are into cardio feel more at ease. Because this gym is more popular for female students, it should stay open later, especially for those that live on East Side and don't want to walk across campus alone at night. However, according to the hours posted for Mount Mitchell this fall, it is coincidentally the gym which closes the earliest, so don't plan on staying here for long if you're a night owl or don't want to 
Quinn Recreation Center
Quinn Recreation Center is located up the hill past New River Residence Hall and Thunder Hill Residence Hall, making it the most convenient gym for people on the west side of campus. 
This facility is set up with a cardio area, a group fitness floor, a functional studio and a weight area. It offers dance classes, cycling classes and a punching bag located in the fun room. It's like the SRC where it has something for everyone, but in a more confined space. A great thing about Quinn is that it is suitable for deadlifting and features plenty of power racks and weight machines. 
Furthermore, Quinn is home to several fitness classes taught by other students on campus. Not only are the fitness classes fun and beneficial, but they are also a way to make going to the gym a group activity with your friends. Students should go to these fitness classes to support fellow student instructors.
If it's conveniently located for the student, Quinn is worth choosing over the SRC as it has the basics for weight-training sans the other extra floors. Much of the student body is interested in weight training and doesn't always need the more niche spaces which the SRC offers.
Student Recreation Center 
The largest gym on campus with three floors and the widest variety of activities is the Student Recreation Center. If you are interested in recreational sports such as basketball, badminton, rock climbing or table tennis to name a few, the SRC is the place to go. The SRC features a pool, a yoga and zen room and equipment for shadow boxing. You can find your cardio and handheld weight area as well as an open space for badminton on the top floor. Power racks and weight machines are on the second floor. Finally, table tennis and a rock climbing wall are on the first. Despite the variety of hours day to day, the SRC is consistently open the latest compared to the others, and offers the widest variety of employment opportunities. 
Deadlifting is prohibited from the facility despite the proper equipment being available. This is due to the floor being unsuitable for dropping weights. If the proper equipment is available, UREC should work towards making the floor more suitable for dropping weights. Nonetheless, the SRC seems to generally be a fan favorite due to its size and wide variety of activities available.