Plummer Gains National Exposure for Dominating Performance
Hard work, grit, hustle and blue-collar have been terms that have carried importance this season for the App State women's basketball team. The player that has personified these terms almost precisely game in and game out for the Mountaineers has been Bayley Plummer.
Plummer leads her team as well as the entire Sun Belt Conference in rebounds per game, with a season average of 11.7 per game. The mark is also good enough for 12th place in all of Division 1. She also plays the role of rim-protector for the Mountaineers, averaging 1.6 blocks per game which leads App State and is good for fifth in the Sun Belt.
While she has found a ton of personal success this season, Plummer remains humble and focused on helping out the team as much as she can.
"I'm feeling pretty good this year, just trying to stay healthy, stay strong and just really help my team out and try to get some more wins," Plummer said.
Plummer never quits on a play and is relentless on the offensive side of the glass as well. Her offensive rebounding clip is good for second in the Sun Belt with 3.3 per game. Those boards translate to extra possessions for the Mountaineers and have come in clutch throughout the year, giving them the opportunity to pull out some back-and-forth victories.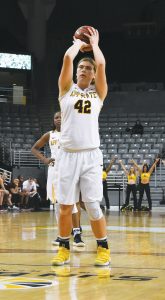 The standout 6'4" sophomore out of East Davidson High School in Thomasville, North Carolina, had her most dominant and impressive game of her young career on Dec. 16, during an away, non-conference matchup with the Thundering Herd of Marshall University.
She played every minute of the nail-biter and her career highs of 16 points and 18 rebounds led the Mountaineers to their 56-54 victory. Plummer also added three blocks, three steals and a pair of assists in the contest. After falling behind by five points with less than five minutes to go, Plummer led the comeback effort and hit a pivotal and-one shot as the Mountaineers closed the game on a 13-6 run to pick up the win.
As her stat-line showed, Plummer does whatever she can to help the team. She is an unselfish player, and although she does not average a crazy amount of assists, she does whatever she can to help get her teammates open.
"Her ability to read defenses and find her teammates on the floor makes her a great teammate," women's basketball assistant coach Kate Dempsey said. "She is always there to kick the ball out. She's the last that wants to score herself so the way she screens, the way she outlets the ball, she's just a great overall teammate."
She was rewarded for her efforts in the Marshall game by being selected to the NCAA's weekly Starting Five at the center position. The Starting Five is basically the team of the week selected out of the entire country.
Plummer was awarded the spot by winning the fan vote on Twitter with 44 percent of the votes, edging out Tashia Brown, forward (Western Kentucky), Camille Zimmerman, guard/forward (Columbia) and Teige Zeller, forward (Nevada).
Plummer was joined on the Starting Five by some of the nation's top players from some of the most successful programs in the country. Also named to the Starting Five were Jessica Shepard, forward (Notre Dame), Teaira McCowan, center (Mississippi State), Brooke McCarty, guard (Texas) and Chennedy Carter, guard (Texas A&M).
"She's already accomplished so much in just less than a year. I think her future is as high and as bright as she wants it to be. She adds an extra element to our game, she causes problems for the other teams, matchup-wise," Dempsey said.
Plummer has been a bright spot during somewhat of a rebuilding year for the Mountaineers, a team that lost five seniors from last year's squad to graduation and brought in eight newcomers at the start of the year.
The leader and rock of this year's team was expected to be senior guard Madi Story, who led App State in both points and rebounds a season ago and was named the All-Sun Belt third team. Story tragically suffered an ACL tear in the exhibition versus Tusculum and was ruled out for the season. With very little experience on the roster, somebody had to step up and attempt to fill Story's shoes.
That somebody has become Plummer.
"We don't have any juniors or any seniors since Madi got hurt, so it was up to me and (fellow sophomore Armani Hampton) to just try to help all the younger ones out when they need it," Plummer said.
After averaging just over 15 minutes per game, 4.3 points per game and 5.5 rebounds per game last year as a freshman, she worked hard to lose some extra weight and get as much from her body as possible.
"I just started losing weight, just getting back into shape, just really understanding the physicality of college basketball. It really is super physical down there in the post," Plummer said. "I just try to stay consistent and work on free throws and on the small things."
Plummer gained a lot from her experience as a freshman. She was able to better prepare for what to expect coming into this season.
"Both the physicality and just the speed of the game is a lot different than high school ball, so you have to really stay locked in and really be ready for the fast pace of the game, especially in the Sun Belt," Plummer said.
Her hard work is evident on the court, as she has stepped up in a big way and become a dominant low-post threat in only her second season of NCAA play. This year, she has doubled just about all of her statistical averages from a season ago.
"We knew that when we started conference play, our record started over, and we've already won more games in conference than we did in non-conference, which is a plus," Plummer said. "We just gotta keep growing, keep building every day to get ready for March when the conference tournament comes around."
"I think Bayley has stepped up on the court in terms of her play, just by feeling more confident in herself," Dempsey said. "She's been asked to fill a role that was really big, and she has done a great job at that, in terms of getting everybody together, growing the culture, she's been great at that. On the court, she's the first one in the gym, last one to leave. She is constantly working on her game and always asking for film."
Although App State currently sits at 6-17 on the season and 4-8 in conference play, with the majority of the contributions coming from young players like Plummer, freshman guards Tierra Wilson and  LaPresha Stanley and freshman forward Lainey Gosnell, the Mountaineers are built for the future and will be an exciting team to follow as they gain experience and continue to improve moving forward.
Story By: Silas Albright, Sports Reporter
Photos By: Lindsay Vaughn, Senior Photographer