Appalachian State football hosted scouts and representatives from 22 pro teams during their Pro Day on March 27, giving 13 former Mountaineers the chance to showcase their skills and abilities in the hope of being selected in the NFL draft or signing a free agent contract after the draft.
Despite having the pressure of having to perform in front NFL and CFL scouts, things went well for the Mountaineers.
"I think it went really well. You can always expect great effort from our guys, and that's what they gave," strength and conditioning coach Mike Sirignano said. "The scouts know what they're getting from our players. They're getting high character and high effort guys, they might not be the biggest or the strongest, but they'll study and play hard."
The 12 Mountaineer seniors were joined by four players from Western Carolina and one from UNC-Pembroke. The participants went through an hour of weight room lifts and tests, such as bench press and vertical jump, and then went through several hours of agility, skill and conditioning drills led by NFL scouts. The ability to participate was a culmination of years of hard work on the field, and months of off the field training.
"It was fun, and it was definitely a day I've been thinking a lot about," lineman Tyson Fernandez said. "I personally started training on Jan. 19, and every single day I've thought about this day. It's two months of training work for a couple hours, and now to know it's over and I can't do anything about it is a relief."
However, not all Mountaineers shared the same sense of relief after their pro day had come to an end.
"I wish I could have done a few more blocking drills to show them that I'm a more versatile tight end, and not just pass catcher," tight end Barrett Burns said.
Offensive linemen Parker Collins also said that he wished he would have racked up more reps that day.
"I got 27 reps on the bench press and they only counted 25, which was annoying, because I had been doing 30 or more in workouts," he said.
Despite some players frustrations and difficulties during the drills, when Appalachian's pro day ended some Mountaineers participants got the opportunity to do one-on-one drills and interviews with NFL team representatives. The opportunity to work out and receive feedback from veteran NFL professionals was not lost on the Mountaineers.
"It was a good experience to be able to get out here and show these scouts the results of our hard work," running back Marcus Cox said. "It was also incredible to work with and get feedback from people that already work with professionals and future hall of famers, because they know what it takes to make it at the next level."
After working out and talking with scouts many players felt like the NFL stock had risen, and that they had a better idea of what they needed to work on before the draft.
"The scouts talked about a couple of small things to improve, but the main thing is to just add a couple pounds on before the draft," cornerback Mondo Williams said. "I talked to the Lions representative, and we did a lot of football homework on the chalkboard. He said I looked pretty good, and that I should be expecting a call from a team."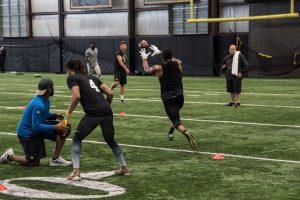 Other Mountaineers felt like they had a better idea of what positions they would be asked to play at the next level.
"The majority of teams like me at outside linebackers, but some teams like the Cardinals ask me to do some reps at inside linebacker while I was in California for the NFLPA bowl," linebacker Kennan Gilchrist said. "I think it'll just depends on the scheme of the team I end up with."
Now that these 13 Mountaineers have participated in their pro day, they can accept invites from NFL teams to do individual one on one workouts, and prepare for the draft which will be held April 26-29 in Philadelphia.
Even for Mountaineers that don't get drafted, there is still hope, because there are currently four former Mountaineers on NFL rosters that were undrafted free agents. No matter how these prospects get to the NFL, it will be exciting to watch the next generation of Mountaineers in the NFL.
Story By: Colt Jensen, Sports Reporter
Photos By: Halle Keighton, Photo Editor