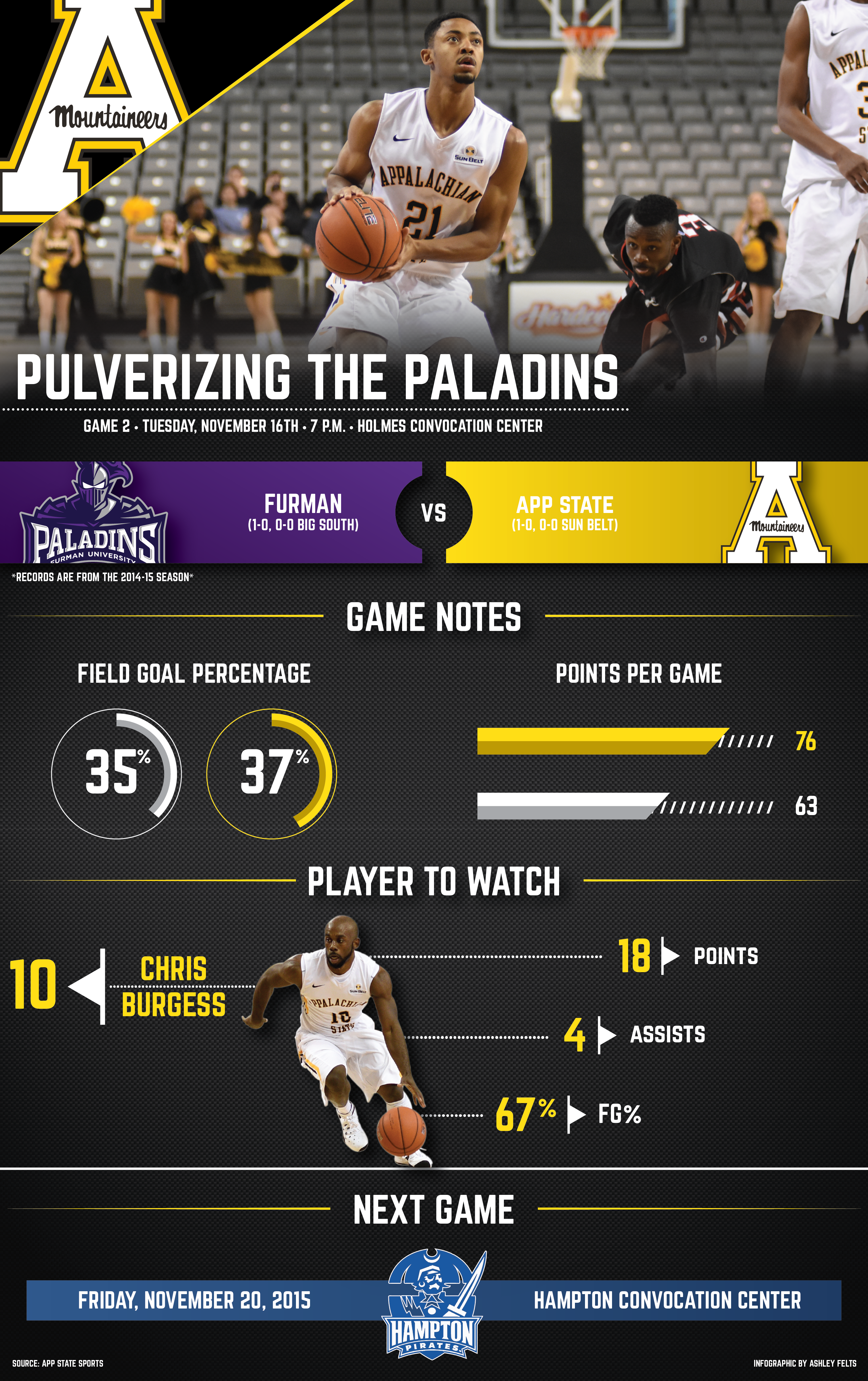 Get Eaves Going
Preseason all-Sun Belt second team member, and last season's leading scorer, Frank Eaves, only managed to score five points in the season opener against Jacksonville. Eaves did not make a shot from the floor during the 29 minutes he was on the court. Eaves was able to provide eight rebounds and five assists for the Mountaineers, but his job is to score, and score a lot.
If Appalachian is to have any hope against Furman, and in the season going forward, they have to get Eaves open looks and more opportunities to score the basketball. Hopefully he can get going early and gather some momentum for the Mountaineers.
Three and D
The Mountaineers shot 34.8 percent from 3-point land on eight of 23 shots in the season opener against Jacksonville. This number would be acceptable if they didn't allow Jacksonville to shoot 42.1 percent themselves from beyond the arc.
If the Mountaineers hope to compete against a more talented Furman squad, they have to defend the 3-point shot at a high level while knocking down more of their own. Fox's system relies heavily on perimeter play and the guards need to start cashing in on the open looks they are getting.
Crash the Glass
Furman is not strong inside, averaging only 32 rebounds a game last season. The Mountaineers, having already played a Division-I opponent this season, pulled down 54 rebounds.
Controlling the glass means controlling the pace. While no one expects Frank Eaves to get eight boards a game, it can be expected that forwards Jacob Lawson, Griffin Kinney, Michael Obacha and Tyrell Johnson can get at least 35 rebounds between them.
Appalachian State has more post depth than Furman and should use that to their advantage, making sure to work the ball inside, looking for easy points while hopefully freeing up some space on the perimeter for cutters and 3-point shots.
If Appalachian State wins the rebound battle and holds Furman under 35 percent from three, they should beat Furman, avenging their loss from last season.
Story by: Lee Sanderlin, Sports Reporter