by Lee Sanderlin, Sports Editor
March 2, 2016
Section One
A golden beginning
Appalachian State basketball was directionless in 1975, having only won three games a season ago. At least that's how Bobby Cremins saw it when he arrived in Boone, North Carolina in 1975 to coach a fledgling Division I basketball team in the middle of Appalachia.
"I was young, I was 27 years old. It was a Division I school and I didn't really know what I was doing, but I was ambitious," Cremins said.
Ambition might have been a young Cremins' only tool in actually starting a basketball program in the mountains of North Carolina. Boone was much different 40 years ago than it is today. As Cremins' former standout Darryl Robinson put it: "It was a culture shock when I first came. Just imagine there being no McDonald's, we had to entertain ourselves."
Sports fans know Cremins as the eccentric face of Georgia Tech basketball in the 1980-90s, taking his Yellow Jackets to a Final Four appearance while collecting a few ACC titles along the way, but for Appalachian State, Cremins represents one of the brightest eras in the school's very dim basketball history.
The school made the jump to Division I basketball three years prior to Cremins' arrival, winning only 14 of the 63 games they played during that span.
For Cremins, recruiting talent capable of winning games to a small mountain school that was known for losing seemed impossible in the state of North Carolina.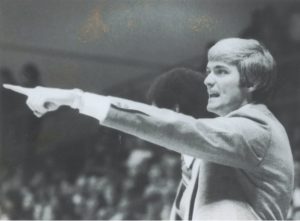 "I got a quick awakening when I started calling some kids in North Carolina and they weren't interested," Cremins said. "No one wanted to play for a losing program."
Determined to build a winning team, Cremins, a New York native, decided he would have to expand his recruiting horizons and return to the place he knew best.
"I went to New York, I went to my roots," Cremins said. "They didn't know anything about Appalachian and I was able to attract some New Yorkers who helped me build a program."
During the program's first season under Cremins, the team went 13-14, a step up from the 3-23 the team went the year before, but it wasn't until the next year that Cremins' New York recruits were able to really come together.
In year two, 1976-77 season,  the program posted their first winning record in Division I basketball, going 17-12 on the year, and losing the Southern Conference championship in overtime to Virginia Military Institute 67-69. Despite missing out on the NCAA tournament, this basketball team had arrived.
Darryl Robinson, one of Cremins' New York five and arguably the team's best player was a sophomore during the 1976-77 season and knew even then that the team had something special.
"I don't know how much success they had before I got there, I don't know if they were accustomed to success [in basketball]," Robinson said. "People weren't used to the attitude or swagger we had, and people got excited."
Robinson's swagger wasn't the only reason people got excited. He had just as much game and intelligence as he did confidence.
"Robinson, he knew how to play, he was so smart, we couldn't get over how smart he was," Cremins said. "He just knew how to play, even though he was 6 feet 4 inches, we just moved him to the point. He was that smart and good."
Robinson was just one of many players that Cremins was able to bring to Appalachian State due to his New York connection. The only trouble was getting them to want to stay at a place that didn't even have a McDonald's at the time.
Luckily, Cremins wasn't alone in his efforts to attract talented basketball players to Boone. He relied on one of his players, Alvin Gentry,  and his familiarity with Boone to aid in recruitment efforts.
Before Gentry became head coach of the New Orleans Pelicans, he was Alvin Gentry, the Appalachian State basketball player and the coaches' secret weapon when it came to recruitment.
"Your players recruit for you, and Alvin has a line of bullshit with him a mile long," Kevin Cantwell, assistant coach under Cremins at the time, said. "He was very good as a player and a recruiter."
If Cremins and Cantwell were responsible for getting the New York guys to visit Appalachian State, Gentry was responsible for getting them to stay in the early years.
"Alvin was the one taking most of the recruits out, a happy-go-lucky guy, who loved to have a good time," Robinson said. "If coach wanted somebody really badly, then Alvin was the guy."
Gentry was the reason that Robinson joined the Mountaineers, as the two players were neighbors during the remainder of Gentry's time at the school. Robinson didn't fail to mention the perks that Gentry experienced as the coaches' go-to recruiter.
"Alvin had a nice little hustle taking the recruits out, getting to take them to the Peddler, stuff like that," Robinson said.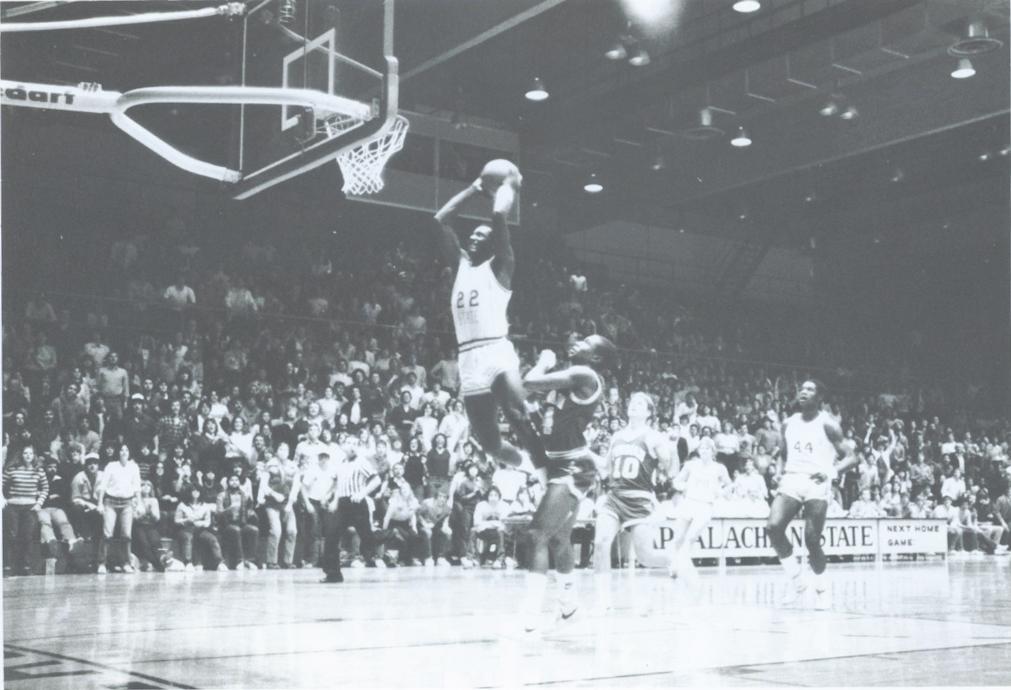 Section Two
The lights went out
Recruiting is important, but winning is about more than getting players, especially at a program that was new to Division I competition and was searching for consistency amidst the transition.
Appalachian State finally found its foothold in the Division I ranks during Cremins' fourth season, a season that saw the Apps win 23 games and marked the highest attendance total in the program's history. That season, the Mountaineers' average home crowd was 5,111, the only time in Appalachian State history that home basketball attendance has averaged more than 5,000 attendees in a season.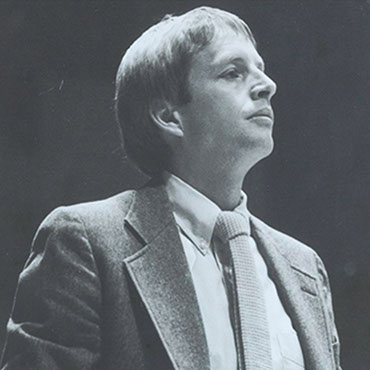 The first 20-win season in school history also marked the first of two Southern Conference tournament championships, giving the program the first of its two NCAA tournament appearances.
Despite the loss to Louisiana State University in their lone tournament game, the 1978-79 season was the crowning achievement of Cremins' time at Appalachian State.
The Cremins-led team once again won 20 games, this time in the 1980-81 season.
As the season ended, the program received a blow that it wouldn't recover from for nearly 20 years. Cremins left Appalachian State to fill the vacant head coaching position at Georgia Tech, where he led the Yellow Jackets to 10 NCAA tournament appearances, including a trip to the Final Four in the 1990.
Cantwell, Cremins' first assistant, took over as head coach of the Mountaineers but found little success, posting only one winning season in his five seasons as head coach.
Following Cantwell was Tom Apke, who coached the Mountaineers for 10 seasons from 1986-1996. Apke was able to to put together a few winning campaigns in his time as coach, even winning 20 games in the 1988-89 season, the only time the program would win 20 games between Cremins' last season and the 1997-98 campaign.
"We would go back [to Appalachian State] when I was at Georgia Tech, and [the Mountaineers] struggled," Cremins said. "I don't know why, I don't have the answers, but they started to struggle."
Following Apke, a young head coach and former player at UNC-Chapel Hill named Buzz Peterson arrived on campus and immediately got results during his time as head coach of the Mountaineers.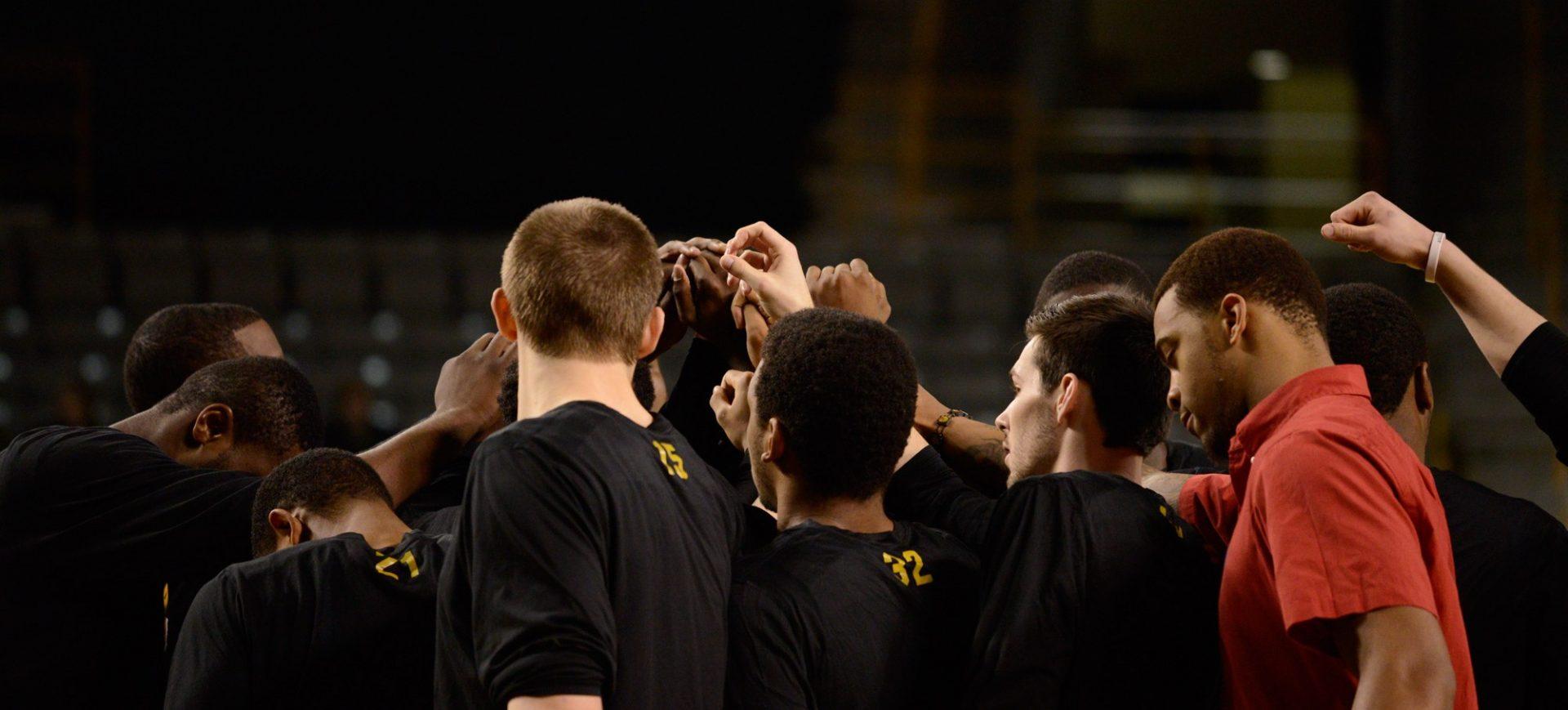 Section Three
A new hope
Peterson's first four seasons as head coach of the Mountaineers were a success, with the team winning 21 games in his second and third seasons, the first consecutive 2o win seasons in the school's Division I history.
It was Peterson's fourth season as head coach, in the 1999-2000 season, that Appalachian State returned to the holy land of college basketball. That was a landmark season for the program, winning 23 games, tying Cremins' school record for wins in a season from his tournament team. The Mountaineers returned to the NCAA championship, losing in the first round to Ohio State.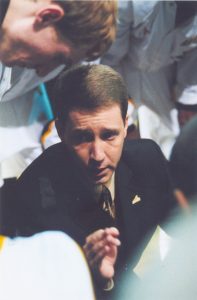 The parallels between Buzz Peterson and Bobby Cremins didn't stop there, as Peterson would also leave the program in search of a better job with his team on the verge of something special.
Peterson left for Tulsa, where he won the National Invitation Tournament the following year. Subsequently, he left Tulsa in 2001 to assume the head coaching job at the University of Tennessee, an SEC school in a Power Five conference, any coach's dream.
History was repeating itself for the Mountaineers. Similar to the Cremins-Cantwell transition, Peterson's first assistant Houston Fancher would take over the program.
Fancher's first year on the job certainly couldn't have gone much worse than it did, with the team experiencing major setbacks. Rufus Leach, the heart and soul of the tournament team from 2000, died the summer before Fancher's first season, drowning in Watauga Lake while swimming with friends.
Prior to his death, Leach averaged 16.4 points, 2.2 assists and 1.8 rebounds for the 1999-2000 season en route to the Mountaineers' second conference championship and NCAA tournament appearance.
Along with Leach's death, Fancher had to dismiss two more starters from the 1999-2000 team, Shawn Alexander and Corey Cooper, for violating team rules.
"The first year was met with unknowns, we had to deal with the death of our best player in Rufus Leach," Fancher said. "We didn't return much once Rufus had passed away. We had a couple kids we had to dismiss, the only two returning starters. By the time the season started we lost seven players."
It seemed like the world was working against Appalachian State basketball, having dealt with so much hardship and adversity just months after the end of a season that signaled the beginning of a new golden era in Mountaineer basketball.
Fancher's first team would win only 21 games combined his first two seasons, a remarkable feat considering that he and his staff essentially had to hit the reset button weeks before their first game together. A tall task considering his first game on the job would be the first to be played in Holmes Convocation Center, the sparkling new multipurpose arena seating 8,325. TheMountaineer's first opponent in their new home? Tobacco Road powerhouse, University of North Carolina at Chapel Hill.
"We basically got back to ground zero. The first two years felt like a war of attrition," Fancher said. "Losing our three best players our first year was devastating. Then we had to play UNC our first game in the first season in Holmes."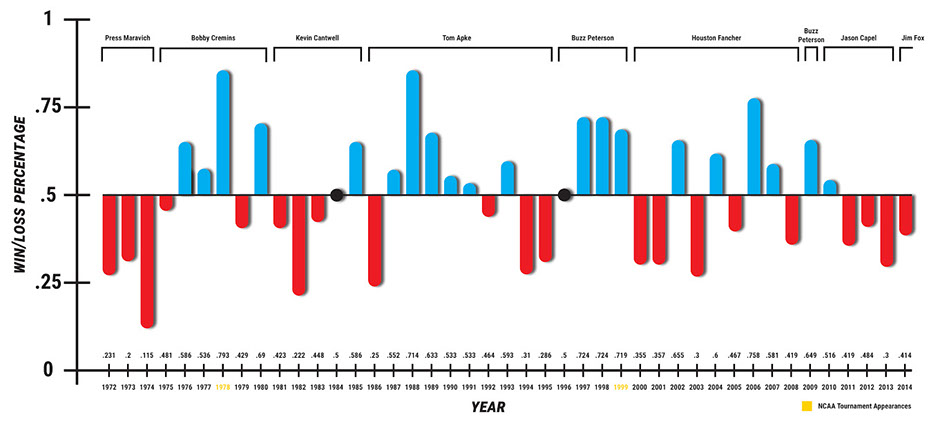 UNC won by 30 points, further propelling Appalachian's basketball program's descent into a state reminiscent of the the team's fall in the 1980-90s.
It was in Fancher's third season, 2002-03, that the prospects of Appalachian basketball began to brighten. The team won 19 games and claimed the regular season title in the Southern Conference, making the previous two seasons feel more like an aberration rather than a resumption of the sub par performances that plagued the program from Cremins' departure until Peterson's arrival.
The success continued for the Mountaineers, with the team winning a school-record 25 games under Fancher in the 2006-07 campaign and their second regular season conference title in five seasons. The following year, the Mountaineers won 18 games and another regular season conference title.
This all came in the midst of the football program's three consecutive national championships, marking one of the most universally successful periods in Appalachian athletics history.
It wasn't until the 2008-09 campaign that signs of the old days began to reappear at Appalachian State. It was a disappointing season for a team that had just won two straight conference titles and was looking to add a third. Winning just 13 games, Fancher's worst mark since the 2003-04 season, he resigned at the season's end, effectively derailing the upward trend that basketball at Appalachian State had experienced during his time as head coach.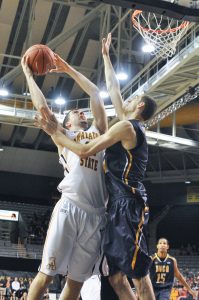 Section Three
Lost, then found
Upon Fancher's resignation, athletic director at the time Charlie Cobb began a nationwide search for the next head coach. Surprisingly, the Mountaineers brought back a familiar face that had brought the program success in the past: Buzz Peterson.
Peterson, fresh off of a less-than-stellar stint at Tennessee, was successful in his return to Boone, winning 24 games, claiming another conference title his first season back and narrowly missing out on a return to the big dance in March after losing to Wofford in the Southern Conference tournament championship game.
With the program seemingly back on track, Peterson left again, this time for in-state UNC Wilmington who could pay him nearly double what the Appalachian State could.
Peterson's departure came as a shock to Cobb.
"Certainly every indication was that he was going to be the coach here for a long period of time," Cobb said. "So it's terribly disappointing in that regard. But everybody's got to do what's best for them and their family."
Once again Appalachian State basketball was lost, searching for a head coach to lead them to success in Division I basketball.
The program remained lost as Jason Capel, a relative unknown outside of his days as a starter for UNC, assumed the duties of head coach and became the youngest head coach in the country at the time.
Capel coached for four seasons, never winning more than 16 games. He was fired on March 10, 2014 after a horrendous 9-21 campaign that featured poor play and a one year post-season ban handed down by the NCAA for insufficient Academic Progress Rates.
During the midst of the poor performance on the court and even worse performance in the classroom, the school's pride and joy, their football program, was preparing to make the jump from Division I Football Championship Subdivision to Division I Football Bowl Subdivision in the 2014-15 season, transitioning major athletics out of the Southern Conference and into the Sun Belt.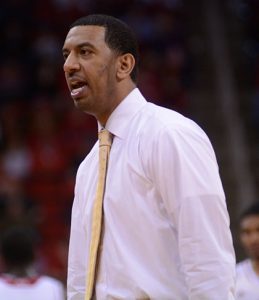 The Southern Conference had been the home of Appalachian State basketball since the program first began the transition to Division I in 1972. Headed into a new conference, it was time to look for a new coach that would hopefully stay long enough to build a program that could begin to compare to and challenge football's hold on the Mountaineer fan base.
In order to achieve the end goal of program building, Jim Fox, a longtime assistant under the well respected Bob McKillop of Davidson College, was hired in hopes that he could bring the same level of recognition and success to Appalachian State that McKillop was able to bring to former Southern Conference rival Davidson.
"We want someone who is very committed to an academic routine," Cobb said. "Academic performance for the student athlete population here is incredibly important and somebody who is willing to commit to that and finally someone who will be eager to be a part of the Boone community and helping us market our basketball program to this community."
Cobb wanted a head coach with key characteristics. He wanted someone who could commit to Boone and a winning program, someone who could lead, and had great communication skills.
"I got a chance to watch Jim coach for an hour and a half yesterday and was thoroughly impressed with what he was saying," Cobb said during his introduction of Fox as the new head coach of Appalachian State basketball. "Just one coach, 11 players and two managers to communicate what he was trying to get across in the drill that they were doing."
The university has found those characteristics in Fox, who publicly spoke about his goals of program building and his dedication to Boone during the introductory press conference.
"I have to get [the players] to believe that they are not that far off," Fox said. "We have to change some things and do things differently. We have to change the culture and they want to do it. I have to get them to be committed to building the program."
Fox, a native New Yorker, came to Appalachian State with nothing to lose. He had never served as a head coach before in the Division I ranks, much like former coach Cremins, who arrived in Boone in 1975 with large goals and not much else.
Fox's tenure as head coach hasn't seen the immediate success that Peterson saw. Instead wins have remained hard to come by the past two seasons, but the foundations for success have been laid despite the lack of results on the court.
Fox came into Appalachian State inheriting 11 players his first season, all of which signed up to play for Jason Capel. Now in his second season, he has begun to assemble the kind of talent that can give fans something to look forward to in the coming seasons.

Section Five
The right man
The head coaching job at Appalachian State is far from easy, almost every former coach can attest to that. The challenges at Appalachian State seem to be harder to overcome with their program nestled in the same state as blue-blood programs like Chapel Hill, Duke and NC State.
One of the biggest issues Appalachian State basketball faces is attendance. Apathy has invaded the fans in Boone, so much so that tarps have been fastened on the seats in the upper bowl at Holmes Convocation Center so the arena might appear less empty than it is on game day.
This isn't a new problem, it is one that program has faced for years and has continuously taken its toll on coaches and players.
"I remember a couple times coming out to warm up and it felt like my wife and our friends were the only ones there," Fancher said. "One game against UNC Charlotte, there was only 1,500 people there, but it became a good game and went into double overtime. By the time the double overtime came there were 4,500 people around."
It was rumored in fan message boards that Fancher stepped down following the 2008-09 season due to lack of fan interest despite he and his team's best efforts to market themselves in the community.
"It would have helped to have more people in the stands," Fancher said. "It would have helped the atmosphere and recruiting."
Fancher isn't alone in his criticism of student support at Appalachian State. In Cremins' later visits to the school during his tenure as the head coach at the College of Charleston, he noticed the apathy as well.
"The students need to do more to help the team," Cremins said. "When I was coaching against Appalachian State at [College of Charleston], I was upset to see so few students there. I'd like to see some student spirit get over to the gym."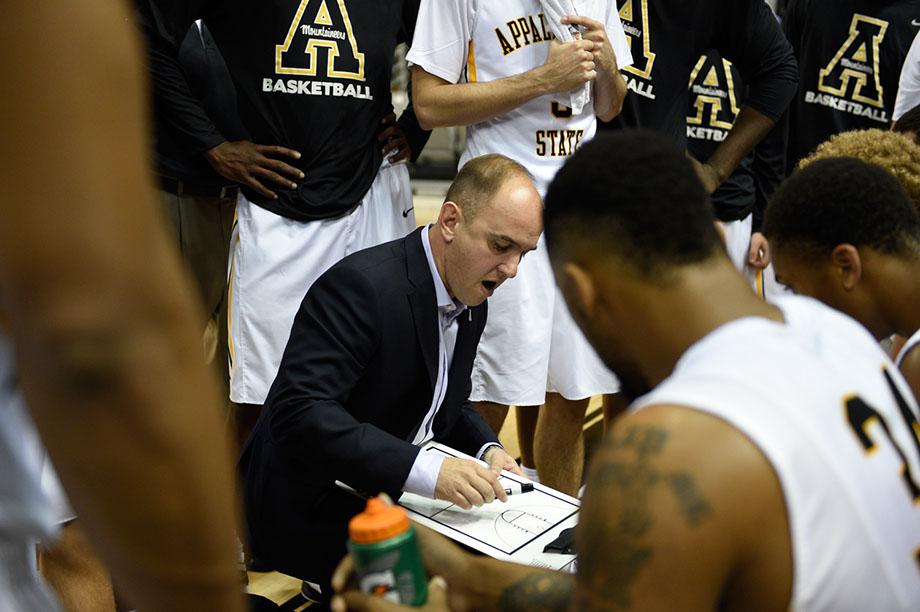 Cantwell said he believes the attendance issues are due to a lack of consistent winning.
"In today's world you've got to win, you've got to be a winner for students to come out," Cantwell said. "When we were there, the students came out, but there wasn't anything else to do. It's a new era of kids now, but if you win they'll come out."
Unfortunately for Appalachian State, the lack of fan support isn't the only handicap that coaches have faced in their quest to build something big.
Location, as well as the demographics of Boone, has plagued past coaches in their recruitment efforts. The cold temperatures, the distance to travel and the makeup of the student body have all affected recruitment.
"The population of the school and the things to do [in Boone] may make it difficult to recruit minorities, and they might not feel comfortable," Fancher said. "Our kids, all they ever heard about was how cold and miserable it was."
As a former standout under Cremins, Robinson knows that other coaches are using the weather and location of Appalachian State to sway recruits away from Boone.
"Coaches use the weather as a factor and that's something you can't avoid," Robinson said. "When kids have an opportunity to choose between Boone or Charleston, they're going to go to Charleston."
According to Robinson, the best way for Fox to recruit the type of players he wants is to build relationships with them in order for potential recruits to have the desire to come suit up for the black and gold.
"Kids aren't going to bed at night dreaming of playing for App, you have to build big time relationships to get kids to come in and play," Robinson said. "I would have to have a relationship with coach Fox, and my parents would as well, in order for it too work. It would take a young man having a lot of confidence in coach Fox being able to get it done in order for a recruit to come now."
Despite the challenges that come with an Appalachian State coaching job, there seems to be a consensus among the former coaches and players: Fox is the right man to build the program up and achieve new heights.
"I think he's a guy who appears to me to be detail oriented and I think he's going to get it done," Robinson said. "It's going to take a little time."
Cremins and Cantwell both see Fox as the one to turn the program around for good, giving him their votes of confidence. Both men attribute their faith in Fox due to his time at Davidson, where Cremins said Fox learned how to be great under Bob McKillop.
"Jim Fox, I'll tell you right now, I know him well. Jim is the guy, he's going to do a great job," Cantwell said. "Jim has a system. The way Davidson wins, that's what Jim can do."
Fox often talks about building. Whether it's building an army of fans or building his program, his mantra consists of building. During his time at Appalachian State, Fox has recruited well and has fielded a much more competitive team than his record would lead the casual observer to believe.
The building blocks are in place for the 2016-17 season to be one of the more successful campaigns in recent years, with standout talent in current freshman Ronshad Shabazz as well as great potential in freshmen Tyrell Johnson and Emarius Logan. Fox also has sophomore Griffin Kinney at his disposal, a player Fox has thought highly of since recruiting him during his first year on the job.
Fox and his team certainly have a mountain to climb if they plan on building a program that experiences continuous success throughout the coming years. Fortunately for Appalachian State, they seem to have finally found the right man to reach the summit.