Shanelle Meyer: Fearless fashion
Shanelle Meyer showcases the confidence her outfits bring to her whatever the occasion may be. From classes to concerts, she always brings her seventies-inspired looks.
Meyer, a sophomore creative writing major, inspires her friends to have the confidence to wear their true styles.
Just looking at Meyer, you can't miss how she incorporates her culture into her style. She isn't afraid to boldly reference the movies she loves.
"I'll see an outfit in a movie and be like I have to go find that right now at the thrift store," Meyer said.
Meyer also uses rock musicians for inspiration.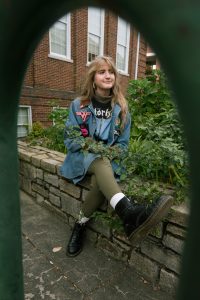 "They are known for wearing outlandish things on and off stage that always inspire me to branch out more with what I wear," Meyer said.
She credits her rock influences with pins and patches she sews onto her jackets and vests.
Meyer said she has learned to have an "I don't care" attitude when it comes to dressing strictly for herself, with the help of artists she admires.
"They always inspire me to branch out more with what I wear," Meyer said.
Meyer is a creative beacon to all her friends, especially Alexa Conway, a sophomore social work student.
"Her sense of style radiates confidence," Conway said. "It pushes me and I know many others to be comfortable in our own sense of style."
Meyer has taken a fashion journey throughout the years. While Meyer's fear held her back from wearing daring fashion in high school, fashion now lets her stand out confidently.
"It helps me identify who I am," Meyer said. "I feel who I am in my clothes, and it took me a while to get there."
Story by Mericlaire Williams, A&E Columnist
Photos by Hayley Canal
Featured photo caption: Shanelle Meyer shows off her patches on her denim jacket.