Art students of all skill levels proudly presented their work on the walls of the Smith Gallery inside the Schaefer Center for the Performing Arts at an art gallery Nov. 3.
Students from three Foundations classes, which are ART 1000 level classes, were able to display their art in the Smith Gallery for their friends, family and teachers to view while enjoying snacks and beverages.
 Thanks to an opening in the schedule of the Smith Gallery, Martin Church, an art lecturer at App State, worked with the Smith Gallery Director, Jennie Carlisle, to get all the Foundations classes into the gallery. Church and his students then took over the planning and placement of the collections and how the rooms would flow from class to class.
"I like to put them up on the wall in class and say these are their individual pieces, but now, together arranged they are a mosaic of our community," Church said. 
The class mosaics stood in the spotlight for a gallery as individual artists' sections sat within a collective to cover the walls in a massive collaborative exhibit. 
The Foundations I and Foundations Drawing classes filled the second floor with their mosaics of drawings, paintings and self-portraits. Artworks ranged from detailed black-and-white drawings of everyday objects to colorful painted quilt squares that came together into one large collated blanket.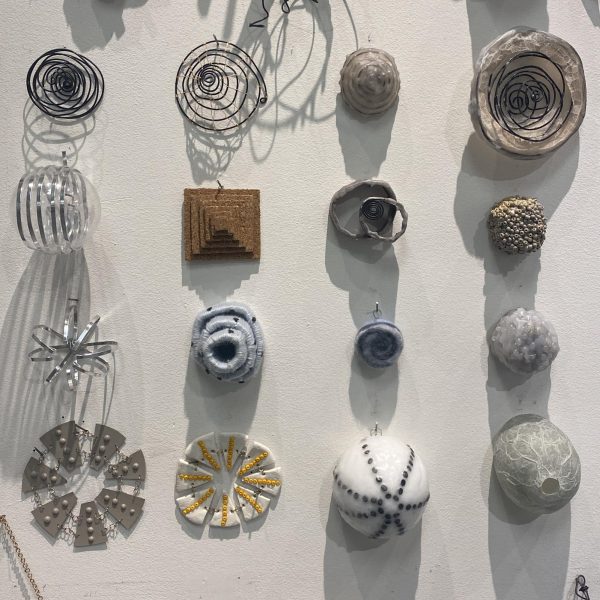 The first floor consisted of artwork from Foundations II, the sculptural form of the class, where each student was tasked with creating 16 abstractions of one object through sculptures that created a four-by-four grid. Each corner of the grid represented a different style that contrasted with its opposing side. Senior studio art major Fiona Turner said the contrasting words varied from pairings like hard to soft or fragmented versus continuous, showing her grid that was formed around the abstractions of a sea urchin.
The 16 grids from each student filled the wall with trinkets, crafts, scraps and even found trash, such as the workings of Olivia Absher, a sophomore studio art major. Her sculptures were created from trinkets and trash that she has stumbled upon, sought out and even fell into a river for. 
"I used things that I called my crow box which is where I collected my weird little bit that I collected for years and years," Absher said. "I wanted to really accentuate that this area was entirely made of litter. There's beauty in every aspect of it, even in the trash." 
Other students' grids told a story that flowed through the piece such as the grid from Rose Talent, a junior apparel design and merchandising major, as she created the story of a transgender woman who ventures into the world to make a better life and ultimately ends up in a body bag. 
"I really wanted to show this metamorphosis through time and space and the energy that she puts into different people and different things," Talent said. "Each sculpture represents a different part, a different movement, a different section in her life."