Below Mountain Laurel Hall, through a back door entrance is a collection of basins, tubes and jars. Buried under a symphony of rumbling equipment, the Fermentation Sciences Club creates food and flavors. 
The club began in 2015 because students wanted to experiment with fermentation beyond the classroom and learn more about the industry. 
The current president, Ethan Michalski, became interested in fermentation because of his family, who does home brews such as ciders and mead. Michalski is a "Triple E," ecology, evolution and environmental, biology major and a fermentation sciences minor. According to beerinfo.com, App State is one of only 18 schools in the U.S. that has a fermentation sciences program. 
"We, as a club, try to encourage as much curiosity as we can by answering questions and hands-on learning," Michalski said. "We try and make it as understandable as possible for anyone of any level, and anyone can join.""
Michalski said students from any major can also hold leadership positions in the club. He was originally elected vice president, and the president before him wasn't a fermentation major or minor. 
There are a few differences between fermentation classes and the fermentation club.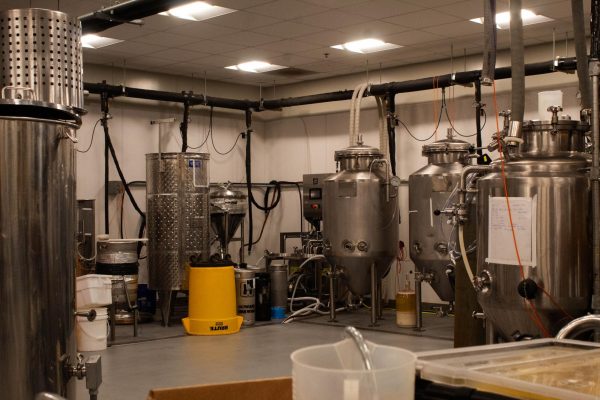 "Intro to Fermentation is a lot more of the notes portion, whereas the fermented meats and cheese class that I'm currently in there's a few notes but it's a lot more hands-on. In the club, we do hands-on straight away and make food," Michalski said. 
The club also has attended various events hosted by other schools. Michalski said if he were to select a school for a future visit, he would pick PennWest Edinboro because he wants to see the differences between both school's fermentation departments. 
Michalski finds the alcoholic ferments the most interesting because he grew up learning about brewing from his family, though his favorite are cheese ferments, as they are not too difficult, but nuanced. 
Like Michalski, the club's advisor, fermentation sciences professor Brett Taubman, also enjoys alcoholic fermentation. 
"I'm a beer guy, that's my main background in the fermentation world, so I love beer and making beer," Taubman said.  "I've recently gotten more into fermented meats, especially now with whole-muscle ferments. Working with molds is a lot of fun, it sounds weird, but there's a lot to work with with meats and cheeses.". 
Taubman originally taught chemistry courses, though now he teaches fermentation courses such as brewing science, fermented meat and cheeses, principles of fermentation sciences and principles of wine production. His background is analytical chemistry, but he was able to find his niche in the fermentation world. 
"I've always been interested in foods and flavors, and as a chemist I sort of gravitated towards that world. I love it. I love the process, love working with the microbes, and love discovering new flavors and ferments," Taubman said. "I don't know if anybody has this much fun as I do as a chemist. My wife works in the IT department at the university and she talks about the meetings she has to go to, and I get to tell her I'm making sausage and beer today."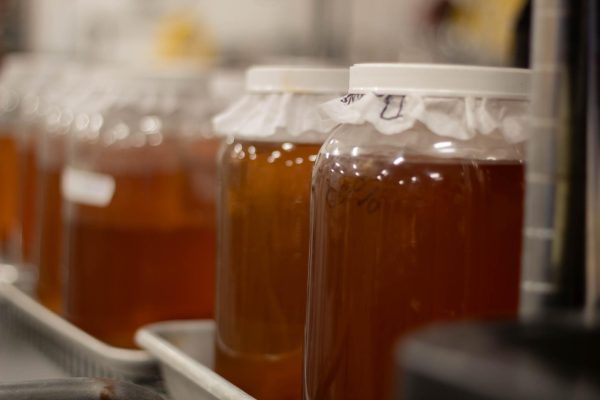 Taubman said when he sees a student get excited about a new ferment, it brings the joy of fermentation back to him and he remembers the first time he discovered fermentation. 
At their next meeting, the club will begin making pepperoni. The process is intricate. They begin by grinding the pork and beef and spicing it with various spices and curing salts, which gives the meat a red color. Adding lactic acid bacteria helps in the fermenting process, then they will put the meat into a casing to ferment for a few days. 
Then they will either smoke it or intentionally add penicillium or Aspergillus mold and dry the meat out. 
"At that point it's ready to eat. It's never been cooked, and so the salami and pepperoni you eat are never cooked, they're fermented and dried," Taubman said. "That's fermenting in a nutshell–or casing."