Multiple students in the Department of Art at App State created a petition as a result of the renovation of Wey Hall, amassing over 1,110 signatures as of Nov. 13.
The students first got the idea to start a petition during a class project. They said they wanted to make a difference within the community of the art department.
Wey Hall is undergoing renovation, but the first floor is open to students, and some classes are still being held there. Other art classes are spread across various buildings on campus, such as East Hall, which used to be a residence hall but was unoccupied prior to the relocation of classes.
Along with help from other art students, Hailey Jordan and Becca Stickler, both senior studio art majors, created the petition requesting partial tuition reimbursement for art students impacted by the renovation. 
Jordan said she was able to take classes in Wey Hall before the renovation project. She said the hall needed renovation, but the "planning was not thought out well."
The move from Wey to East Hall was stressful, Jordan said, even with the support of the department's faculty members.
"It hurts," she said. "We're part of the Appalachian State community like everyone else and we want to be a family, but it felt like administration or whoever was overseeing this move didn't think about us."
The students said it is difficult to move large projects across multiple buildings where art classes are currently being held, such as Anne Belk, East and Wey.
Additionally, Jordan said some classes, which can last upwards of three hours each, allow little time to get from one building to another.
"I have to get out of class 20 minutes early, or else I can't get to my next class prepared, which takes out actual education time," she said.
Stickler said the lack of planning has compromised her access to resources.
"They didn't think about the facilities that art students need to be able to create and the hundreds of different materials and mediums and space," she said. "This is going to impact some people's entire college careers." 
Jordan also said the move has significantly impacted her ability to create art, noting issues such as lack of resources, sound and an unsafe environment.
"It's also taken away my mental capacity for my education," she said. "Am I going to have to put up with jackhammering while I'm throwing a pot?"
Jordan and Stickler said the move has impacted their ability to learn and create.
"As an artist, this will impact me to an insane degree," Jordan said. "I'm not able to progress as much as an artist. I have to do a lot more work to get that sense of community."
Stickler also commented on the move's impacts.
"It's come on to us to have to make a change and get what we need, which has also taken away my mental capacity to make art," she said.
Jordan said she and fellow students in the art department will continue to run and manage the petition.
"We won't stop," she said.
One problem, Jordan and Stickler said, is the lack of adequate space. Jordan said it is hard to engage with the art community when classes span four dorm rooms in East Hall, and critiques for student artwork occur in crowded, under-lit hallways.
"Everything has just been taken away from us," Stickler said.
Jordan and Stickler also said East Hall does not have proper lighting, ventilation or A/C, saying it took a month and a half to get fans in the classrooms.
"It's not an optimal space to try and be creative," Jordan said.
The students said they have safety concerns regarding Wey Hall, such as the impacts of demolition on the building on the upper floors.
The studio art majors said the second floor, which is where art classes are currently being held in East Hall, does not have an elevator. Stickler said the only door entrance to the second level of East that does not have stairs is always locked. She also said the door is very heavy and difficult to open from the inside.
"It's only able-bodied friendly," Jordan said. "It's not handicapped accessible."
Jeff Pierce, director of Planning, Design & Construction at App State said the process for building renovation can be timely, addressing some concerns of the relocated students.
Pierce said in order to start the construction process, App State must first define the scope of work and come up with an estimate, which can take upwards of two to three years prior to construction. This is because the building is a state-owned building. The project is part of a six-year plan.
Initially, the project was supposed to be a minor renovation totaling $2 million, taking place approximately five to six years ago, Pierce said. 
App State decided to "hold off" on the minor renovation project and request a larger budget of $15 million for a larger renovation.
Now, the project has a budget of $17 million. Pierce said the department hopes to acquire more funding soon.
Pierce said some issues with Wey Hall include a lack of adequate space. He said the project will focus on upgrading electrical components, reconfiguring the layout to gain extra space and creating a safer environment for students.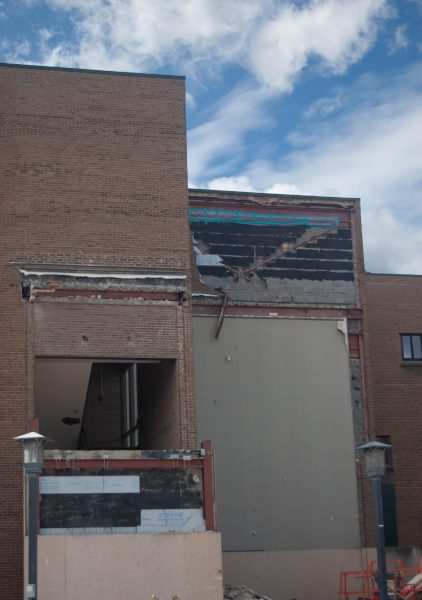 Additionally, the project will focus on installing a new elevator and creating a new front entrance.
Pierce said the target completion date for the second and third floors is December 2024. The department needs to acquire additional funding and aims to complete the first floor in May 2025.
"We are running out of room," Pierce said. "As we take in more and more students, we need to be a little bit more efficient and effective with the way we use our classrooms."
Pierce said among some of the safety concerns with the renovation of Wey Hall was the presence of asbestos.
He said that App State regularly monitors the asbestos levels found in products such as floor and ceiling tiles and completed a hazardous material survey in Wey Hall before the demolition. The planning director said all asbestos was removed from the building, and certified inspectors monitored the levels after removal to ensure the building was safe. 
"There's no hazardous material; it's all been tested," he said.
He also said other concerns, such as dust, were not from hazardous materials but from buildup from the ceramics lab.
In response to concerns about the temporary relocation of the department, the art department hosted a series of conversations Oct. 11-12 where students could voice their concerns and receive feedback from a leadership team.
Present was Shanshan Lou, interim department chair; Jason Miller, associate dean of the College of Fine and Applied Arts; Josh White, associate professor and assistant chair; and Mira Waits, professor and architectural historian. 
Among some of the concerns voiced by students were the state of the drinking water, constant noise in Wey from demolition, construction and inconsistent airflow and ventilation.
Some students said they would not benefit from the renovation of the building before they graduated but were still being impacted by the move.
One student said during the public conversation that she struggled with the constant noise from renovation in Wey as a student with autism and asked for better accommodations for neurodiverse artists using the building.
Others asked for better communication or possible relocation of certain classes.
Research and lab operations manager Adam Adcock questioned how the department ended up in East Hall and other various buildings across campus, saying he wants to at least see that App State "tried" with the relocation.
Miller agreed with students, saying that communication and updates related to the construction are helpful.
The artists who started the petition said that nobody from the university has contacted them regarding the petition, but they want to hear what App State's response is.
For now, the students will continue to advocate for the department by managing the petition and its community outreach.
"We are not going to give up," Stickler said.