Rhetoric and Composition students with trifolds and laptops crowded the tables in Grandfather Mountain Ballroom of the Plemmons Student Union on Nov. 17 to share their work for the sixth annual Celebration of Student Writing. Everyone had a display featuring a variety of topics from peer editing to LGBTQ rights.
Hayley Hughes, a freshman psychology major, is enrolled in RC 1000 at Appalachian State and did her project about sexual assault on college campuses. Along with her trifold featuring statistics and information about sexual assault, she had a plan for a better reporting system on campuses. Hughes also included a TED Talk about the subject by Jessica Ladd, which inspired her to do her project.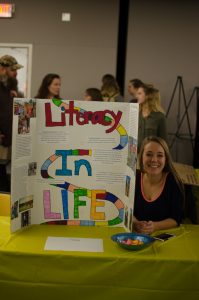 "I chose to do this because I thought it would be a great way to get all of this information out," Hughes said.
Hughes also had people fill out a survey about sexual assault at Appalachian State which she plans to submit to the school after the project has been completed.
"My main goal is to take the survey results to ASU and say this is the kind of effective report system that students actually want here," Hughes said.
Sophomore hospitality major McKenzie Scheppegrell and sophomore communications major Abby Carlton were also at the Celebration of Student Writing displaying a website Scheppegrell created for RC 2001.
"I wrote a research paper about how to get into event planning and what that would look like since that's what I want to do in the future," Scheppegrell said. "So I decided for my multi-model remix that I would make my own mock website."
Carlton liked the event because it gave students a chance to present projects that they worked on during the semester.
"We work really hard on this," Carlton said. "It's cool that there's a place where we get to show off our work and show the work we put into all of our projects."
Freshman psychology major Kelly Crosby had a trifold board about assisted suicide in the United States. Crosby was inspired by a documentary she saw about Karen Quinlan, the woman that helped get assisted suicide legalized in California.
Crosby's trifold included her research paper and information about the different types of assisted suicide.
"I think this school is about diversity and being yourself," Crosby said. "I think people should be able to make their own decisions about their life and what they want to do."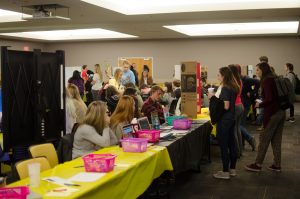 Elizabeth Herman is an RC 1000 professor at Appalachian State. She had her students participate in the writing fair and display their research projects.
"I think it's important because it helps students voice their interest in particular topics that are really important to them," Herman said. "It helps them to connect with an audience in their writing."
Herman believes that the event should occur more often than once a year. She likes how the event makes people talk about their work and brings different issues to life.  
Story by: Celia Calhoun, A&E Reporter