Coming in as a freshman can be a daunting task for many players. App State freshman guard Ronshad Shabazz, on the other hand, has embraced the task and given a spark to the Mountaineers that the team has been lacking.
Shabazz has been playing senior-like minutes, averaging 24.3 minutes a game while putting up 11.0 points and 3.7 rebounds a game.
"I didn't expect to be getting a lot of touches, but I'm thankful for my teammates for believing in me," Shabazz said.
One of the focal points in Shabazz's growth was transferring high schools after his junior year. A Raleigh native, Shabazz averaged 25 points a game, finishing second in the state of North Carolina at Knightdale High School during his junior year. He transferred to national powerhouse Huntington Prep as a senior, which he says helped him prepare for the collegiate level.
"Knightdale wasn't helping me get ready to the point where I am at now," Shabazz said. "I moved high schools to help me become a better college player. It was a prep school so it helped me grow more as a player and person."
Shabazz was rated a three star recruit coming out of college, and App State head coach Jim Fox saw potential for Shabazz to become a future leader for the Mountaineer program.
"While recruiting him and getting to know him and his family, we saw someone with a tireless work ethic who wants to be great, and that's why I always had confidence knowing he can be a great player for us," Fox said.
As a left hander, Shabazz has a unique skill that is hard for defenders to guard. Senior guard Frank Eaves, App's leading scorer, says having that type of skillset on the court gives him a boost that not all players are fortunate to have in their repertoire.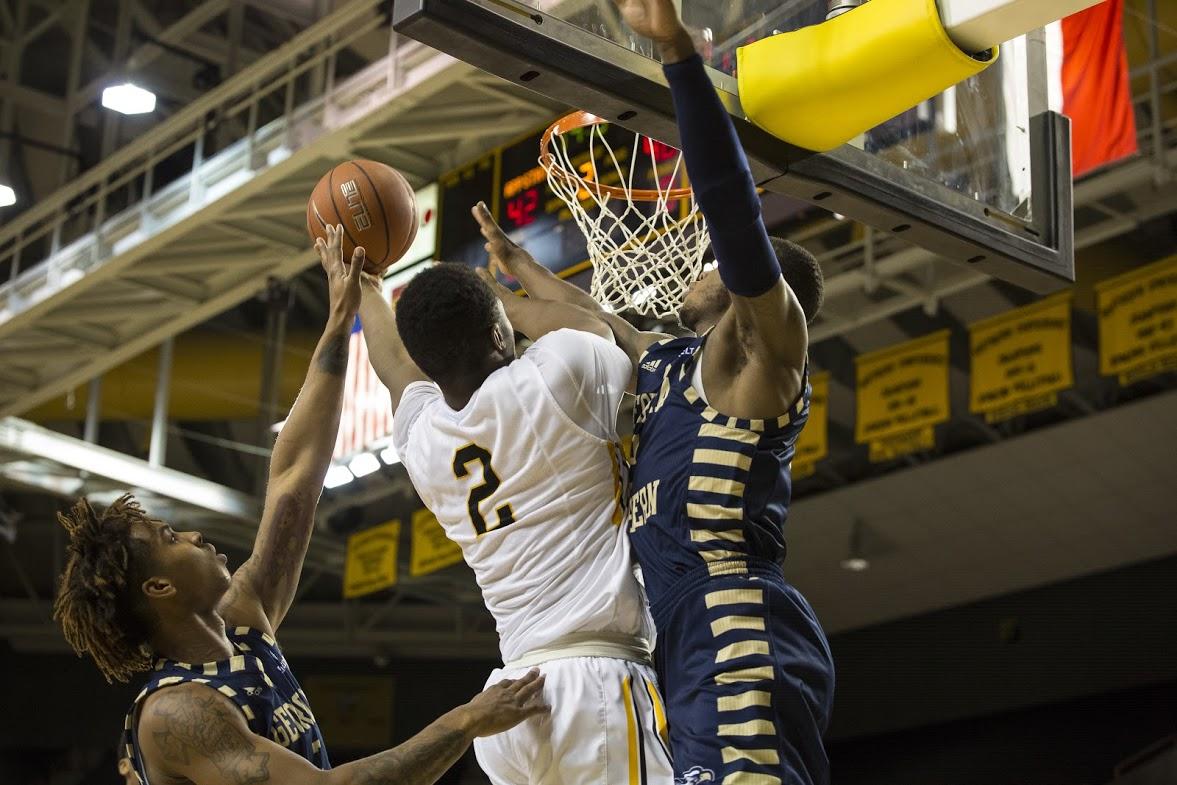 "He just puts pressure on others," Eaves said. "He can shoot the three or he can drive the hoop. You don't know where he will go because he can perform at all those levels. It makes it very tough on guys defending him."
With key guards on the team like Eaves and Chris Burgess graduating after this season, Shabazz is trying to take in all the information he can learn from them.
"They help guide me when things are going my way and when things aren't going my way," Shabazz said. "They help pick me up and keep my head up during games."
Still only a freshman, Fox sees someone that will be the leader and future of this team for the next couple of years.
"I have no doubt in my mind that he will be the leader of this team," Fox said. "He is tremendously talented but I think I have been most impressed with his maturity, his leadership, the way he talks to guys and his teammates and the way he is not afraid to be a leader as freshman has been really impressive."
Coming to App was an easy decision for Shabazz. He turned down offers from Bowling Green, Buffalo, Delaware and many other Division I schools. Being from North Carolina and getting to know the Mountaineer coaching staff, he felt Boone would be the best place for him.
"Mostly what brought me here was the coaching staff," Shabazz said. "All of them showed love, and at the end of the day that what matters to me, my relationship with the coaches and teammates."
With Eaves getting a lot of the attention this season, he thinks a lot of his game is helped from Shabazz being such a good playmaker on the court.
"He is very capable of getting to the hoop when teams try to guard me or Chris and he can step up and make plays," Eaves said.
Consistency has been something Shabazz has had to work through, but with a career-high of 29 points already this season and averaging 17.8 points a game on 60 percent shooting over the last seven games, the potential is there.
"There have been some inconsistencies, but he is a sponge and works really hard and listens very well," Fox said. "That is why he is going to be a great player."
Being a left hander, it can be hard to look up to any player in the NBA, but current left handers are the ones that Shabazz follows the most to help his game.
"It's hard to look at a lot of NBA players since a lot are right handed, but I like James Harden, he gets buckets," Shabazz said. "Ginobilli is a good left hander also. I look off of them and try to compare my game to them."
While Shabazz said the season can be tough with a lot of losses stacking up, he still has the mindset that the Sun Belt tournament in Louisiana is in reach.
"Our main goal is New Orleans," Shabazz said. "We have to take one day at a time."
The Mountaineers have a huge bright spot with Shabazz coming in this season, and if his recent play is any indication, it only looks to be getting brighter.
Story by: Jason Huber, Senior Sports Reporter 
Photos by: Chris Deverell