Tiny House provides new LIFE for adults with autism
On Tuesday, Living Innovations For Exceptional (LIFE) Village unveiled their new tiny house, a first step toward creating a community for adults with autism and other related disorders.
LIFE Village's tiny house will benefit adults living with autism by giving them a sense of independence, Candace Lang, LIFE Village's director of development and vice president, said.
The tiny house was built this summer by App State students, led by Chris Schoonover, a lecturer in the Department of Sustainable Technology and the Built Environment.
The Department of Sustainable Technology and the Built Environment encompasses majors in both sustainable technology and building sciences, which includes architecture, construction management and other related majors.
Schoonover said that throughout the whole process, he and his students have received lots of support from the community.
LIFE Village started in 2014 when Jim Taylor, founder of Kids with Autism Making Progress in Nature, or KAMPN, a free summer camp for individuals with autism, and Lang joined forces and founded LIFE Village.
"I have a daughter who has a dual diagnosis of cerebral palsy and autism," Lang said. "I wanted a community for my daughter, somewhere she could have other people around her and find the support she needs and live as independently as possible."
The current tiny house will be a "model home" for people interested in the project and serve as a physical manifestation of what they are trying to accomplish with the LIFE Village until more of the community comes together, Lang said.
"It shows a lot (about our community) with all of the volunteers coming together to support such a great cause," Megan Eastwood, freshman criminal justice major, said.
A large portion of the supplies and planning that go into building a house were either donated or supplied to LIFE Village at a discounted rate by numerous local businesses like Watauga Building Supply New River Building Supply and Lumber Company.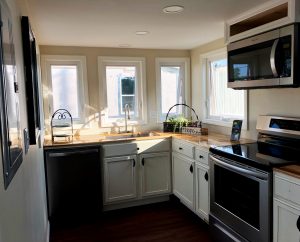 The tiny house features a small kitchen with full-sized appliances, a full bathroom, living area and two lofts for storage and sleeping.
"I have two boys on the autism spectrum, so I'm concerned about what happens when they become adults," Melissa Shore, treasurer of LIFE Village, said. "Where are they going to live? And as a parent, what's going to happen when I'm no longer able to take care of them?"
Autism impacts 1 in every 59 children in the United States, according to the Centers for Disease Control and Prevention. LIFE Village wants to emphasize the importance of continuing care for these individuals throughout their lives, Lang said.
Many individuals with autism receive lots of care and attention when they are children, but as they grow older, often receive less and less of the attention they need, Lang said.
Congresswoman Virginia Foxx (R-NC 5th District) and Mayor Rennie Brantz were both in attendance of the ribbon-cutting ceremony, as well as Sheriff Len Hagaman.
LIFE Village had originally intended to create their community in one large building; however, when the Department of Sustainable Technology and the Built Environment decided to donate their tiny house to LIFE Village, they quickly realized the value in using tiny houses for their project, Lang said.
"We're looking to secure land right now, so we're very hopeful that there is that person out there who might want to donate," Lang said.
The tiny house will be hosted by Wallace Propane-Welding Supply on their lot until land is acquired to house the future tiny houses.
"It's going to be a good place for me and my friends to live, and it's going to be a good place to live and grow," Paul Wellborn, a future resident of LIFE Village, said.
LIFE Village will also be partnering with App State more in the future, by working closely with the Integrative Design Experience Laboratory, or IDEXlab to see how to make the tiny houses the best they can be for individuals with autism.The tiny houses must account for many things, including sensory issues, that many individuals with autism face.
"They're going to work on different plans for other models for us and research autism and what a comfortable environment would be for them," Shore said. "In the spring we hope to continue and maybe be able to build more."

Story by: Jackie Park
Photos by: Jackie Park
Featured photo caption: Surrounded by App State sustainable technology students, Boone politicians and community members, Vice President and Director of Development of LIFE Village, Candace Lang, cuts the ribbon for a new tiny house. App State students built this tiny house as home for adults with autism and LIFE team members.