Torn apart but still together
Growing up and playing the sport that you love makes you feel invincible, like the sky's the limit and nothing can hold you back. Now imagine having it all ripped away in a split second with a simple pop in your knee that drastically changes the next six to 12 months of your life.
Six women on the App State women's soccer team have experienced this. All because of one of the worst freak accidents in sports: an ACL tear.
For the first time in almost four years, with only one player currently recovering, the Mountaineers have all of their key upperclassmen players who have suffered from an ACL tear back on the field for a full season.
"I think this team will be extremely competitive," head coach Sarah Strickland said. "They were not pleased with the Sun Belt preseason rankings."
Ranked fourth in the Sun Belt preseason coaches poll, the team is no stranger to adversity and one of the things that makes them so competitive is the struggle many of the players have had to go through to even get back on the field.
"We all struggle at some point in our careers and it is good to show our vulnerability sometimes," redshirt senior Carrie Taylor, who tore her ACL sophomore year, said. "It's not like we had an option but it helps other girls see us as more approachable."
Women's chances of tearing their ACL is six to eight times higher than it is for men. Many factors cause this, but anatomically, having smaller ACL's and smaller notches in the knee where the ACL resides is what is primarily responsible, according to usyouthsoccer.org.
The same study explained how women's tendency to have straighter knees causes them to buckle inwards more than males, which stresses the ACL. With such high velocity and movement in the game of soccer, a player can suffer an ACL tear at any given moment.
If going through an ACL tear once isn't hard enough, three girls on the Mountaineers current team have torn their ACLs multiple times.
Redshirt sophomore forward Erin Settle is in her first full fall season in two years after tearing her ACL with five games left in 2014 season and during fall preseason in 2015. Redshirt freshman forward Jessica Easley is playing in her first college season as she came to App State while recovering from two full tears, a meniscus tear and a partial tear suffered in high school.
"Growing up, you begin to think you're invincible," Settle said. "I never thought I would come to college and get hurt with five games left in my freshman season."
It takes an immense amount of mental fortitude to come back from one or even two ACL tears. But redshirt senior forward Jenn Bass has been through what most soccer players can't even fathom coming back from: tearing her ACL three times.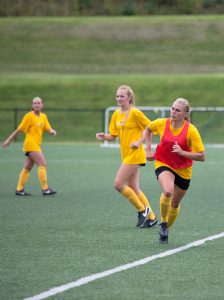 "I think the mentality is the same, but it is emotionally, physically and spiritually draining," Bass said.
After tearing her ACL in high school and recovering, Bass played at Clemson for a year before making the decision to have a fresh start at App State. However, things did not start off as planned when she suffered her second ACL tear.
"I was lucky that I already went through it once so I knew what to expect, but I was in a place with different teammates that I didn't know which was very scary," Bass said.
Unable to be on the field with her teammates during her first year as a Mountaineer, Bass trained hard all summer before tearing it for the third time in the 2013 preseason.
"It is difficult because Sarah [Strickland] is focused on roles and as a player you want to come in right away and practice and go on trips," Bass said. "But sometimes you have to take the backseat and encourage people, so I think you have to welcome whatever role you have and be really good at it."
Even through all the ups and downs, Bass stayed confident and determined to make it back every time she tore it despite family members and doctors telling her it may be a sign to quit playing.
Things were even more nerve wracking for Easley, who committed to App State her junior year of high school and tore her ACL just two months later.
"I had to call Sarah [Strickland] and I was absolutely terrified," Easley said. "I didn't know her like I do now and I didn't know how to tell her."
Strickland never doubted Easley, but after having another surgery for a partial torn ACL a couple months later, Easley fully tore her opposite leg towards the end of her senior year of high school.
Once again having to call Strickland and this time let her teammates know she would have to sit out her freshman year of college, Easley, like Bass, had to welcome the new role that life had given her.
"You have an impact where you want to have an impact on the team and I put more of an effort in having a positive one on the sidelines," Easley said. "Find your place on the team and influence them even if you aren't on the field."
The biggest thing Strickland reiterates to all the players who have torn their ACL is that there is always a place on the team to contribute.
"We always touch base with them right away and they always apologize and we have to remind them that it is not in their control," Strickland said. "They need space and they need time to be angry, but you also have to reality check them so they realize what they are capable of compared to what they aren't."
It is hard for anybody to suffer an injury in a sport that has given him or her adrenaline as long as they can remember. Finding something or someone to give a confidence boost is key throughout recovery.
For Settle, her faith became the strongest support system through her two recoveries.
"I have a strong faith in God and I knew he had a plan for me and that helped me get through rehab," Settle said. "It is very easy to get depressed and you must find some reason to keep your head high."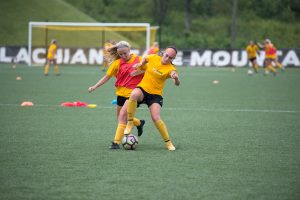 Keeping her head up and never losing track of the light at the end of the tunnel allowed Settle to score two goals in her first time back in the team's first two regular season matches. Her efforts led to being named Sun Belt Student Athlete of the Week.
And if there's any bright spot for having to have surgery, sit out, rehab, take things slow and then more rehab to recover, it's the rejuvenation for the game that has been taken for granted.
"I found the love of the sport again," Easley said. "Sometimes you play so much going through a routine, you get overwhelmed, but I found the love for the sport again. I thank God that I can do this. As hard as it is to say this, I would never go back and change everything I went through."
It's one thing that every player was able to relate to: never taking anything for granted. The pain at the beginning is the hardest, but every step taken to come back in the early stages makes you stronger in the end.
"You can come back and keep your head up but the strides at the beginning mean so much more," redshirt junior Phenix Durham said, who tore her ACL last season. "When I started coming back I doubted myself but realized I just wasn't there yet."
Having a majority of their players back and feeling stronger than ever, sophomore Jamie Palermo is the only player currently recovering from an ACL tear she suffered this summer.
Being on a team that has gone through the process multiple times and even having a group text message for players who have torn their ACL, Palermo has the support system she needs.
"It has been such a big family and I have never once thought about not being a family with this team," Palermo said.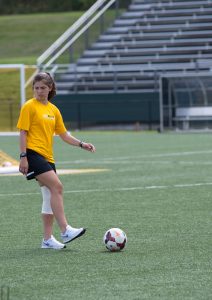 One thing opponents will not know is the fortitude that they have had to maintain; one that will make them very tough to beat physically and mentally.
Looking at this Mountaineers team, opponents will struggle to defeat them because they've been through the gruesome recovery and have lived to tell the story another day.
But they're not telling it from the sidelines or the stands, they're telling it as they blow by you, as they defend you with unwavering drive.
They're able to tell it because soccer is a huge part of their lives, but they refuse to limit themselves to that definition alone.
"The biggest thing is we don't define ourselves as soccer players," Strickland said. "It is a part of who you are, but you are so much more."
Story By: Jason Huber, Sports Editor