Trio of breakout stars leading Mountaineers women's soccer
As a coach, it's always nice to have players you can count on. They do not have to be the biggest, fastest or the strongest, but you know that they will always get the job done. The Appalachian State women's soccer has just that in this season's breakout trio Kat Greer, Ava Dawson and Sharon Osterbind.
The trio has made their presence known this season as the three leading scorers in points and goals and they have emerged themselves as leaders in what is an extremely close knit team, both on and off the field.
"I think that because there are so many different personalities that are stepping up, I feel like that's part of the reason where the the players are truly together and all needed," head coach Sarah Strickland said.
Strickland is referring to former star Jane Cline, who before graduating in the spring, capped off her career with an excellent senior season, earning several accolades such as Sun Belt offensive player of the year and writing her name in the school record books tied for first all-time for goals in a season with 11. Many coaches have to search far and wide to find replacements for such impactful players, but Strickland did not have to look very far.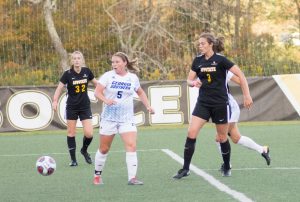 Sophomore midfielder Dawson has thrived this year, after accepting a much bigger role than the one she had during her first season.
After only logging 23 minutes as a freshman she is enjoying a breakout season, making appearances in 10 out of 12 games, and even earning five starts. She has also found the back of the net three times this season, which places her as the second leading scorer on the team. This string of quality performances has been capped off with an impressive two-goal showing in a 3-2 win against Davidson.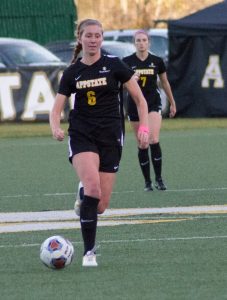 "I feel like I have a bigger role on this team, connecting through the midfield and finding our forwards. It's cool to make an impact more on the field and help us win games," Dawson said. "My goal this year was to just get on the field and get more playing time and I feel like I've proved myself."
"I think confidence was all she needed to be able to say that it doesn't matter how old she is," Strickland said. "It was a matter of the consistency of her impacting the game as opposed to her being steady, but finding moments to be creative."
Junior forward Greer has also proven herself as a major threat in front of goal. Although she was forced to sit out for a good portion of her sophomore campaign due to injury, she was still able to pick right back up where she left off, emerging as the team's leading scorer, with four goals to her name.
Greer has also made herself  known for stepping up and making plays happen when her team needs it most. Two of her goals have come in the last 10 minutes of the match, which were a game winner against Georgia State in the 86th minute, and an equalizer against Arkansas State in the 84th minute, in a tough game that resulted in a 1-1 tie.
"I feel like it's that part of the season where everything is flowing and connecting when it needs to," Greer said.
"Kat just has a nose for the goal. Her set pieces are incredible and she's definitely a threat and someone who I feel is on the scouting report for other teams we face," Strickland said. "She has a pretty strong faith as well, so I think she's in a good position spiritually as well."
The Mountaineers have also benefitted from the experience of redshirt senior Osterbind, who made her way to Boone as a transfer from the University of Alabama at Birmingham. She was able to come in and play almost right away and has shown just what kind of impact she can make, producing for the team in multiple ways. Scoring twice this season, Osterbind has also shown her ability to set up her teammates by contributing two assists. Along with Greer, she had an excellent game against Georgia State, registering both a goal and an assist.
Strickland took notice in Osterbind during her initial recruiting process, and even though she was unable to bring her in the first time around, she was definitely glad that she considered App as a potential transfer spot.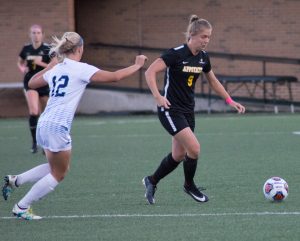 "I think it was exciting for Sharon because it was a fresh start and she had played in collegiate games so I think that is also an advantage," Strickland said.  
The team has made quite a few road trips as well, which have helped them prepare for conference play. They have played eight away games, including five in their non-conference schedule with each one has been against a quality team. Five of their non-conference opponents also made appearances in the NCAA tournament. As a result, the team is very well prepared for the traveling and stiff competition that comes along with Sun Belt play.
"You have to have the experience to say that 'I've been there and done that, and I can do it again and even better the next time,'" Strickland said.
Looking ahead towards the second half of the season, the Mountaineers are making it a very important goal not only qualifying for the Sun Belt tournament, but competing in it as well. They are also trying to develop more as a team and emphasizing the core values of the team.
"The outcome is going to happen if we stick to the process, so we had a lot of conversations about what we each individually needed to do," Strickland said.
Whatever goals the team sets their sights on, they will definitely have the willpower it takes to achieve them. With the combination of veteran experience, as well as their strong core of young players, the future looks very bright for the squad, not only for the rest of the season, but for seasons to come.
Story By: Zack Antrum, Intern Sports Reporter
Photos By: Lindsay Vaughn, Senior Staff Photographer