Two Mountaineers selected in MLB draft
Appalachian State baseball has thrived in recent years with preparing their players for the next level, and now, two more Mountaineers will start their road to a potential big league career.
Redshirt senior right-hand pitcher Matt Brill was drafted by the Arizona Diamondbacks in the 12th round at 352nd overall and junior catcher Chandler Seagle was drafted in the 30th round at 888th overall by the San Diego Padres during the third day of the MLB Draft.
Brill and Seagle become the 42nd and 43rd Mountaineers drafted by an MLB team since 1969, and the 13th and 14th in the past five years. Going 352nd overall, Brill becomes the first player since Garrett Sherrill in 2008 to go in the first 12 rounds.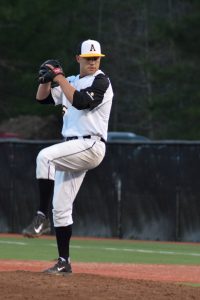 Recovering from a season-ending Tommy John surgery in 2016, Brill bounced back in 2017 to deliver a compelling senior year, finishing with a career-low 4.45 ERA, 38 strikeouts and four saves.
Putting together his best success against Sun Belt opponents, Brill cruised to a 3.72 ERA with 22 strikeouts in 27.2 innings of work.
Drafted as a pitcher, Brill also excelled as a hitter in his time with the Black and Gold. Brill hit .306 during his freshman year in 2014, finishing as the Mountaineers' second-leading hitter.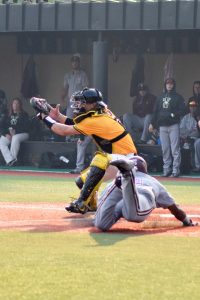 More recently, Brill finished his senior season batting .261 with an on-base percentage of .346. The former Mountaineer also hit five home runs and knocked in eight runs while finishing off his App State career.
"I feel extremely grateful to have an opportunity to continue to play the game that I love at the next level," Brill said in a press release. "I thank my family, friends, coaches and teammates for helping me along the way."
Brill was previously drafted out of high school by the New York Mets in the 24th round, but the Illinois native from Moline High School turned down the offer to join the Mountaineers.
Seagle finished this past season with a .179 batting average, hitting four doubles, two home runs and concluding the season with 14 RBIs. Racking up a .987 fielding percentage, Seagle succeeded behind the plate as he threw out 18 of 24 batters trying to steal base this season.
Seagle plans to forgo his senior year like Brill and begin his professional career.
"It's amazing on a day like today to live out a moment that you have pictured in your head your entire life," Seagle said in a press release. "There are so many people to thank and I'd have to start with my mom and dad for everything they have helped me through in my life."
Story By: Tyler Hotz, Enterprise Editor
Photos By: Lindsay Vaughn, Photographer