Women's Center volunteers knit cost-friendly breast implants for cancer patients
About one in eight U.S. women will develop breast cancer in her lifetime, according to U.S. Breast Cancer Statistics. Eight of eight App State's Women's Center volunteers do their best to spread awareness of breast cancer dangers across campus.
The Women's Center hosts "Knit Knockers" during October, an event during which volunteers knit breast inserts and donate them to women affected by breast cancer in hopes of making them comfortable and confident during and after treatment. Traditional inserts are usually expensive, uncomfortable, and require a special bra or camisole. Knit Knockers are made by volunteers across the country by following a pattern. They are also are adjustable and cheaper to the patient.
Hannah Lamb, senior public relations major and volunteer, said she enjoys knitting and helping to give others the same confidence she gained with the help of the Women's Center.
"Over the course of my time at Appalachian, they've just given me awesome resources and really helped me develop confidence and acceptance as a woman," Lamb said. "I thought it would be a cool chance to be involved with an organization that had already given me so much during my time as a student."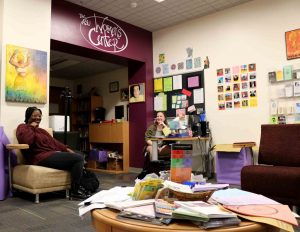 Besides promoting the High Country Breast Cancer Foundation, the Women's Center educates students about breast cancer year-round. Breast self-exam guides and other medical resources are available in the center for easy access. Earlier this month, there was a contact table for students to learn about self-detection of breast cancer.
"The chance to raise awareness and education about the subject is a great opportunity because it impacts so many people," Lamb said. "I think education is the most important thing."
Katie Wynn, a junior public relations major, said letting people know the dangers of breast cancer is always necessary, especially during October, Breast Cancer Awareness Month.
"I know several people whose lives have been saved by being aware of the BRCA gene, self examination and mammograms," Wynn said. "Raising awareness and keeping it on people's minds is really one of the best things you can do for yourself in terms of preventing breast cancer and catching it early."
Besides helping students and educating them on diseases and abuse, the Women's Center hopes to be a welcoming community for all.
"I decided to volunteer for the Women's Center because I was looking for a place where I could find a sense of community with people who shared the same values as me," Wynn said. "Everything the Women's Center stands for is so important to me as a college student and as a woman."
Story by Emily Broyles
Photos by Paolo Abula-Blanco
Featured photo caption: Pictures of volunteers decorate the wall of the Women's Center.