Worth more than gold
It's a warm, sunny afternoon at Kidd Brewer Stadium and the athletes are all training with a singular goal in mind. This is the scene at Track and Field practice for Watauga County Special Olympics. With the spring games scheduled for April 28 at Watauga High School, the athletes are in the midst of preparing for their chance to shine.
Keron Poteat, special olympics coordinator at Watauga County Parks and Recreation, has worked with the Special Olympics in the High Country for over 20 years, and is a fixture at the various practices these athletes have in preparation for the Spring Games.
"We have about 50 athletes that train year round, but for our Spring Games, we have about 125-150 people that come out and participate in the local event," Poteat said.
For track and field, there seems to be an event for everyone as the athletes are able to compete in a variety of events ranging from various length walks or runs, a softball distance toss, a long jump and a mini-javelin toss.
Practice begins with all the athletes gathered in a circle in order to do group stretches to prepare for their training. There's no shortage of smiles or laughter throughout the roughly 10 minute stretch routine, each Olympian grinning as they get ready to start practicing the walking and running races.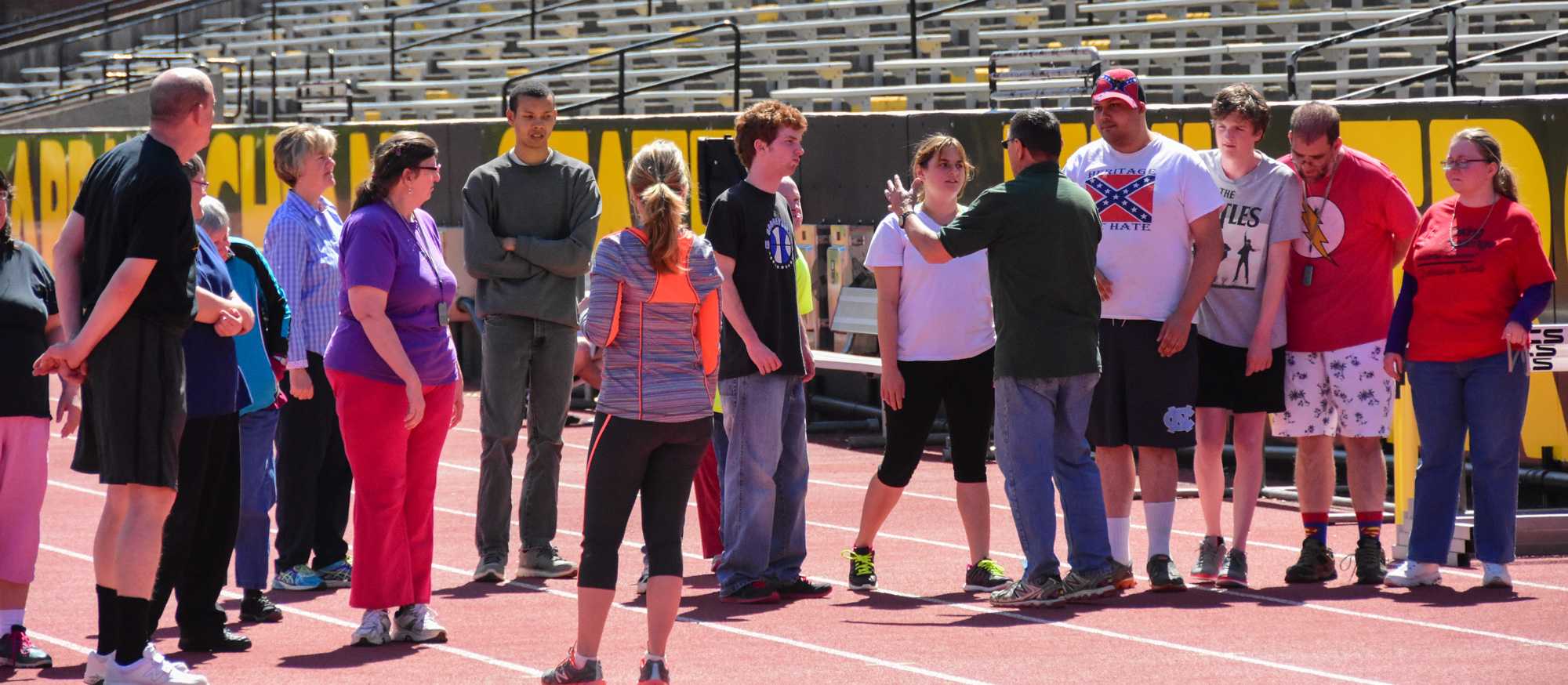 Donna Miller, who competes in the walking events as well as the softball distance toss, is a Special Olympics veteran, who, according to her, has won plenty of medals to go along with her experience.
"I've been doing them [Olympics] a long time. I've won a lot of medals," Miller said. "My favorite is the walking and practices are fun."
Miller isn't your typical Olympian either. Along with the training she does, she's also married and has recently finished paying off her home from Habitat for Humanity that she and her husband occupy together.
"He [her husband] works at ASU," Miller said. "We finished paying [the house] off and we are going to do our bathroom next!"
For Poteat, it's the athletes, like Miller, who make her job as rewarding and worthwhile as it is. She said there is no doubt that her work with Special Olympics has affected her life in a positive way.
"It's amazing, when I started my job 20 plus years ago, [Special Olympics] was the one thing I hadn't done within the scope of working with special populations," Poteat said. "From the moment I walked in there was a smile and a hug, it's been the passion for my job. Somebody asked me if I could do any job what would it be? and I said, 'You know what, I'm doing it.'"
Poteat isn't alone in her job, as she relies heavily on volunteer work in order for the practices and the Spring Games to happen every year.
"ASU is wonderful, the students come out in full force to volunteer," Poteat said. "We always have a lot of volunteers come out from ASU for the Spring Games, nearly 100."
Senior sociology major Breezy Arduini and senior English literary studies major Katherine Wilson have worked as volunteers for the Special Olympics in Watauga County since September 2015.
"We did basketball in the fall, but now we're on to track and field," Wilson said. "All the athletes are great to work with."
Both Arduini and Wilson enjoy their time volunteering, viewing it as an extremely rewarding experience. The two were basketball coaches in the fall, even taking a part in the action during unified events which combines Special Olympians and non-disabled individuals onto one team for events.
"We had a [Boone Police] verses athlete game and that was a lot of fun," Wilson said.
Fun seems to be universal among both volunteers and Olympians as there was no lack of laughter, encouragement and positivity throughout the afternoon.
For Arduini, her only struggle with volunteering has been learning how to work with athletes with different levels of functioning.
"Everyone is at a different level developmentally," Arduini said.
Poteat, Arduini, and Wilson encourage everyone to come out and volunteer when they can. The groups practice track and field every Wednesday at 1:30 p.m. at Kidd Brewer Stadium.
Other sports offered include cycling, aquatics, volleyball and bowling. Additional details about practices and how to volunteer can be found online at: http://sonc.net/local-programs/watauga-county/.