App State loses first two games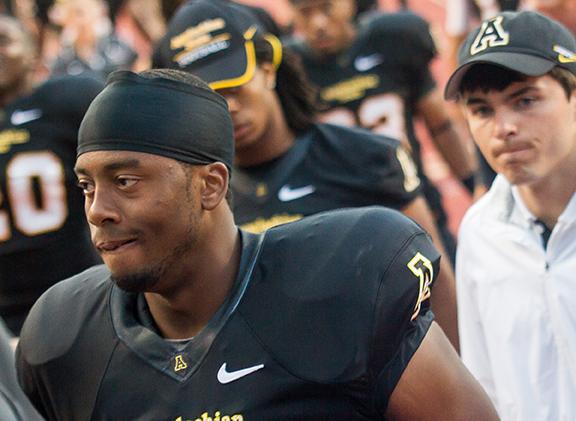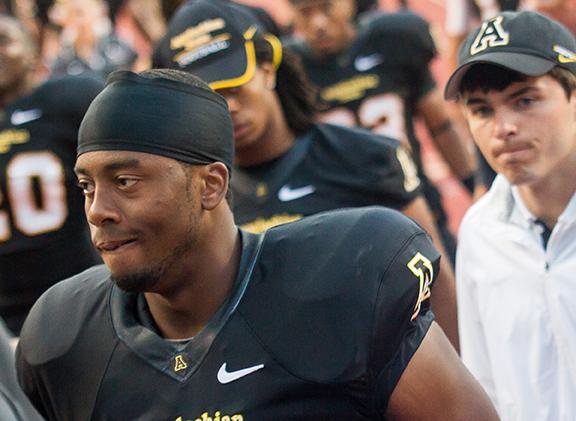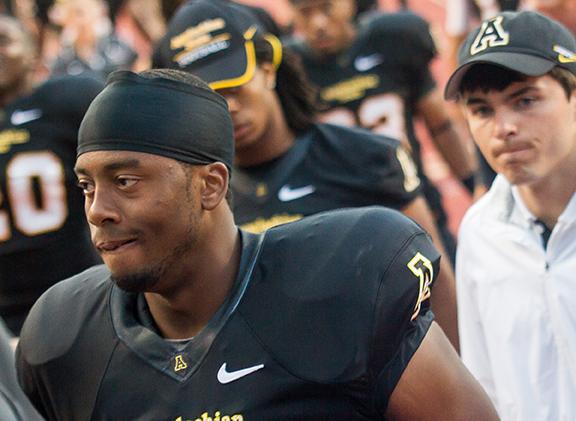 Appalachian State football fans didn't have much time to cheer for their team outside of the final six minutes of Saturday's game.
The Mountaineers found themselves down 18 points in the fourth quarter before rallying to bring the game to within three.
With seven seconds left, a potential game-tying field goal missed wide left and App State fell to North Carolina A&T 24-21.
The game started with a great drive by the Mountaineers that ended in a touchdown from senior quarterback Jamal Londry-Jackson to sophomore running back Marcus Cox on a 35-yard pass.
"The first drive we were moving it, we did up-tempo," Cox said. "We were doing good, but we have to be able to break more tackles so some of it falls on us, some of it falls on the defense, they played good. But we just have to get better and keep working."
The celebration would be short-lived, however, because in just 12 seconds, Tony McRae returned App State's kickoff 91 yards for an N.C. A&T touchdown.
The defense played well against the Aggies, only allowing one touchdown toward the end of the first. The touchdown in the second quarter came off a 57-yard interception return.
"Defensively, I don't think you can play much better," senior inside linebacker Karl Anderson said. "I just think there were some opportunities on third down we gave up, and they led to a touchdown in the first half and that field goal late. That was obviously the difference in the game."
The third quarter saw good defense on both sides as the game remained 21-6 until 8:11 N.C. A&T kicked a 27-yard field goal, making it 24-6.
Mountaineer head coach Scott Satterfield praised the defense as well.
"They played an outstanding football game," Satterfield said. "They kept us in the game, there's no doubt about it. They held them to 244 yards, but if you turn the football over, if you give up points on special teams, it's still hard to go win."
Sophomore quarterback Kameron Bryant replaced Londry-Jackson in the second half, and after adjusting in the third quarter, the offense gained a little bit of rhythm, Bryant said.
"We stayed on the sticks and we were just able to kind of pick up a rhythm," Bryant said. "They were playing soft so we took what they gave us. But the main thing was just picking up a rhythm. Once we got a rhythm, we really saw the ball start moving a bit. It's just tough that it took that long to get that rhythm, but we got it and that's what kind of got us moving."
Bryant threw two touchdowns in the fourth quarter. He threw a 10-yard pass to Barrett Burns and a 9-yarder to Marcus Cox.
This cut N.C. A&T's lead to three, 24-21.
The Mountaineers executed an onside kick to get the ball back with 21 seconds left. Bryant and company were able to move the ball quickly and set up a 46-yard field-goal attempt by senior Drew Stewart.
Despite the miss, Stewart said he thought he hit the ball well.
"We practice all types of situations throughout the week a lot," Stewart said. "I felt like I was confident. I was calm, I hit it well and you know it just tailed a little left. It hit my spot. Obviously it wasn't the result we all wanted, but I did hit it well."
Satterfield said that they had the same strategy in the second half as the first. It just seemed to work better in the second.
"They were playing soft coverage over the top and trying to keep everything underneath them," Satterfield said. "And you know, even when we were moving the ball in that second half there, they were still doing the same thing. We were hitting some underneath routes, some comebacks on the sidelines, some option routes, intermediate range, 10-12 yards. So, they were trying to keep it soft."
Despite switching quarterbacks at the half, Satterfield is still confident with Londry-Jackson.
"When you go back to the end of the season, even with a torn ACL, [Londry-Jackson] played well," Satterfield said. "He couldn't really move that well, but he played well. Then he had the surgery and he's trying to work hard to come back from it, any time you tear an ACL and have surgery, it plays with you in different ways I think, not only with your knee – his knees fine by the way, his knee's 100 percent – but it does things to your mind whether you're not comfortable yet in the pocket or you're a little fidgety."
Satterfield said he believed that Londry-Jackson will still be starting in two weeks after the upcoming bye-week.
"He's still the leader of this team, I mean when Jamal's on the sideline, he's encouraging Kam, he's trying to help coach him," Satterfield said. "That's the sign of a great leader. He's not going to come over here and pout. I mean, he was trying to help him out. And he's a leader on this team and he will continue to be, and so we're all pulling for him."
Satterfield said they had to do a better job of taking advantage of what they're trying to give us and get the ball outside into our playmakers' hands.
"We have to go back and reevaluate our special teams and get it fixed, whatever it is," Satterfield said. "The kickoff team guys are not filling their lane [out] there. We covered great at Montana and fix anything else in the kicking game. We need to see where we are with that."
A scary moment came during the game when Parker Collins went down with an injury and was taken off the field on a stretcher.
"Well, I think they did x-rays on some of those guys [and] they all came back clear," Satterfield said. "So it will be bruises. At this point, how long they're out we don't know, but thank goodness it's not any breaks, so they should heal up fine after that."
App State will return against Elon at Rhodes Stadium on Sept. 21 at 6 p.m. following a bye-week.
Story: ANDREW CLAUSEN, Sports Editor; NICK JOYNER, Intern Sports Reporter
Photo: PAUL HECKERT, Senior Photographer