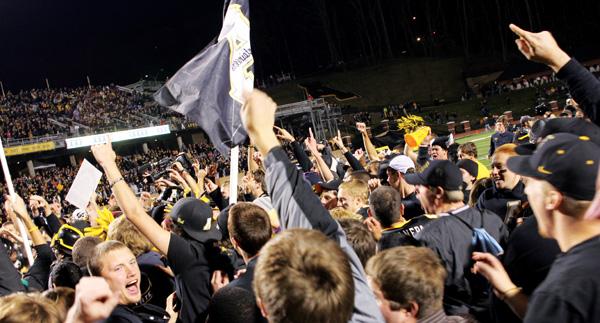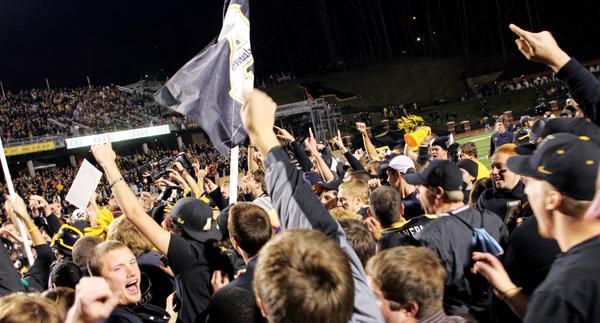 With less than six seconds left in Saturday's game, Furman called a timeout.
The score was 33-28, and Furman had the ball.
But ASU safety Troy Sanders managed to intercept the ball, thrown by Furman's quarterback Reese Hannon, and secure App's victory.
"Defensively we were slowing them down all game, all they scored was seven points on us," Sanders said. "I'm so proud of this defense overcoming so much, and just playing for each other."
The clock ran out, and the crowd proceeded to storm the field.
"There were some trying times, but when that last second ticked off and those students hit the field it was an awesome feeling," head coach Jerry Moore said. "You're happy for the players, all that they've been through and the fans… it was like jet engines roaring out there."
In addition to defeating Furman, this victory gave Appalachian its 12th SoCon championship title and tied it with Furman for the most titles in the SoCon's 79-year-history.
Offensively, wide receiver, Andrew Peacock had a career day with 11 catches for 130 yards and a touchdown.
The former high school quarterback also threw a touchdown pass on the first attempt of his collegiate career.
"We had been repping that play all week," Peacock said. "They played it a little different than we repped it, so we adjusted to it on the run. That's why the ball was kind of a little wobbly, but we made it work. Touchdown."
But despite the win, the team wants to continue improving.
"It feels good because we had a lot of bumps in the road and a lot of naysayers that said we couldn't do it,"
Quarterback Jamal Jackson said. "But we are not satisfied with this. We've got four more games to go to get to our ultimate goal."
Next Sunday, the team will find out where they stand when the NCAA Division I Football Championship bracket is announced.
Story: JORDAN DAVIS, Sports Reporter
Photo: PAUL HECKERT, Senior Photographer