Appalachian State's trees make the cut
Appalachian State University was recently awarded the Tree Campus USA certification by the Arbor Day Foundation.
According to www.arborday.org, Tree Campus USA is a program that helps campuses across the country establish and sustain healthy community forests.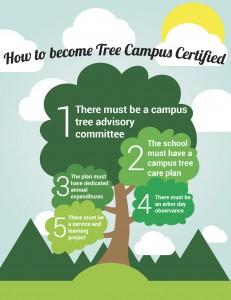 "A part of the Tree Campus USA certification is sort of a third party certification to see if the urban forest management practices that you use on campus are sustainable or not,"  associate professor of biology Mike Madritch said.
To become Tree Campus certified, a campus has to meet five standards. There must be a campus tree advisory committee, a campus tree care plan, a campus tree plan with dedicated annual expenditures, an Arbor Day observance and a service learning project, according to arborday.org.
Jason Harkey, a physical plant horticultural specialist who surveyed the campus and the 67-acre nature preserve, said he is excited that Appalachian received the certification.
"A lot of hard work has gone into the collecting, [taking inventory] and recording of each tree, as well as applying and documenting procedures in order to gain this achievement," Harkey said. "This certification is well-deserved for such an environmentally conscious community."
Madritch said Tree Campus USA is a sister program to Tree City USA, and Boone has been Tree City USA certified for 21 years.
Madritch said the reason why we need the third party certification is because urban trees – trees that have been planted around buildings – face stresses that natural trees don't because they were planted.
Urban trees at Appalachian are affected by salt, soil compaction and people hanging, slacklining and hammocking on them.
"A rough estimate is for the first 10 years of their life, urban trees cost about $1,000 to maintain, and if you don't put that maintenance into [them], what you end up having to do is remove the trees earlier than you would have if you had otherwise put that money in to manage it," Madritch said.
Madritch said urban trees tend to increase property value.
"There are a couple of concentrated areas where we are going to plant 30 to 40 trees," Madritch said. "Once we get the date hammered down, then I will probably start reaching out to some of the environmental and service clubs on campus to get bodies to dig holes."
The tentative date is set for the week of Oct. 20 for management plans.
Story: Kaitlan Morehouse, Intern News Reporter