'Around the World in 80 Days' performed by country's oldest theater company this week at Appalachian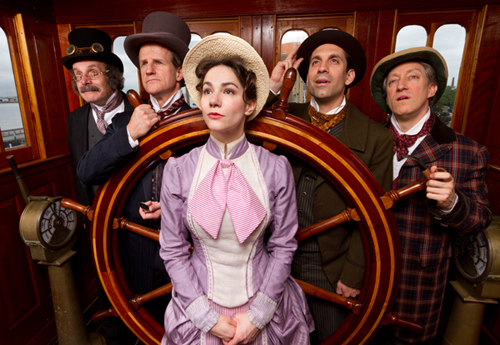 Action, adventure, racing and large sums of cash – the timeless tale "Around the World in 80 Days" holds all of the expected thrills of a modern action film.
The classic novel-turned-play has been a staple work of literature since its publication in 1873. The Walnut Street Theater, however, had been performing works like this for years prior to the book's release.
Now, the Walnut Street Theater is bringing its show on the road, performing "Around the World in 80 Days" to audiences at Appalachian State on Wednesday.
When organizers heard about the tour, they asked for the play to come to Appalachian, said Megan Stage, the marketing manager for the Performing Arts Series.
"We always have our ear to the ground for a distinguished traveling theatre company," Stage said.
The Walnut Street Theatre, founded in Philadelphia in 1809, is the oldest theatre in the country. In addition to regular seasons of shows in their hometown, the company chooses one or two shows a year to bring on a nationwide tour.
"Walnut Street is highly regarded not only as the nation's oldest professional theatre companies, but also one of the very finest," said Denise Ringler, member of the Office of Arts & Cultural Programs' staff. "The list of actors who have appeared on the company's stage reads like a 'who's who' of the American theatre experience."
The list of former Walnut actors includes names such as the Barrymores, Henry Fonda, Katharine Hepburn, Marlon Brando, Audrey Hepburn, Sidney Poitier, Lauren Bacall, George C. Scott, Jane Fonda, Robert Redford, Julie Harris, Jack Lemon and William Shatner.
"It is an extreme honor to have a theatre company of such rich tradition and a history of excellence here at Appalachian," Stage said.
The show takes place Wednesday at 8 p.m. in the Valborg Theatre.
Tickets are still available for purchase by visiting the box office at Valborg Theatre, calling (800) 841-ARTS (2787) or visitingpas.appstate.edu.
The actors will also host a post-show Q&A with the audience.
Story: LOVEY COOPER, Senior A&E Reporter
Photo Courtesy: MARK GARVIN