Black Lives Matter solidarity demonstrations and die-ins organized by students at Appalachian State University continued across campus Monday.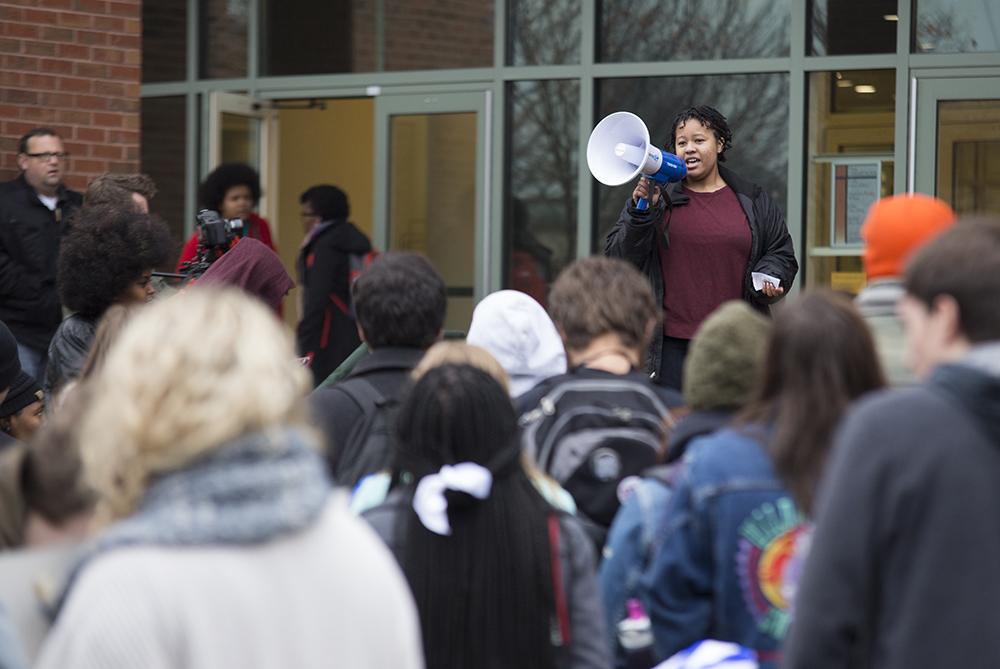 According to the demonstration's Facebook page, its goal was to raise awareness of injustices African Americans endure across the nation and the university itself.
The first protest occurred Friday, when students held "die-ins" in Belk Library, Roess Dining Hall and Plemmons Student Union where they laid on the floor in remembrance of unarmed black citizens who have been killed by police officers. Die-ins occurred Monday at the same locations, with the addition of the B.B. Dougherty administration building.
The students remained stationary for four and a half minutes to symbolize the four and a half hours that Michael Brown remained in the street after he was shot.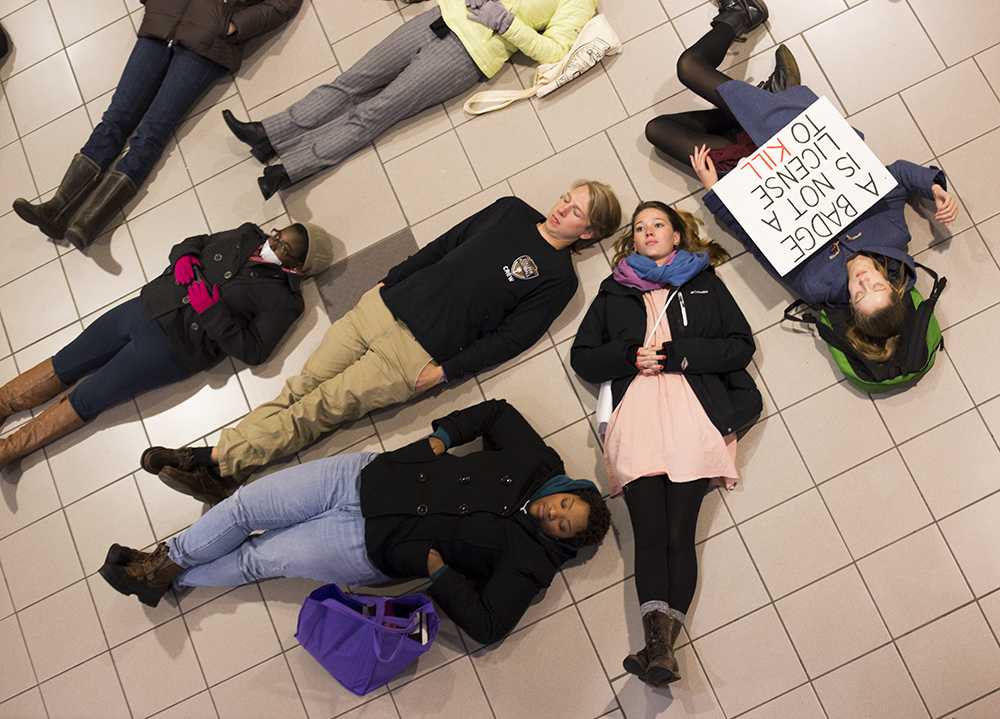 These recent national controversies have called attention to the racial problems at Appalachian specifically.
"On this campus, there's a tendency to ignore people of color," Mary Lyons, a junior art education major who organized the event, said. "I feel like it's important to just remind people that we're here, and to have a unifying event take place for us and our allies to come together with us in solidarity."
Many students addressed concern over lack of administrative action regarding racial relations on campus.
"They aren't doing anything that I can see to actively combat racism," Lyons said. "And if the university and the administration don't make a point of standing against racism, then they're being complicit with racism."
Lyons said she thinks the university should get rid of faculty members who contribute to racism on campus.
"There are a lot of people who are statistically a part of the problem, who perpetuate racism in their classes if they're faculty members and in the practices they attempt to institute," Lyons said. "So there's embedded institutional racism that we have to get rid of. The administration should step in to send a message that it's not ok to be racist," Lyons said. "If [the administration] reacted more strongly, I think it would both reinforce that message that diversity matters at App State, but also have the added benefit of curtailing racism."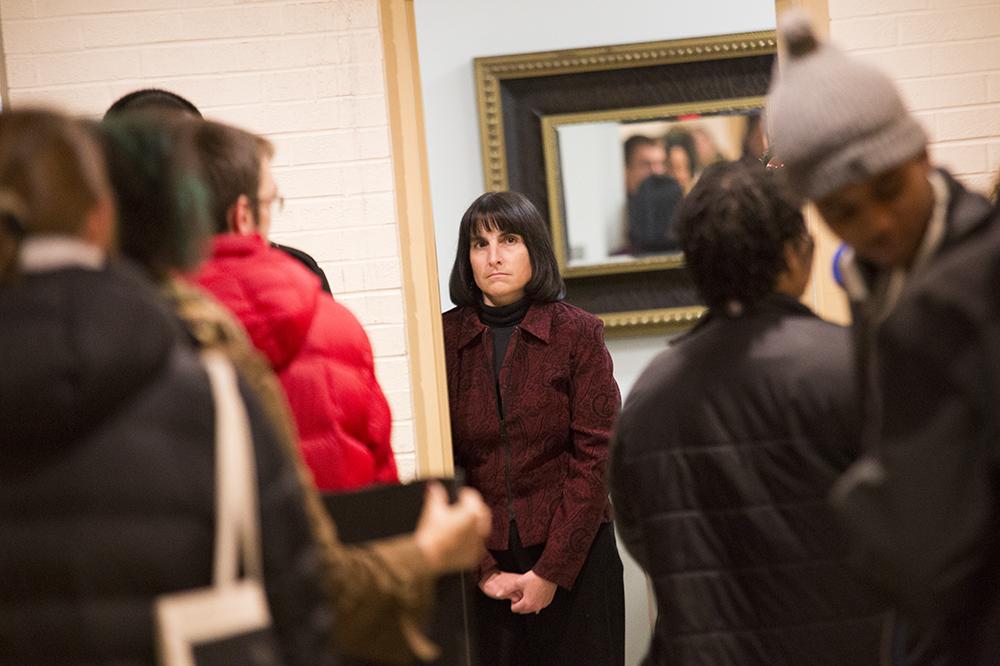 Moore said one of the ways the university can begin to counteract this racist culture is by making the students more aware of the prejudice and inequality they contribute to.
"We need to educate people more on why we care, maybe by having forums," Victor Moore, a senior graphic design major, said.
Protesters gathered in B.B. Dougherty as a call to action. One point brought up by many was that the administration could educate Appalachian's students by creating social justice classes that would be required for students to take. These classes would help students understand the idea of white privilege and make them more aware of the systemic racism that is present in society.
"I'd like a social awareness class, so that people can have that generalized view," Matthew Helton, a junior chemistry major, said. "There has to be a way for people who can't relate to it, to help them understand."
Lyons said the university has already approved a social justice theme in the Gen. Ed. syllabus. However, many people think that this class should be a requirement instead of an option.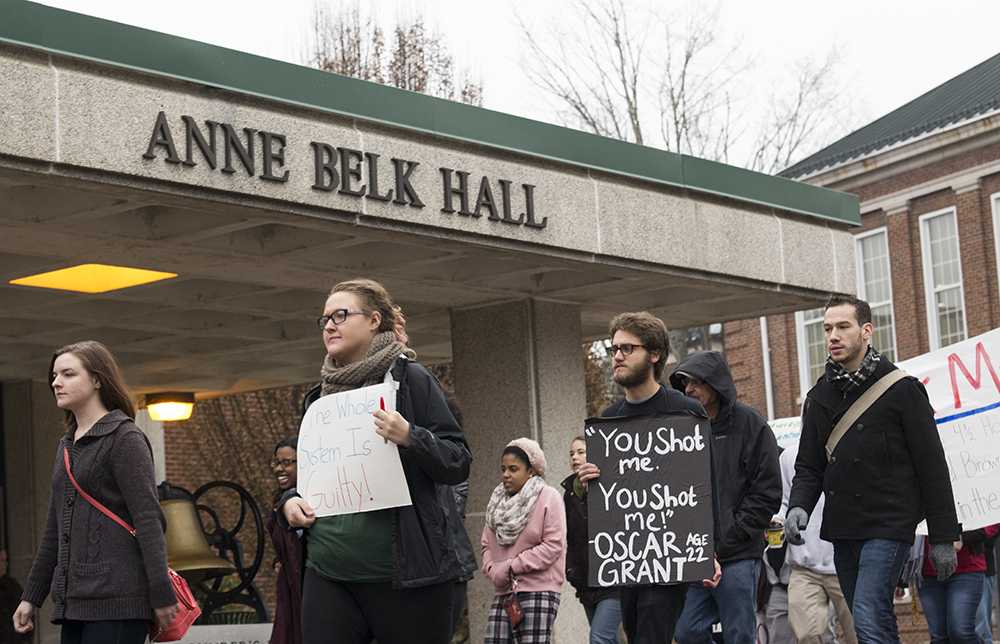 "App State is all about creating global citizens," Lyons said. "We can't send people abroad without being aware of the impact they're having on the people they're around, and a social justice class, learning about your privilege and responsibility when you have privilege would go a long ways in creating better citizens."
Another way demonstrators said they feel the administration is contributing to the problem of racism at Appalachian is the poor admissions rates for minority students.
"In almost all my classes I'm the only minority student," Moore said.
This October,  Chancellor Sheri N. Everts formed a student advisory committee to work with her to recruit more minority students and improve the campus diversity.
Because of the university's low diversity levels, many feel Appalachian isn't doing enough to rectify the problem.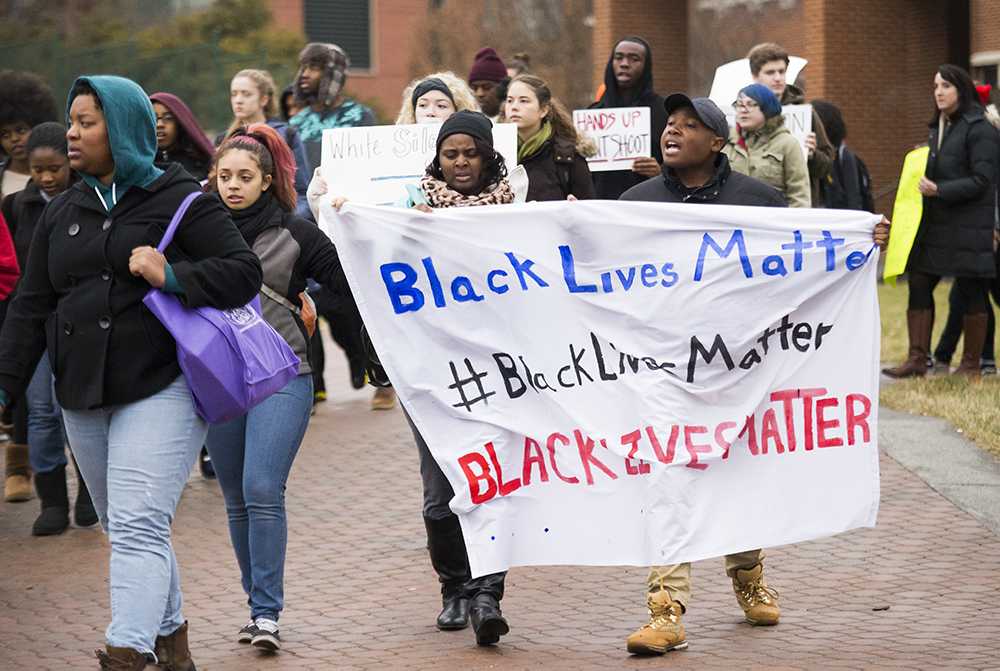 "Increasing multicultural diversity hasn't really been a priority," Helton said. "First and foremost, we need to increase the amount of diversity scholarships."
However, minority scholarships are only one way to begin to address a deeper underlying issue, Helton said.
"It's all about the people who are on admissions," Helton said. "You have people who aren't aware. The majority of people on admissions are people not of color, and they may not know how big of a problem social awareness is."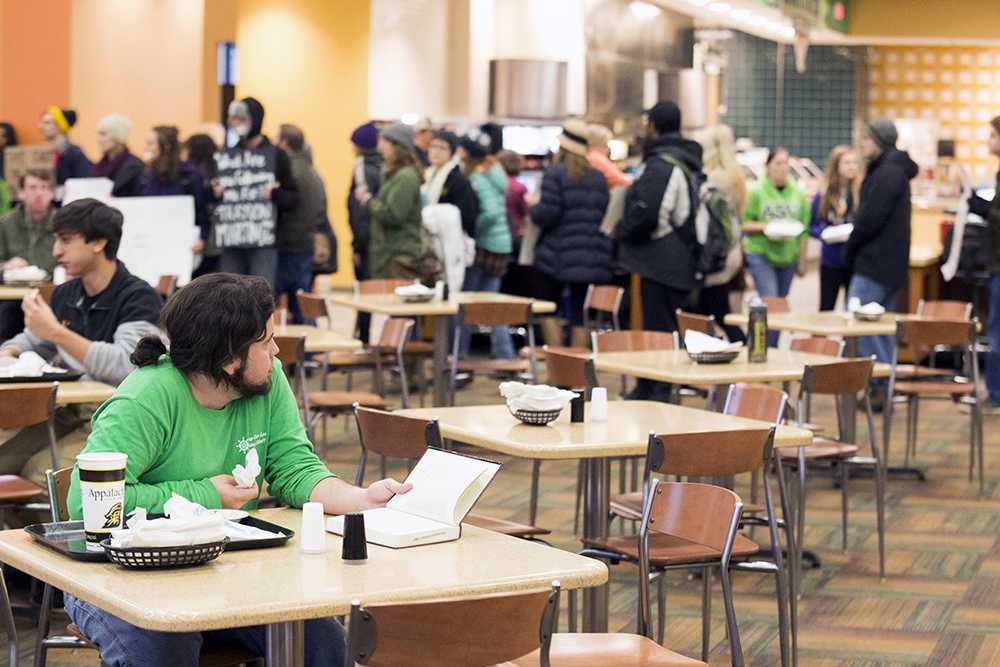 Everts voiced her support of the demonstrations in an email.
"Discussions about race and equality are not always easy ones for a community to have, but I am confident that this community truly wants to have these discussions in open and honest ways," Everts said. "This is hard work, and I know we as a community are willing to do it. "
The students' hope that these demonstrations will lead to positive changes at Appalachian.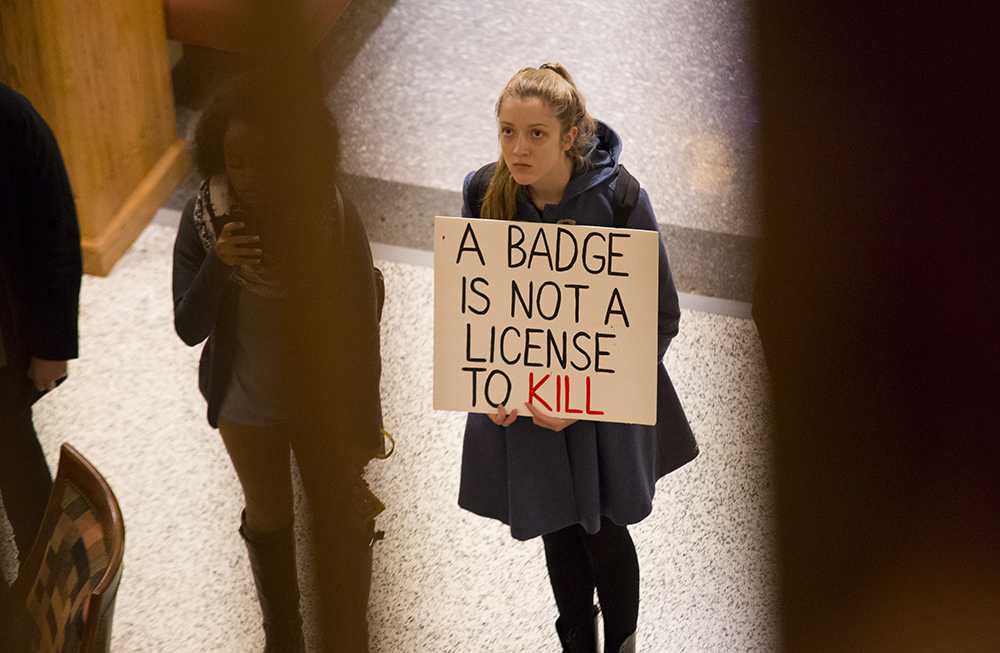 "I believe we're at a point right now where people who care about the issue are in a state of urgency and a state of emergency because we realize that things don't seem like they're changing," Moore said. "This is a problem that has been repeating for far too long."
Story: Thomas Culkin, News Reporter
Photos: Paul Heckert