As the semester trudges on and students become further entrenched in school work and fending off impromptu snow, what better way to wind down the week than with a tasty brew at a local bar?
Boone may not have a reputation as a big bar town, but with the recent appearance of businesses such as The Local, Lost Province and Appalachian Mountain Brewery, that may be changing. Whether you seek live music or karaoke, a place to party or a sexy date destination, Boone has a bar for you.
–––
The Local
Since opening last September, The Local has evolved from being "the place formerly known as Char," into its own thriving entity with a fresh atmosphere. The Local holds true to its name in every way, from its live music on Friday and Saturday nights to its impressive North Carolina beer selection.
Notable specials here include $3 drafts on Monday (I recommend the French Broad from Asheville), half off martinis on Tuesday and half-off wine on Wednesday. The bar and restaurant also hosts community fundraisers on a monthly basis as part of their unique Local Provide Advocate Sustain Synergy program. The Local is located in downtown Boone on Howard Street.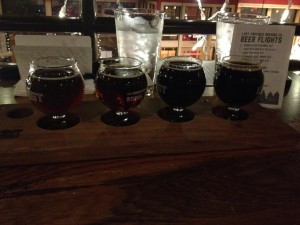 Lost Province Brewing Company
Lost Province Brewing Company has quickly become one of the most popular community hubs, with Friday night clientele ranging across all ages. Aside from their savory wood-fired pizza, Lost Province is all about their authentic and well-crafted beer, notable drafts including a delicious wildberry Saison and the Lost Province IPA. Though it is not the cheapest place to spend an evening, the live music, community atmosphere and delectable brews are worth the extra bucks. I recommend indulging in the $6 flights, which allows you to sample four brews of your choosing – a good way to become acquainted with the bar and its offerings. Lost Province is located in downtown Boone on N. Depot Street, behind Mast General Store.
Galileo's
For bar-hopping Boone residents, Galileo's and its famous Friday night karaoke have become a classic. Galileo's demonstrates a knowledge of their audience in their fun weekly specials. Aside from karaoke, the bar offers $5 burgers and beers Thursday, Saturday night salsa lessons and Fishbowl Wednesday. Fishbowl Wednesday, for those who don't know, is the practice of enjoying a free appetizer or dessert while drinking a large amount of fruity alcohol out of, you guessed it – a fishbowl.  Galileo's is located on W. King Street in downtown Boone.
Appalachian Mountain Brewery
Appalachian Mountain Brewery, often shortened colloquially to AMB, shows its dedication to community and crafted brews through the bar's lively aesthetic and excellent beer selection. Whether you are enjoying your drink in the not unpleasantly crowded indoor area or the covered heated porch outdoor area – they allow dogs! – AMB is an excellent location to relax and catch up with friends.
As with other breweries, the best decision upon your first visit may be to try a flight, since it is almost impossible to choose just one at AMB. Particularly good brews include the Kilt IT scotch ale, the Honey Badger blonde ale, the Black Gold porter and the Royale With Brett belgium IPA. AMB is located on Boone Creek Drive, off of Highway 321.
STORY & PHOTOS: Liz Flamming, Intern A&E Reporter