Boone's Goose Juice rock the local music scene
Covering "Smooth" by Santana and "Say It Ain't So" by Weezer, Goose Juice put on a playful, energetic show on March 30 at Legends featuring a diverse set list of rock covers. 
The crowd swayed, jumped, and sang along with them, while they comfortably took the stage and made it feel like an intimate jam with friends. Since their rhythm guitarist Will Conger was not able to play with them that night, the crowd was not able to enjoy any of their original songs. Nevertheless, the band played cohesively as a team and made for a fun yet laid-back performance that spoke for itself.
Self-described "Funk-rock, cosmic gumbo" four-man group Goose Juice has been jamming together in Boone for almost two years, said Ted Helmus, lead singer and junior supply chain management major. The rest of the group includes drummer Jonah Wills, freshman communication studies major; rhythm guitarist Will Conger, junior psychology major; and bassist Daniel Huggins, sophomore psychology major.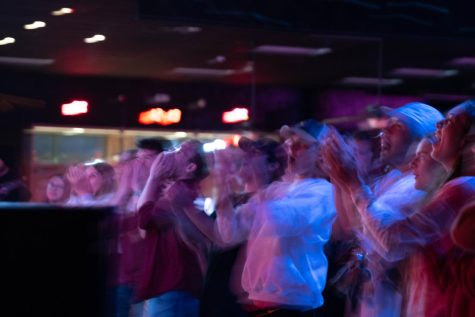 All members chimed in with an anecdote when asked how they met. Helmus, Huggins and Wills met through loosely-connected friends of friends. After the three began jamming together, Conger serendipitously walked into their practice room asking to join them, and thus "the rest is history," Wills said.
All of the members had been previously involved with music, whether in the Marching Mountaineers or old-school busking outside bars. All members have been exclusively in Goose Juice for the last two school years.
April 2 marked the first anniversary of their first show together. Wills recalled awkward technical difficulties like faulty snare drums during their first show, while Huggins shared that they gathered a large crowd while playing on a fraternity's porch. 
"It was awesome. It was a good first gig,"  Helmus said. 
Comparing it to their most recent gig, "We're so much better … We have, like, eight originals now … and we connect songs in between," Wills said. 
During their Legends show, Helmus constantly interacted with the crowd, encouraging chants, sing-alongs, and dropping sporadic one-liners between songs.   
"A lot more comfortable up there too… Each gig just gets more fun." Helmus said. 
At their most recent Legends gig, the band danced and joked around together on stage. The group laughed and said, "That's a good thing" when an audience member said they had "crazy eyes."
"The beautiful part about this band is the diversity in musical interest … we all have a somewhat common ground to work off of musically, but also we're interested in very different genres," Conger said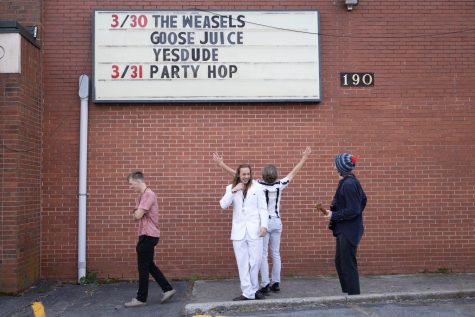 Members cited Nirvana, Psychedelic Porn Crumpets, Vulfpeck and Rage Against the Machine as just a few of their personal musical influences.
Their songwriting process begins during jam sessions, Huggins said. Wills handles song structures, and Huggins "brings a bunch of different bass lines to practice." 
Helmus said he writes lyrics after the music has been laid down and Conger brings guitar riffs from his personal practice sessions. The band dubbed their first original song "Earthquake" their "staple," which took them about "two weeks to write because we couldn't figure out what to put where," Wills said.
"Students at App are very helpful with our process," Helmus said regarding their recent collaborations with fellow App State students and organizations. Recently, they had an APPS sponsored show at Legends alongside two other local bands. 
"They're very excited, they're just an amazing band to work with and very communicative," said Vivian Rogers, junior music industry major.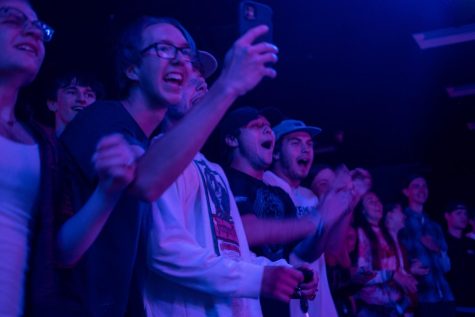 Rogers has been working alongside Goose Juice as their manager for a semester-long project in her music management course and attended their event at Legends to support the group. In this project, Rogers and a group of classmates pose as the managers of the band by helping them book gigs and promote themselves on their social media as well as school-affiliated platforms.
As for future plans, Goose Juice has a few goals in mind and they are keeping their listeners updated on future events and sharing behind-the-scenes content on Instagram @goosejuicetheband.  
"We want to get music recorded next semester, at least one song as a band together," Huggins said. "Trying to sell merch, putting up our website, posting TikToks … we'll be on our sh– next semester."