The Banff Mountain Film Festival returns for 26th year
With the annual return of the Banff Mountain Film Festival, March 30 through April 1, thousands of people in Boone spent their weekend kayaking down waterfalls in Ecuador, biking 1,550 miles through Europe to freeski mountains and running ultra marathons to help women in Afghanistan fight for their rights. 
For 26 years now, Boone has been one of the many locations of the Banff Mountain Film Festival World Tour, said Richard Campbell, associate director of programs for University Recreation. 
The Banff Mountain Film Festival is a festival held each year in Banff, Alberta, Canada. The films shown at the festival are centered around mountain, outdoor excursions and conservation efforts. 
Once the festival is held in Canada, 30 films are licensed out for the world tour. According to the Banff Centre for Arts and Creativity, the film visits over 300 US cities. 
The screenings in Boone, held at the Schaefer Center for the Performing Arts, featured 24 films from all over the world, with eight films showing each night. 
According to Campbell, roughly 4,700 tickets were sold over the course of the three evenings.
  All proceeds from ticket sales go directly to University Recreation Outdoor Programs to assist students with outdoor adventures, Campbell said. 
Campbell has been involved in bringing Banff to Boone since its inception. 
"We have developed a partnership with the Banff Film Festival over the years, so they have been coming for years and years," Campbell said.
Campbell also said that without the partnership they have with the Schaefer Center, the festival would not be able to happen in Boone. 
The event allows students a unique opportunity to learn about event planning and hone in on some of their professional skills.
Campbell said much of the event is coordinated and organized by university students. They are in charge of most everything, he said, including planning, organizing volunteers and presenting the films each night.  
"We identify a graduating senior to host the event because we like to give them the opportunity to be in front of a crowd. Public speaking is a great aspect of developing career readiness skills," Campbell said. 
Kate Fooshee, a junior recreation management major at App State, was one of the student volunteers for the event this year. 
Fooshee said she works with outdoor programs to organize outdoor trips, so when she was asked to organize volunteers for Banff, she was thrilled. 
"This is my second year doing this, and I really love the amount of community that is around Banff and the people who make it a tradition to come each year. It's much more than just App State, and I love that it brings in people from all over the region," Fooshee said.
The event fosters a sense of community in Boone that reaches beyond just students of the University. In fact, the festival brings visitors to Boone every year, Ryan Crawley said.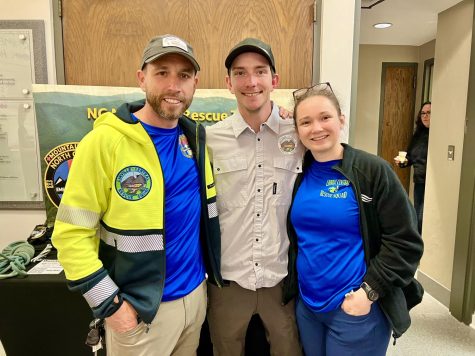 Crawley, a member of the Linville Central Rescue squad, said people who attend the festival in Boone can even be found internationally. 
There is a group of individuals called "road warriors" from the Banff Centre who travel the world to assist with screenings of Banff, Crawley said. 
Crawley met a man who has been attending Banff in Boone since its inception in 1997. The man was visiting London when there was a screening of Banff in the city.
He ran into one of these "road warriors" and told him that Banff was happening in Boone at the same time as it was in London. To his surprise, the road warrior was extremely familiar with the Banff screenings in Boone. 
"He told me, 'every one of us road warriors fights to come to Boone because you guys really do it the right way,'" Crawley said. 
The festival was an interactive experience for patrons. Before the screenings began each night, there was live music from local artists and a viewing of photographs taken by local photographers.
Audience interaction is anticipated and expected at the festival. Members of the crowd clapped, shouted, screamed and laughed along with the films. 
During the intermission, there were raffle prizes given out to audience members, which included ski lift tickets to a resort in Banff, Canada, provided by the Banff Centre. 
This year, Belk Library and Information Commons partnered with the Banff Film Festival to bring in a literary speaker for the event. Katie Ives, a journalist who writes about mountain climbing, was the inaugural speaker for the event. 
Ives received the Special Jury Mention at the 2022 Banff Mountain Book Competition. The Schaefer Center hosted Ives for a lecture Saturday, followed by a Q&A and book signing for her debut book "Imaginary Peaks: The Riesenstein Hoax and Other Mountain Dreams." 
Ives worked as the editor-in-chief at Alpinist Magazine, writing and editing stories about mountaineering and climbing. 
"I've gone to the Banff Book Festival for a number of years. It's a really magical experience," Ives said. 
Ives said she likes that they pull people from around the world who are interested in the creative side of mountaineering, whether it's filmmakers or writers or photographers, and you put them together in the mountains for a few days.
The Banff Mountain Film festival is more than just a place to watch movies. It is an event that brings people together over their love for mountains and the outdoors.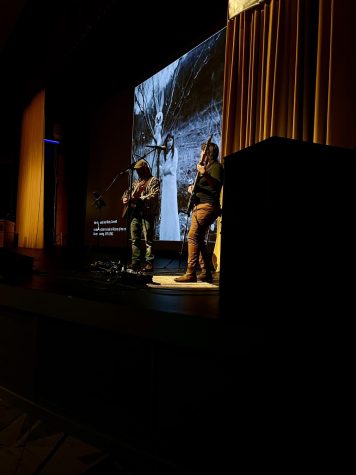 "Mountains play this incredibly important role in human imagination. They have this symbolic role that's very important in cultures all around the world," Ives said. "Looking at that role and thinking about more creative ways of approaching mountains becomes this symbol of thinking creatively about how to approach the rest of life."