Roots run deep at local farmers market's 50th anniversary
In addition to flowers, spring showers this year also bring the arrival of Watauga County Farmers' Market's 50th anniversary. The market brings produce, jewelry, baked goods and much more directly from producers to buyers in the High Country. Located at 591 Horn in the West Drive, the market is open 8 a.m.-noon on Saturdays from April to October and 9 a.m.-noon in November. 
Jeff Thomas, the founder of Creeksong Farm, brought his business to the farmers market the year he started it in 1979. Now, the farm has been passed on to his son, Will Thomas. Jeff Thomas said the market looked much different back then, a change he played a firsthand role in after years spent as a member of the board. 
"We had a problem up here at first, sort of a flea market look, and we tried to correct that a lot of years," Jeff Thomas said.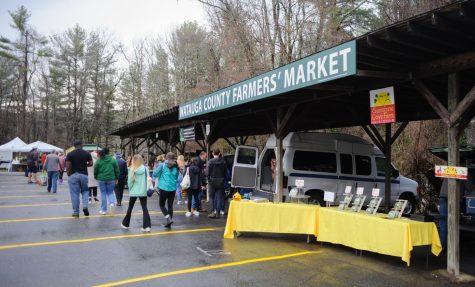 Jeff Thomas said about 15 years after he joined, introducing a jury for craftspeople and renewed efforts from the state for food inspection changed the face of the market. Baked goods and crafts were held to new quality standards and many vendors were replaced. 
From there, the market expanded with a new goal of building sheds to shelter vendors as well as their customers. Soon after, it became a space filled with bands, cooking demonstrations and nonprofits. Today, market goers can find all their favorite shops at the same assigned spot each Saturday, with the addition of a biscuit food truck and coffee available for shoppers. The farmers market includes a Kid's Corner where Boone's young people gather for games and even a Mini Market that simulates trade skills. One of the highlights of the market is the many vendors focused on supplying the community with fresh produce. 
Bill Moretz, the owner of Moretz's Mountain Orchard, is a third-generation farmer who debuted at the farmers market in the mid-'90s, Moretz said. The orchard's roots go back much further to the 1930s when his grandfather first started the farm during the Great Depression due to what Moretz said was "kind of an accident." Moretz said his grandfather was sitting on his porch one day when a tree salesman delivered an unwanted batch of trees to a nearby neighbor. When the trees didn't sell, the salesman offered them to Moretz's grandfather, and Moretz's Mountain Orchard was born.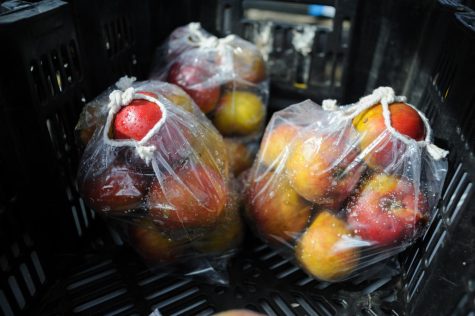 With the decline in farming over the course of his lifetime, retail locations like the farmer's market are often vital to the survival of small farms like Moretz's. Moretz said the market is the reason the business is alive since it provided a retail outlet for farms during a time when people switched from buying produce in bulk to buying just enough to last them a week. 
"You've had to change to go to where people are instead of people coming to you," Moretz said.
For Mar Startari-Stegall, known fondly as Mar-Star, this year's farmers market is both a celebration of its 50th anniversary and of her first year selling her self-made coloring sheets, cards, books and posters. Rather than the Great Depression, for Startari-Stegall, it was COVID-19 that laid the foundation for her soon-to-be coloring sheet line within her company, Boone Barn Dog.
 "I originally made this when I was pregnant 20 years ago, I made a coloring book and copied it at the local copy shop," said Startari-Stegall. "And then during the COVID, I was like, wait a minute, why don't I turn this into a product." 
Startari-Stegall said she sold her coloring books at various stores in Boone for two years before she "had a scheme" to make farmers market-themed coloring books that then brought her to a larger market.
Gail Schuette, who has been coming to the farmers market with her husband since she moved to Boone approximately 30 years ago, is a regular at the market for some of her groceries which she chooses not to purchase from grocery stores. The mushrooms, which Schuette said are always fresher than store-bought options, also come in a wider variety, such as oyster mushrooms and lion's mane. Schuette selected her mushrooms while conversing with Chip Finch, owner of Boone Fungi. The pair discussed dishes to make with the various varieties sold, and Schuette's recipe for mushroom stock using the discarded ends. 
"You get to talk to your farmer," Finch said. "And that's probably the best relationship you can have, is knowing where your food's growing and who's growing it." 
 Finch said he started selling mushrooms after exploring the health benefits of mushroom powders. 
"We love the mushroom man, and we love the flowers," said Schuette, who only purchases her mushrooms from Boone Fungi.
"You spend your money here, and it stays in the community. It's good all the way around," said Finch.