Up by the BootstrAPPs
Student entrepreneurial store works to improve its performance, revenue
When Emily Haas assumed the role of manager for BootstrAPPs in September 2013, the store was facing hardships that were close to making the student-run retail business irrelevant.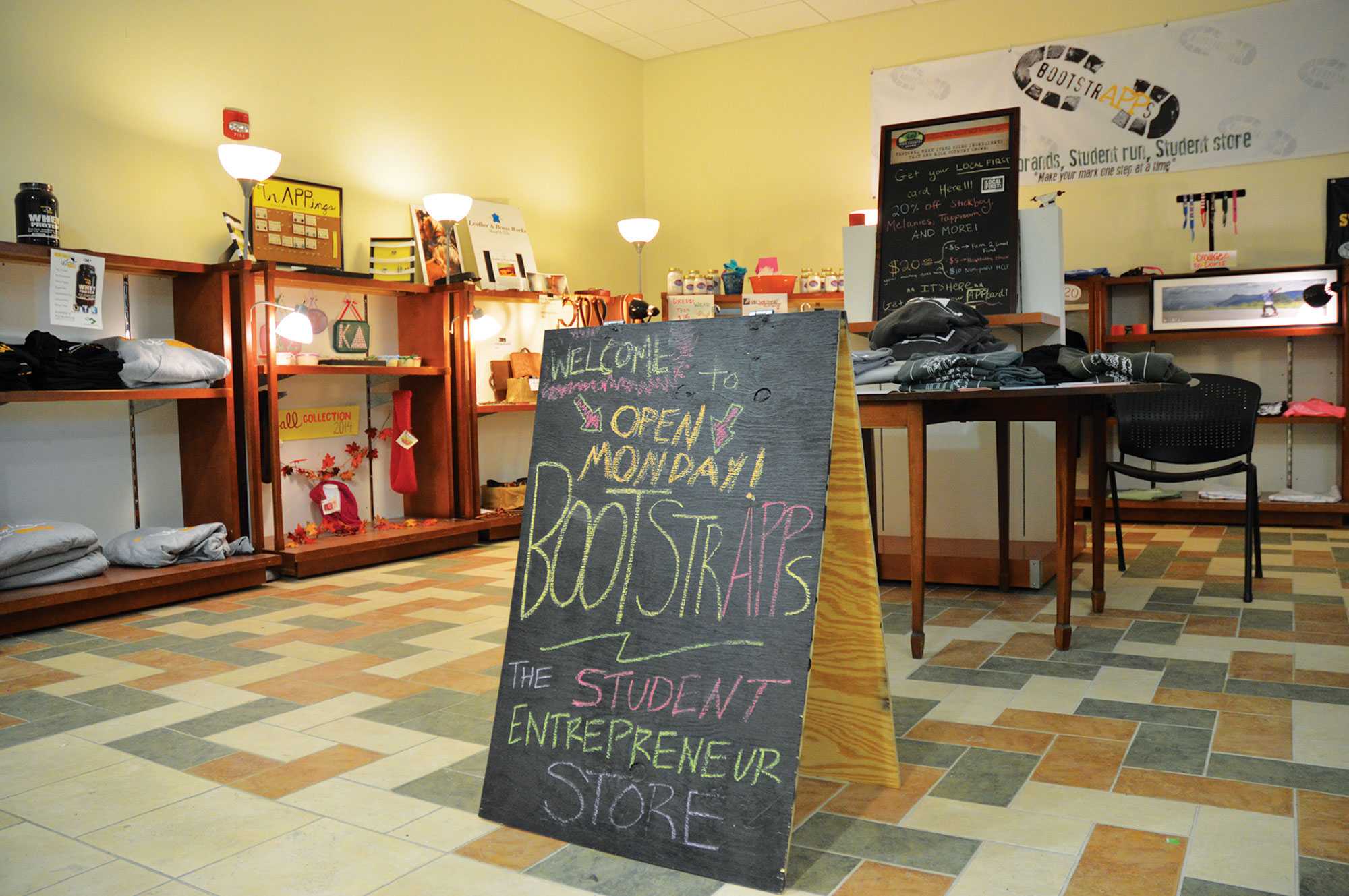 The hardships included struggling to stay open and the lack of employees and volunteers.  Haas, a junior hospitality and tourism management major said the store was open roughly five hours per week before she took over, which resulted in a lack of ability to sell any products on a consistent basis.
Since Haas became manager, BootstrAPPs jumped from six to 19 vendors, has reached 24 students who work in the store, and is consistently able to remain open from 9 a.m. to 5 p.m. Monday through Friday.  It is located in Appalachian State University's bookstore near the market.
The style of business BootstrAPPs runs also separates it from almost every other store in the nation, due to it being completely student-run and exclusive to selling student-made products.
"We needed our brand to be known more," Haas said, "but before we could advertise and start to market, we had to make an effort to be open consistently. It was going to waste our time to promote something that's never open."
As a result, the BootstrAPPs executive board did a large amount of recruiting during fall 2013 and saw the store take great strides by spring 2014.
The store, which was originally known as the E-Store, was created in 2010 as part of a $1 million grant through the Transportation Insight Center for Entrepreneurship to give students the ability to gain experience in the field.
Through a rebranding initiative in the spring of 2012, the E-Store was renamed BootstrAPPs.
During the time the store was known as the E-Store, Erich Schlenker, director for the Center of Entrepreneurship said there was an impression that it was an e-commerce facility, which prevented it from building a customer population.
"BootstrAPPs includes 'APP,' it implies that you're kind of pulling yourself up by the bootstraps and doing it yourself," Schlenker said.
Part of the rebranding revolved around adding more employees to the staff and retaining them. Roughly half of BootstrAPPs' "employees" are volunteers. Due to BootstrAPPs' financing structure, Haas said the store is focused more so on the students being able to make revenue off of their products, not the store making revenue.
Vendors make 80 percent of everything they sell through BootstrAPPs while 10 percent goes to the bookstore, 5 percent goes to BootstrAPPs to cover fixed costs and 5 percent goes as commission to the store's sellers.
The 5 percent commission
was added last semester and Haas said the BootstrAPPs team is trying to find more ways to incentivise employees.
With a focus on student vendors being able to make the revenue, BootstrAPPs has seen sales increase rapidly in the past year.
"The top sales number in the past [before spring of 2014] was $500 – for the course of an entire semester," Haas said. "In the month of February [2014], we ended up selling roughly $1,000.
Those records continued to soar, as BootstrAPPs saw its sales reach $2,785 in April of 2014.
After bringing in approximately $6,500 for the fall 2014 semester, BootstrAPPs has earned $1,850 so far for the spring 2015 semester, with $1,387 of that total coming in February, according to numbers provided by BootstrAPPs accountant Cameron Barnett.
All 19 of BootstrAPPs' vendors are Appalachian students, including brands such as Local, whose creators have passed the on-campus business branch to currently enrolled students despite having already graduated.
One of BootstrAPPs' brands, TrAPPings, is run by sophomore biology secondary education major Mackenzie Trapp, who started working with the store in spring 2014 after transferring to Appalachian halfway through her freshman year.
"I sell mainly jewelry – rings and earrings – and also make scarves in the winter," said Trapp, who was so excited about working with BootstrAPPs that she picked up an application to become a vendor even before she officially transferred.
One of Trapp's success stories was deciding to customize her rings for various sororities at Appalachian. To incentivise sales of the customized rings, Trapp donates 10 percent of the money she makes off of them to different philanthropies each month based on the sororities at Appalachian.
Trapp's ability to reach out to a specific consumer group with her products and ability to keep improving those products is what makes her and TrAPPings such a successful vendor, Barnett said.
In order for a vendor to become involved with BootstrAPPs, it is required to have an Association of Student Entrepreneurs membership, business license and be a full-time student at Appalachian – undergraduate or graduate – according to BootstrAPPs' vendor application.
Since BootstrAPPs rents space in the bookstore, Haas said one limitation of the location is being unable to sell Appalachian-based merchandise, due to a conflict of interest.
Moving forward, Haas said some of her future aspirations for the store include finding its own location on campus and implementing the ability to purchase items through its website.
"I believe it's very reasonable to picture BootstrAPPs moving locations in the future," Haas said. "I may not be here, but that foundation could be laid in the next year."
While Haas said it is realistic to have online shopping at BootstrAPPs in the future, some of the vendors' products pose issues with it because of the uniqueness.
"We have such individually unique products – pottery and jewelry, for example – that there are one-of-a-kind pieces," Haas said. "We have to learn how to cater to that before going online with everything."
Story and Photo: Gerrit Van Genderen, Managing Editor