Boy Band Night brings pop favorites to Legends
Anticipation over well-loved boy band throwbacks started well before doors opened at Legend's Boy Band Night hosted Saturday at 7 p.m. 
An early crowd gathered at the entrance of the event hosted by APPS chatting about which bands could be considered boy bands, favorite members and their most memorable concert experiences. The event brought songs from nostalgic bands like Big Time Rush, NSYNC and the Jonas Brothers back to life with decorations ablaze with glitter, photo booths and themed favors during a night full of disco lights and nostalgic music.
"It reminds me of my preteens when I used to be super obsessed with One Direction and 5 Seconds of Summer and those bands," junior elementary education major Abby Aldridge said.
Senior creative writing majors Mackenzie Lorfano and Jade Rabah were drawn to the event since it featured a band that was a staple in their friendship, Lorfano said. The pair bonded over Big Time Rush when Lorfano shared her favorite show with Rabah that featured the band after they first moved in together. Later they attended one of the band's concerts together.
"I saw Big Time Rush on the poster and I sent her a picture of the poster and I said so we're going, of course," Lorfano said. 
Partygoers walked into a room lit by a variety of music disco lights and glittery photo booths across the wall. Tables were set up providing snacks, glow sticks and silly bands to those on their way to the dance floor. Many students were dressed up to fit the theme, with details like high ponytails and band tee shirts inspired by the bands featured at the event.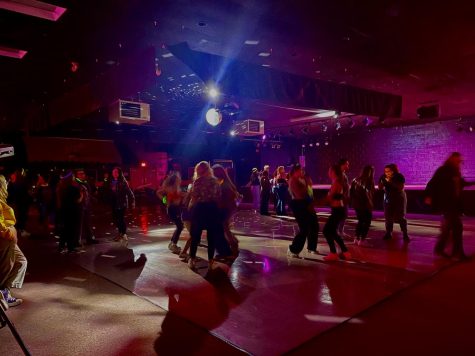 "We're going for '90s grunge. We're trying to go for like the boyband aesthetic," Rabah said, sporting glittery eyeshadow and a graphic T-shirt.
The event, which was two to three months in the making, was inspired after the success of Legend's Swiftie Night, said sophomore elementary education major and event organizer Abbie Wellborn. Contracts for the event space were booked as far ahead as the end of fall semester, which is when planning for the event first began.