Bryant using offseason to become better quarterback, leader
With spring practices completed, junior quarterback Kameron Bryant can reflect on the hard work he has put in to prepare for the team's season-opener at Michigan.
Although the rematch with the Wolverines is the first team on the Mountaineers' schedule, Bryant said he knows that the off-season can't be taken lightly.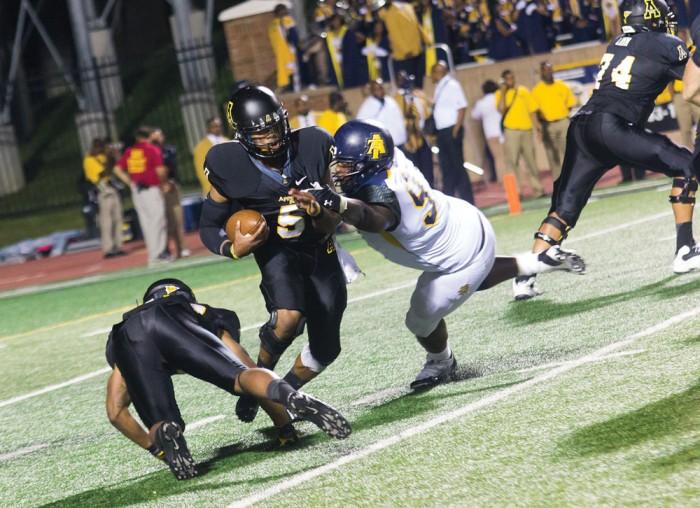 "We're trying to become the best Appalachian State we can be, every day," Bryant said. "Obviously, we are excited about the trip back to Michigan and being in a new conference, and when that time comes around, we'll be ready, but right now we have to prepare."
Bryant earned the backup role to Jamal Londry-Jackson in 2012 before a knee injury required surgery, ending Bryant's campaign after taking just 13 snaps.
Last season, most expected Bryant to back up the senior Londry-Jackson for another year. Instead, Bryant took over the starting position five games into the season and threw for 2,713 yards with a 71.2 completion percentage, making him the Southern Conference leader in passing efficiency.
Heading into the season, Bryant said his focus has been on improving his mechanics and staying healthy.
Mechanically, Bryant said he saw some things on film from last season that he feels he can improve upon.
"There was definitely a point in the season where I wasn't connecting the deep ball like I needed to," Bryant said. "This offseason, I just studied other quarterbacks and tried to switch up my mechanics a little bit."
As a junior, Bryant will be looked on next season to be a leader. Sophomore outside linebacker Kennan Gilchrist said Bryant's leadership role goes beyond simply calling plays on Saturday afternoons.
"[Bryant] is a great guy, off the field especially, and that's the main thing," Gilchrist said. "He gets his work done and he tells us what we need to do. With a lot of teenagers and half-grown men, we kind of get out of hand sometimes. That's the biggest thing [Bryant] can do. He just always keeps us in check."
Story: Nick Joyner, Senior Sports Reporter
Photo: Paul Heckert, Photo Editor