More than 2,000 fans came to the Holmes Convocation Center to show support for the men's basketball team on Senior Night as they took on rival Western Carolina.
But despite a lively opening ceremony honoring the seniors, fans ended up leaving disappointed after the game. The Mountaineers fell to the Catamounts 61-74 in the rivalry's last regular season Southern Conference matchup.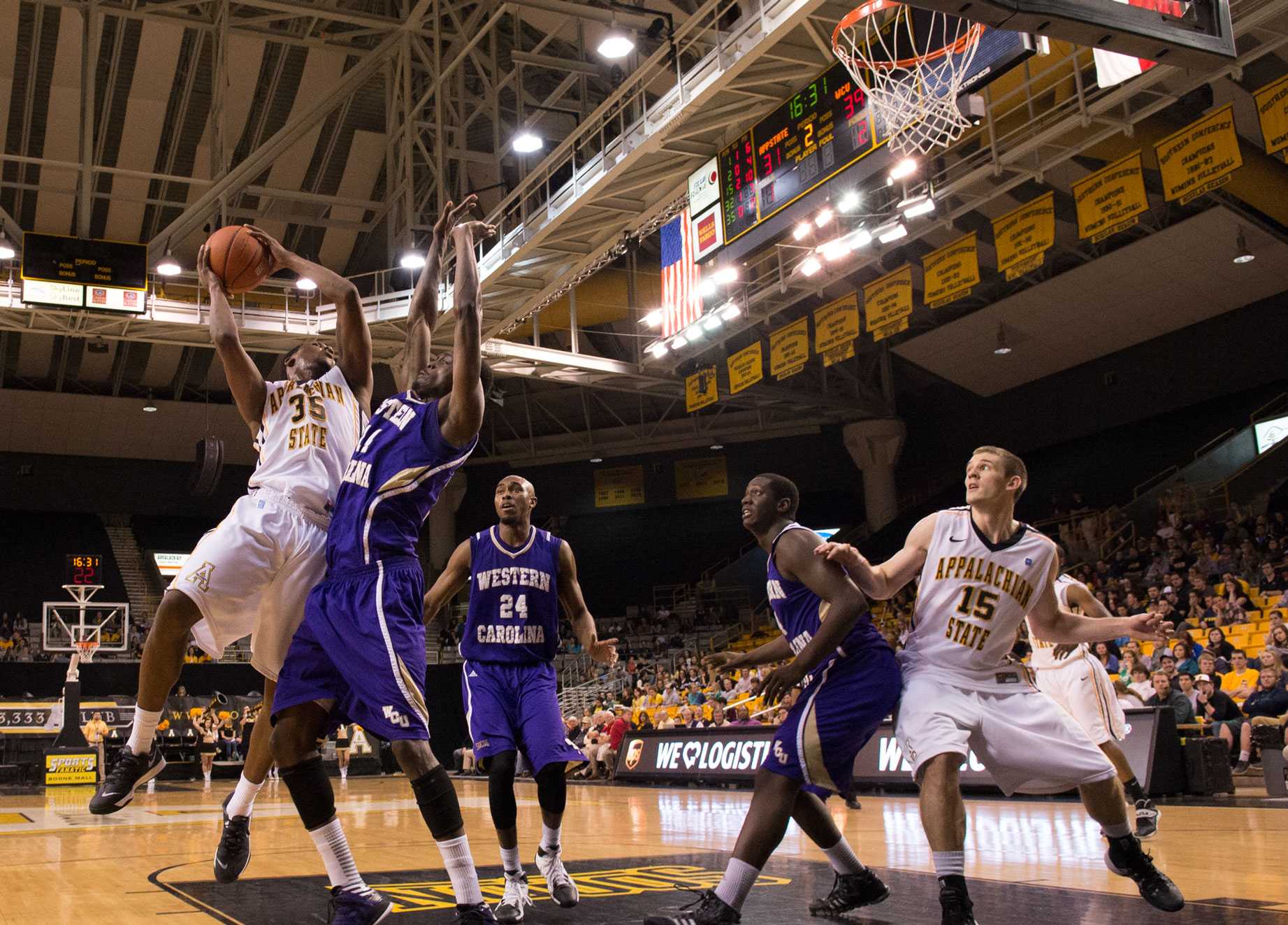 The Mountaineers (8-19, 4-10 SoCon) could not stand up to the Catamounts' fast-paced offense and intense pressure on defense as they were outscored 14-6 in points off turnovers and 10-0 in fast break points. For the first six minutes and four seconds of the game, App State didn't score.
Western (17-12, 10-4 SoCon) outscored the Mountaineers 14-6 in points off turnovers and 10-0 in fast break points.
App State finished the game shooting only 9.1 percent from 3-point range and 48.5 percent from the free-throw line compared to the Catamounts' 38.5 percent from 3-point range and 86.4 percent at the line.'
"[I have] to give Western Carolina credit, they made free throws," head coach Jason Capel said. "They made us pay. We left them open, especially [redshirt senior guard Tom] Tankelewicz. He's a 3-point shooter, and he did just that."
Tankelewicz went 6-8 from the field, including 4-5 from beyond the arc.
Junior Catamount guard James Sinclair, who finished with 17 points and seven rebounds, said the difference came when they focused on rebounding and getting the key players the ball.
"We got some key rebounds and we just got the ball in the hands of the scorers," Sinclair said.
At the start of the second half, the Mountaineers came out strong on both sides of the floor to close the deficit to only three points, but lost momentum as Western expanded the gap by hitting shots in the paint and at the free throw line.
Senior forward Tommy Spagnolo led the Mountaineers with 18 points and 11 total rebounds. Spagnolo earned his sixth double-double in the last eight games, making it seven total this season.
The Catamounts took notice of Spagnolo's performance and made a more concerted effort to keep him contained.
"We wanted to set on his left shoulder, and we really tried to double-team him," Western Carolina head coach Larry Hunter said. "He's got a really good touch with a hook shot, especially over his left shoulder."
Freshman guard Ty Toney and senior forward Tevin Baskin were the only other Mountaineers to score in the double-digits with 12 and 11 points, respectively.
Spagnolo was not pleased with the outcome of the team's last home game.
"More than anything, I think we beat ourselves," Spagnolo said.
Capel was also disappointed with the performance.
"That was as embarrassing of a showing as I may have seen in a really long time," Capel said. "We gambled when we shouldn't have gambled, we fouled when we shouldn't have fouled. We just didn't execute."
Story: Malik Rahili, Visual Managing Editor
Photo: Justin Perry, Web Manager