Nashville-based Cherub will return to Appalachian State University on Friday for a sold-out show as part of their "Champagne Showers" tour.
This will be Cherub's third performance at Legends and has been highly anticipated by students, with the concert selling out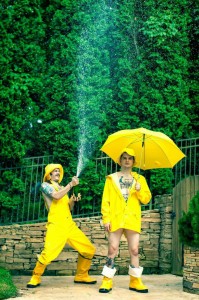 only 24 days after tickets became available to the public.
Cherub debuted at Appalachian as an opening act for Gramatik in April 2013, gaining such a positive reaction from the students that they were invited back to headline their own show.
Founding members Jordan Kelley and Jason Huber met while they were studying at Middle Tennessee State University. Huber was performing in a band and Kelley was making music on his own when they decided to combine their talents and form Cherub.
The group first reached success when their hit single, "Doses and Mimosas," went viral. The music video now has over 4 million views on YouTube and the duo has gone on to perform at widely recognized music festivals such as Bonnaroo and Lollapalooza.
"They've just gotten bigger and bigger every year," said Maggie Sherwood, a junior graphic design major and chairperson for Appalachian Popular Programming Society's Stage Shows. "They definitely have an incredible future ahead of them."
Cherub is considered to be electronic dance music, though they differentiate themselves from other artists with their upbeat pop influences and falsetto vocals.
"It's different, it's not your typical pop music," sophomore exercise science major Hannah Michels said. "They don't sound like any other band I've ever heard before."
APPS Program Coordinator Randy Kelly said Cherub is a great act for Legends.
"Cherub has become a favorite," Kelly said. "They have ascended to that top echelon of EDM acts and everyone just thinks they're great fun."
Cherub has been described as interactive on stage, doing whatever they can to make sure the audience is having a good time.
"They had a very good stage presence. They were engaging and got the crowd really excited," said undeclared sophomore Morgan Walliser. "I am mostly looking forward to the energy of the crowd at the show; everybody having a good time together and enjoying the music and dancing."
Doors open at 8 p.m. with opening acts Ghost Beach and Gibbz performing shortly after.
Story: Aleah Warner, Intern A&E Reporter