'Check your privilege' bulletin board sparks online, campus uproar
A crowd of residents gathered in the ground floor of East Residence Hall on Tuesday evening to discuss a bulletin board surrounding the idea of privilege, which has gained attention on-campus and in online publications.
Reggie Gravely, second-floor Resident Assistant and senior political science major put up the bulletin board, which lists definitions and memes on seven privileges, including able-bodied, heterosexual, Christian and white privilege. Gravely said he did not intend to offend anyone when creating the board.
"[The board] is picking at the fact that privilege is so silly," Gravely said.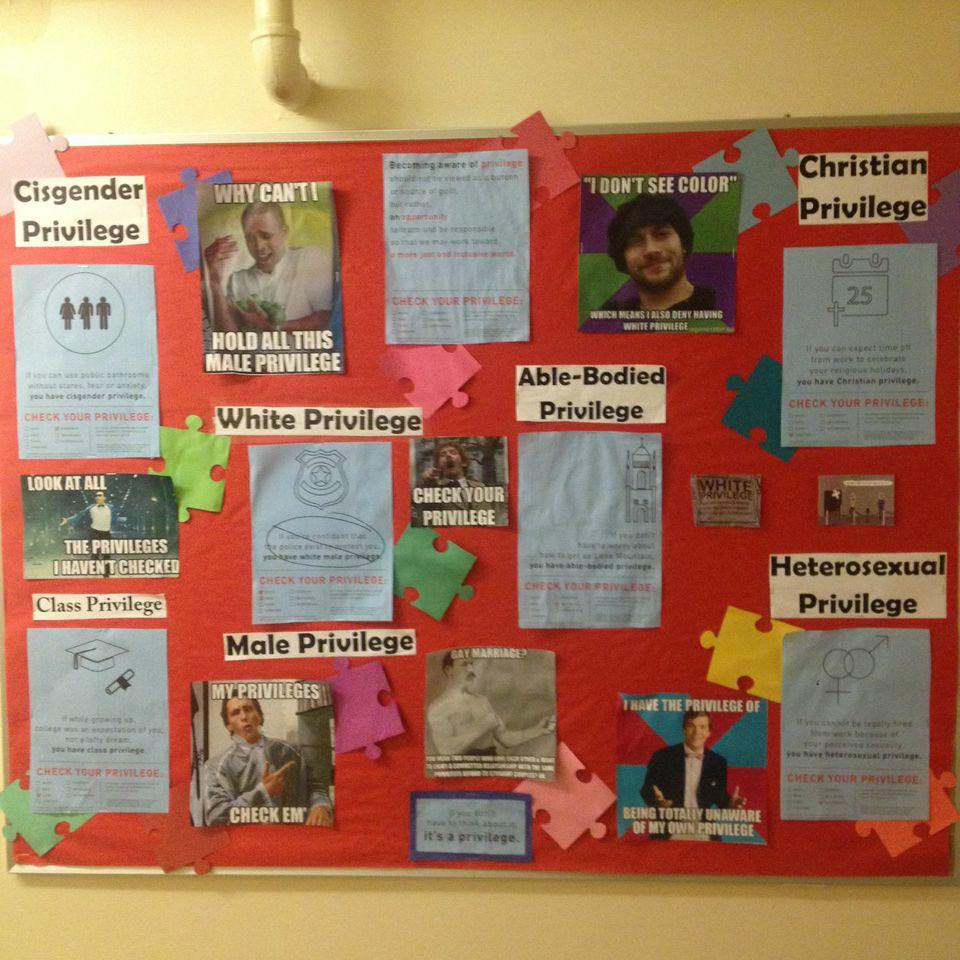 Soon after the board's creation, national websites Campus Reform and Young Conservatives wrote opinion articles about the board, encouraging it to be taken down. Combined, the articles garnered more than 8,000 shares and hundreds of comments on Facebook.
The discussion was mediated by Meghan Luzader, a coordinator at University Housing, and Brandy Wilson, an assistant professor at the College of Education.
Residents voiced concern that the board comes across as stand-offish and distasteful because of its use of memes and strong diction.
"Talking about a controversial topic [like privilege] should be voluntary, it shouldn't be brought to your front door," said Matthew Desantis, second floor resident and freshman accounting major. "Of course certain groups of people have privilege, but the presentation is what bothers me."
Another second floor resident, senior history major Michael Hebert, said he did not think the board achieved its goal of being educational.
"The content of the board is not inclusive, which is what an RA should be," he said. "I have a hard time believing that I should learn at [3 a.m.] on my way to the bathroom. I agree with what [Gravely] is getting across, but not how he's doing it."
Kaitlyn Puff, sophomore nursing major and fellow East Hall Resident Assistant said she also thought the board's tone – not content – was the problem.
"Reggie is kind of sassy – I think people took offense because of the board's sass," Puff said.
The discussion in East Hall went on for more than two hours, although attendance dwindled significantly by the one-hour mark.
"Not everybody gets to decide to think about their privilege," Wilson said. "This is a university, the content of that board is to expand your thinking."

Gravely said he does not plan to revise the bulletin board.
STORY: Luke Weir, Intern News Reporter