Common Reading Program brings Black in Appalachia to Parkway Ballroom
App State hosted William Isom II and Enkeshi El-Amin of Black in Appalachia Monday night in Plemmons Student Union to continue a series of events in connection with this year's Common Reading book, "Junaluska: Oral Histories of a Black Appalachian Community." 
To kick off the event, Don Presnell, director of the Common Reading program, addressed an audience that included a number of community members from Junaluska, a historically Black community in Boone. He began by introducing our speakers and the work they do with a quote by Alex Haley, author of "Roots: The Saga of an American Family." 
 "In all of us there is a hunger, marrow-deep, to know our heritage-to know who we are and where we have come from," Haley quoted.  
Isom and El-Amin started by explaining how they got into the work they do with Black in Appalachia today. 
Black in Appalachia is a non-profit organization that aims to document the history and oral traditions of Black communities across the Appalachian region.
"I cut my teeth on researching Black history by trying to trace my own family's narrative back into enslavement," Isom said. "And I got really good at it." 
El-Amin, who is originally from Guyana, South America, came into the field during her graduate studies at the University of Tennessee, Knoxville.
 "I started grappling with disparities that I was seeing in the Black community that I felt were glaring, but I wasn't hearing as part of the local discussion," El-Amin said. "It was driving me crazy that nobody was talking about it." 
Both Isom and El-Amin mentioned the influence of "Blacks in Appalachia" by William H. Turner who Isom refers to as "the godfather of Black Appalachian studies."
Isom compared the work that Black in Appalachia does to making a quilt. 
"A lot of times we just have scraps of our history spread out across geography. A lot of what we do is grab everything that we can to try to tell this narrative," Isom said.
Black in Appalachia constructs these narratives through the creation of documentary films, research projects, exhibitions, GIS mapping, community databases, census compilation and through the "Black in Appalachia" podcast. They used an analogy of two mountains to illustrate what they do. One mountain represents the official narrative including courthouse documents and census records, the other represents vernacular histories and oral traditions and in the middle where the two meet sits a holler where the closest thing to the truth lives. 
Isom and El-Amin discussed gathering these oral traditions by getting a group of community elders together and allowing them to bounce memories and stories off each other. Through these group discussions and gathering historical records, El-Amin talked about being able to reconstruct maps of a Black neighborhood in Knoxville that had been destroyed by urban renewal.
"Over many years of collecting these stories and oral histories that we've gotten from communities, we started thinking about how to get these stories out into the public more," El-Amin, host of the "Black in Appalachia" podcast said. "So we started working on the podcast in 2019 to capture younger audiences."
The podcast is preparing for its third season and has been recognized by The New York Times, Time Magazine and CNN's United Shades of America. Topics covered on the podcast range from historical to contemporary and have covered everything from migration stories to stories of drag shows to political candidates.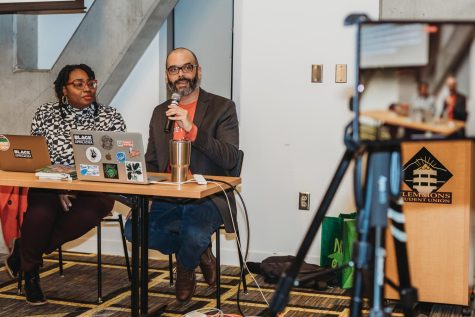 Isom went on to discuss a project that Black in Appalachia worked on in partnership with the Watauga High School History Club in 2020. Students in the History Club transcribed Watauga County census data from 1860 and 1870 to try to piece together the history of Black people in Watauga County. 
"Growing up in this region, I always perceived Appalachia as being white," said Alex Vasquez, a student who worked on the project. "Through this project I got to see that it really is not. There's a lot more diversity and it's rooted in our history. It's super important to acknowledge that." 
El-Amin wrapped up the discussion by talking about what her goal is in doing this work. She said that often when you look at certain Appalachian communities today, it's easy to think that there never were any Black people there, but this is not the case. In some places such as Erwin, Tennessee and Spruce Pine, NC there were expulsions of Black communities . 
"One of the things we wanted to highlight in telling you all about the work we do and how we do it is to encourage you to do similar work wherever you are," El-Amin said "Even when the story is bad, it's important to know it."
For more information on Black in Appalachia you can visit them at blackinappalachia.org or check out the "Black in Appalachia" podcast produced and co-hosted by El-Amin wherever you get your podcasts.