Faculty Senate discusses future plans
The Faculty Senate met Monday in I.G. Greer to discuss future faculty raises, the introduction of a Campus Sexual Violence Elimination Act and the possibility of UNC system-wide implementation of standardized testing.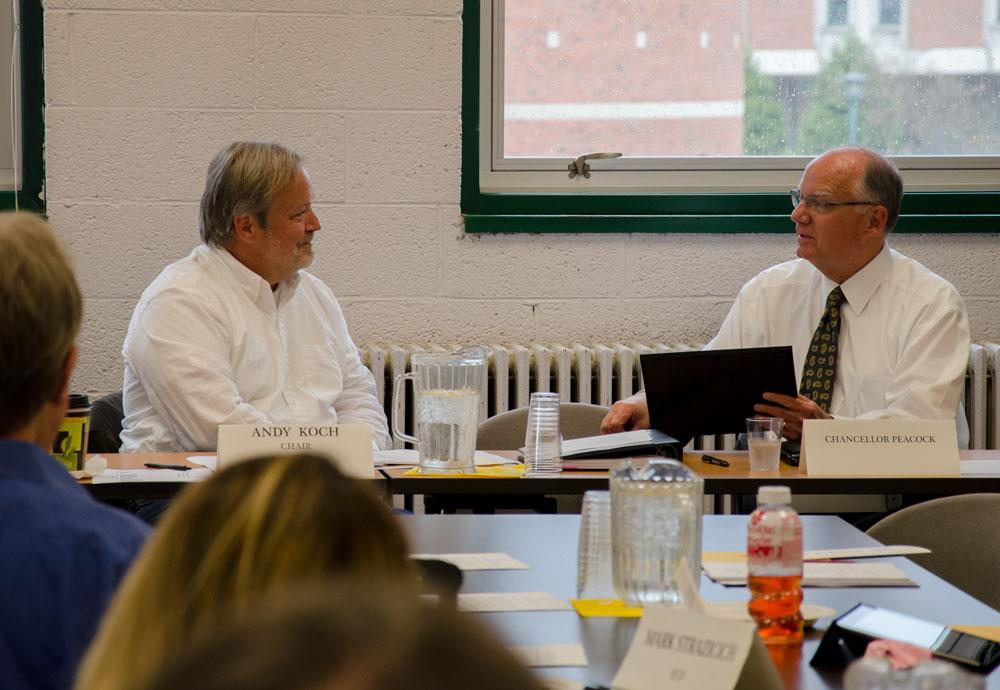 The Senate also heard a report from Chancellor Kenneth Peacock.
Faculty loss and possible future raise
Peacock started the meeting with his final end of the year report, addressing budgetary concerns due to continued cuts from the North Carolina General Assembly.
Appalachian State University's budget has been reduced by more than $34 million since the 2008-09 academic year.
Peacock said the effect of continued cuts on the UNC system has caused many universities to cut faculty salaries.
"Some campuses can't make payroll," Peacock said. "We're not one of them. What's being done is Appalachian and other schools will pay a little bit more than that 1 percent reduction, or an allotment, to help those campuses out."
Peacock also addressed the recent loss of faculty due to the failure of the UNC Board of Governors to raise faculty salaries across the board in the system.
"[Faculty who are leaving] are not going to another school in North Carolina," Peacock said. "I see that and I can understand why."
Faculty Senate Chair Andy Koch said the College of Arts and Sciences has lost 21 faculty members this school year alone, unrelated to retirement. This number is higher than the number of faculty losses in the department for the previous six years combined.
"We're not unique," Koch said. "This is happening throughout the entire system."
Koch said he is compiling data from each individual college to show faculty losses and plans to send it to UNC system President Tom Ross and the BOG in hopes that it will encourage a system-wide faculty raise.
Peacock estimated the proposed salary raise will be about 3 or 4 percent, although he said no one knows for sure yet.
Koch said he believes if the BOG approves salary increases, it could help decrease loss of faculty.
The UNC system budget will be finalized in May.
New sexual assault policy
University Police Chief Gunther Doerr was a guest speaker at the meeting to discuss the new Sexual Violence Elimination Act, which will take effect July 2015.
The Campus SaVE Act, mandated and funded by federal legislation, was introduced by U.S. Sen. Bob Casey of Pennsylvania and U.S. Rep Caroline Maloney of New York with help from the Clery Center for Security on Campus.
The process includes changes to policy addressing domestic violence, dating violence, stalking and sex offenses. These instances are now to be handled and identified by federal, not state, definitions of the aforementioned terms.
Doerr said one of the main changes is the removal of the word "force" from the definition of rape. The definition has been changed to identify sexual relations without consent as rape.
The policy also introduces primary prevention and awareness programs for incoming students and new employees, as well as ongoing education for students and faculty, Doerr said.
Doerr said he is not sure what form the training will take, since the legislation has not been finalized.
Possible standardized testing requirement
Director of General Education Paulette Marty addressed the possibility of the implementation of standardized testing in the general education program that would take effect for the entire UNC system.
Marty said the change is included as a part of the UNC strategic plan.
"The UNC strategic plan states that we need to create an instrument," Marty said. "An instrument, to the Board of Governors, means standardized test."
Marty said it is important that university faculty work in collaboration with the BOG in the formation of the test.
"If we do not work to help with the creation of this instrument, we will simply be sidelined and the instrument will be placed upon us," Marty said.
Marty said the Educational Testing Service is attempting to develop a contract in which they would work with faculty to write the test.
"ETS is incredibly eager to get this contract," Marty said. "What they see is that if it works in North Carolina, they're looking at a potential major market for these tests."
The test would be implemented as a part of the general education curriculum and used to measure critical thinking, taking the form of written questions rather than multiple choice.
"If we have to do this, we want to actually try to make the test as useful as we can," Marty said. "Maybe we will actually get some data about what our students know and don't know and what they're weak on so we can use it to improve our curriculum."
Faculty addressed concerns regarding possible use by the BOG to attempt to measure the academic performance of individual professors and institutions within the system.
"We can try to control the way the reporting happens, the way the scoring happens as much as possible so that it can be more of  a question of what our students know rather than just a raw score used to compare one institution to another," Marty said.
Koch said he fears standardized testing would increase workload for faculty and administration, as well as cause the possible problem of professors teaching to the test.
"I think it will cheapen a university education if we go to standardized testing," Koch said.
If approved, Koch said he estimates that the test will be implemented in 2015.
Story: Laney Ruckstuhl, Assistant News Editor
Photo: Paul Heckert, Photo Editor