Football ineligible for playoffs, will still 'play like champions'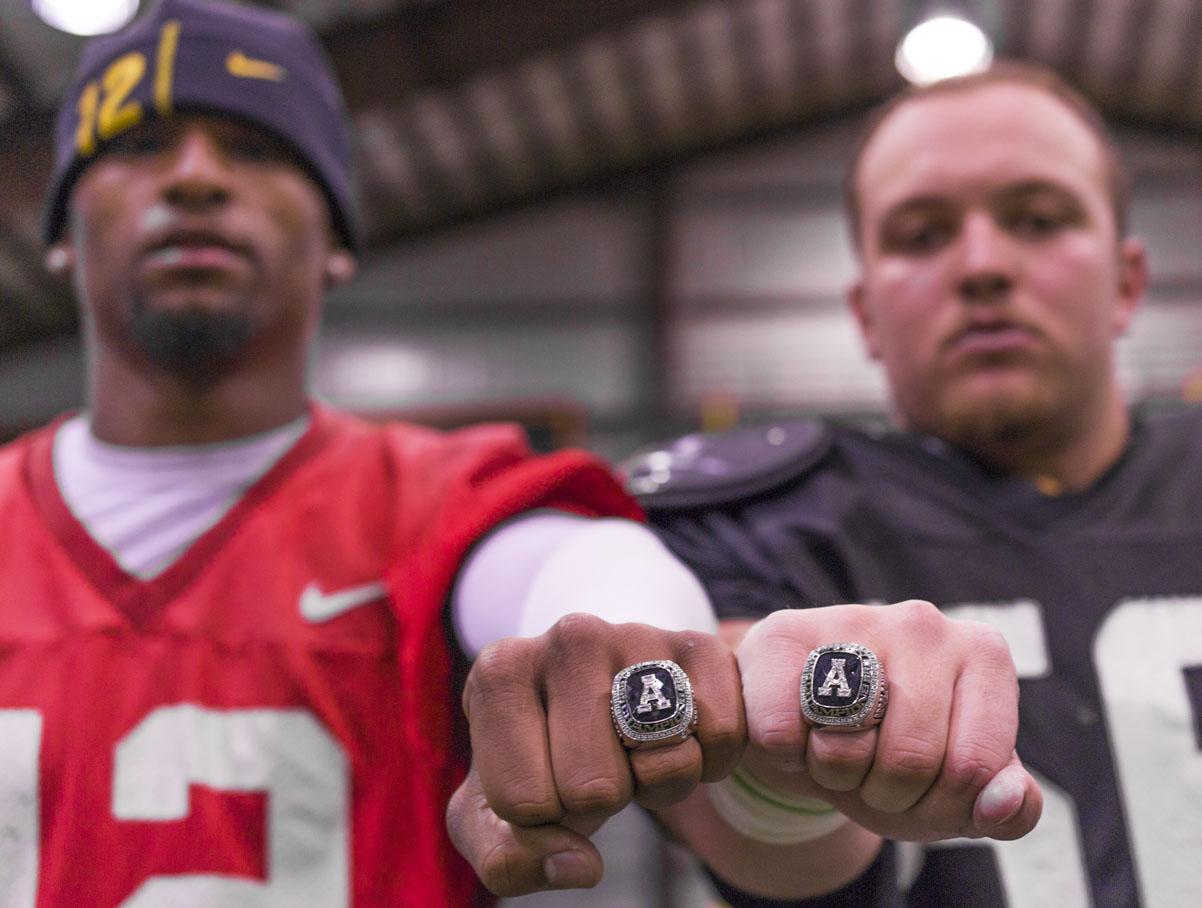 Appalachian State's announcement of moving to the Sun Belt Conference two weeks ago was a bittersweet one for the players and coaches on this year's football team.
The school is making the leap to the highest level of collegiate athletics, but will have limits to their postseason play in football until the 2015-16 school year.
Next year, football will be ineligible to win the SoCon and therefore are also ineligible to compete in the playoffs. Then, in 2014-15, football will be able to win the Sun Belt championship, but will be ineligible for bowl games.
"I feel for the seniors," head coach Scott Satterfield said. "Because those guys have already had it ingrained in them – it's the championships in the Southern Conference and national championships, that's what we're gunning for."
Satterfield said the team has to look at next season as the last group that will play in the SoCon.
"Their mindset right now, after we had a meeting, was to go out and go undefeated in the Southern Conference,"
Satterfield said.
With no championship to play for next year, the team's mindset could determine how the season goes.
For Jamal Londry-Jackson, this is the senior quarterback's last year on campus, but he is undeterred by having only a regular season to play for.
"I love it," Londry-Jackson said. "I support the university even though it's kind of tough not to be able to lead the team to the playoffs. But, I definitely support the direction the university is going. I wish I could play some of the Sun Belt teams, unfortunately it's my last year here, but the senior class is going to go out on a good note."
The underclassmen are the only players on the team who will truly reap the benefits of this move in two years. Freshman wide receiver Malachi Jones will be a member of the first senior class that is bowl-eligible in 2015, but understands what this season means for the seniors now.
"We have to just come out here and give it our all, because they did want to end the year with some gold on their finger," Jones said. "We're pretty much dedicating this season to them because it does hurt. It hurts us because we want them to go out the right way."
This has already been a season of change with Jerry Moore's retirement announcement in December and the recent changes around the new head coach. Now, Satterfield's first year at the helm will also be the team's last in the Southern Conference.
Even with the excitement over what the future holds, there are still 12 football games left for the Mountaineers as a member of the SoCon.
"We're playing just like it's a regular season, which it is," Londry-Jackson said. "I want to spread that message to App nation, our fans and our supporters, that we're going to play like champions."
Story: JORDAN DAVIS, Sports Reporter
Photo: ANSLEY COHEN, Intern Photographer