Football looks to fill big roles left open by seniors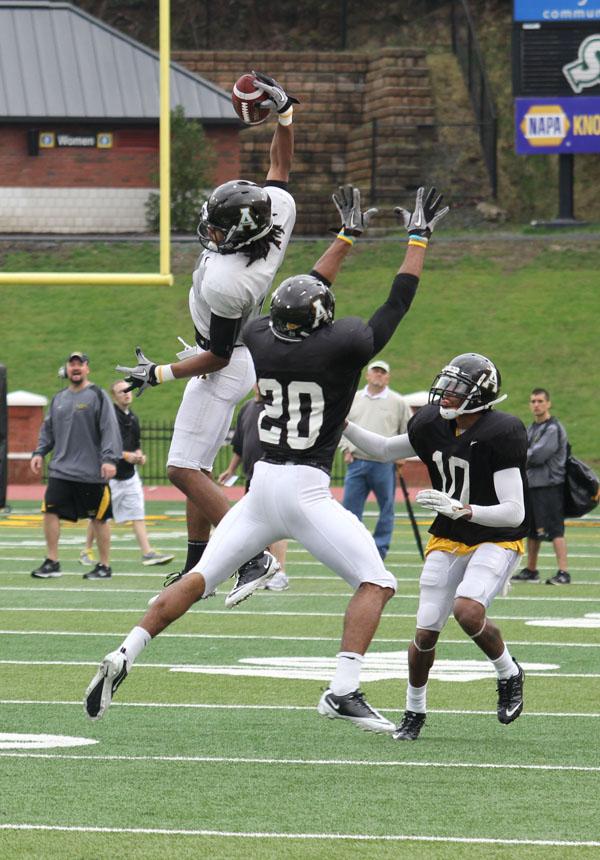 Replacing stars like Brian Quick, Matt Ruff and Orry Frye is never easy, but after the eleventh spring practice, Appalachian State is starting to get a feel for its new talent.
ASU held its first open practice of the season March 31. The team scrimmaged for 125 plays, as a solid-sized crowd of roughly 150 got a good look at several new Mountaineers.
The biggest shoes to be filled are those of former wide receiver Brian Quick, who left ASU the career leader in receptions, touchdowns and receiving yards.
Sophomore Sean Price, along with returning starters Andrew Peacock and Tony Washington, will serve as starting wide receiver. Although Washington and Peacock combined for 80 receptions last season, Price, who has a similar build to Quick, is expected to fill a lot of Quick's previous roles.
Price showed a flash of potential during Saturday's scrimmage, turning and soaring above defensive back Henry Barnes to grab a Jamal Jackson pass with one hand. Price stuck two feet inbounds before falling out of bounds.
"It just kind of happened," Price said. "I don't really know the extent of it. I just knew. I turned around on the corner route, just jumped and grabbed it."
Jackson said he and Price are starting to develop the chemistry needed to make their offense successful.
"I'm just trying to get more comfortable with him," Jackson said. "We're just trying to get on the same page, like when I scramble, just trying to find him and let him know where he needs to be."
The Mountaineers are also adjusting to the loss of the right side of their offensive line.
Seniors Ruff and Frye combined for over 60 starts over their career, but several freshmen have the potential to fill the position. Shaq Counts, a 275-pound freshman, saw several snaps with the first team offense, and returning starters Kendall Lamm and Alex Acie are expected to improve in their second season.
Freshman running back Tysean Holloway, who enrolled early at Appalachian State, was impressive as well, scoring two touchdowns. With the loss of senior Travaris Cadet to graduation, the freshman has potential to win the backup running back job. Senior Steven Miller, who is injured, is expected to become the starter.
"He should be sitting in an English class down in Asheville," head coach Jerry Moore said. "He's mature beyond his years and he was ready to play college football when he was a high school senior and that's why he's been so successful here."
The ASU defense, which will return its top five tacklers from 2011, has dominated the ASU offense prior to the open practice, according to coaches.
The Mountaineers will wrap up their spring practices Tuesday, and will not practice again until the summer.
Story: JAKE AMBERG, Sports Editor
Photo: PAUL HECKERT, Photographer