From Sept. 5-9, music once again filled the streets of Boone. Americana, country, folk and rock echoed through the mountains of the High Country.
People peeked into restaurants, curious and looking for just a taste of what all the buzz was about. Couples twirled to live music and fans hooted and hollered after each song among the drowning applause.
Antlers & Acorns: The Boone Songwriters Festival, held every September, returned for its third year. It concluded on Friday.
The organization that hosts Antlers & Acorns, Working Title Farm, organized a carefully-crafted selection of artists from all over the country to play their hand-written songs for listening ears in a variety of local restaurants and venues in downtown Boone.
The first three days of the event took place in the illustrious Appalachian Theatre of the High Country. Artists, like John Paul White, Mary Gaithier and Jaimee Harris jammed on stage all night. 
White, formerly a member of the Grammy-winning band The Civil Wars, performed on Sept. 5 at the Appalachian Theatre.
White said he did not have anything planned for the evening, only what he felt like playing in the moment. 
"I change the set list all the time," he said. "I change it on stage while we're playing just because something feels right or because something doesn't feel right. I try not to be too rigid."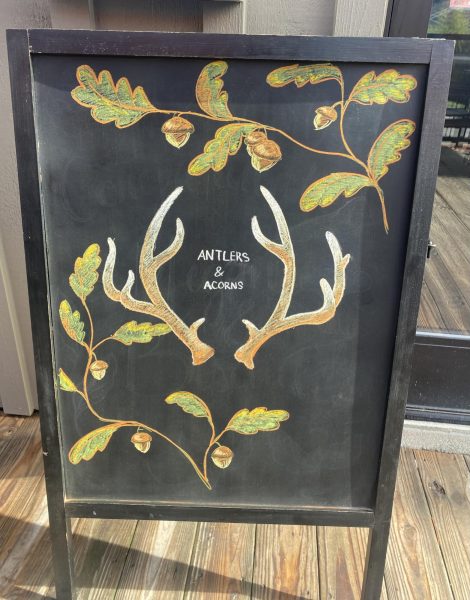 Community is what makes everything worth it, White said. 
"I realized, 'That's why I tour,'" he said. "It's that connection."
White said that at any show, no matter the size, there is a shared kinship between the audience and knowing that others have the same interests in music. "And that's powerful– to know you're not alone," he said.  
White recorded a song with pop singer Taylor Swift titled "Safe & Sound," which appeared in "The Hunger Games" movie soundtrack in 2012. The song was re-recorded earlier this year as part of Swift's "Taylor's Version" rebranding of albums. 
White said he wanted lots of tears at his show on Tuesday. 
"Hopefully, at the end of the night, everybody feels something," he said. "They want to feel things. And so you pick those songs. You see the look in their eyes that that song mattered to them. The next thing you want to do is play them another song that pushes those same buttons."
White said that music's prominence is significant: to bring humanity together. 
"There's a reason that music is in every restaurant, every department store, everywhere," White said. "It just ties us all together. "It shows that we have a common denominator."
On Friday and Saturday, the "In the Wild" portion of Antlers & Acorns began – artists gathered in small crowds at several venues such as Venture Chocolate and Wine Bar, The Local and Boone's newest pub, South End Brewery and played live renditions of their songs.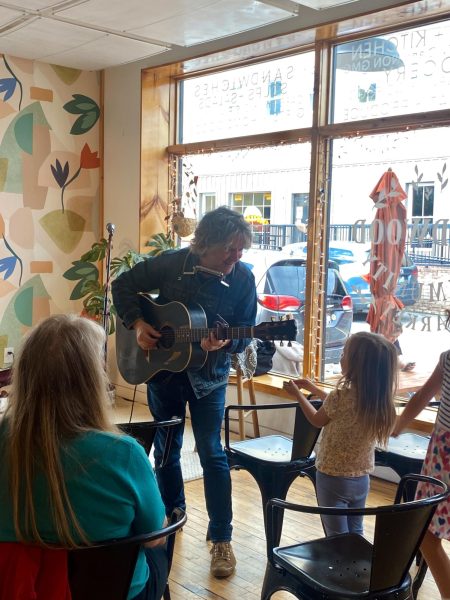 One of the artists, Mark Bumgarner, performed at Lost Province on Friday and Hole Lotta Doughnuts on Saturday.
"This festival seems to be a bit more personable, especially when it's just someone with a guitar versus a big old band," Bumgarner said. 
He played some of his made-from-scratch songs, like "My Cross to Bear," "Just above the Waterline," and "Ragin' River."
Bumgarner said he felt a connection not only with the crowd, but also with his fellow performing artists. 
"That's one of the things that is wonderful about the songwriting community: There is not a competitive element," Bumgarner said. "It's very inspiring for each other. There is certainly more camaraderie."
Christina Dorman, the public relations intern for Working Title Farm, said Antlers & Acorns went beyond just singing and songwriting. 
"The biggest thing is that it's personable, it's educational; but you get to have a really good time at the same time," she said. "At big festivals, you are kind of at a distance, you're not at a connect with everything that's going on."
Antlers & Acorns is just the opposite, she said.
"We really believe in the community and music," Dorman said. "Our biggest goal is to integrate Boone and the local store owners, the local restaurants, all of the people, and mesh it with amazing, live, original music."
Dorman said the event brings in people from all over the state who can participate in the local Boone economy and benefit the town as a whole.
"I think this is a great way for the community and natives to build revenue, build connections with the tourists," she said. "I think this is a great way to also bridge the disconnect that we have with tourists and the younger population that we have here to native Boone people."
Even as storms rolled in Saturday evening, the festival continued in crowded rooms with energetic fans. What were once quiet spaces became mock-stages and theaters bursting with friendly faces and good times. 
Songwriters joked with the crowd, chatted and even got them to sing along. Festival-goers Lila Forro and Dave Russo traveled from Sparta to return for their second year visiting Antlers & Acorns.
"Because singer-songwriters are very one-on-one artists, they welcome community with us as listeners," Forro said. "There's no distance between us and them." 
Forro and Russo said they've known some of the artists attending the festival for more than 20 years. Others were not as familiar.
"You look at the show schedule and think, 'Well, I don't know who that is, but I'm just going to go and show up," Russo said. "And it's great."
On top of being musicians, the artists attending the festival were also painters, poets and writers. "It's just so great to encounter these musicians that are making a creative life," Russo said. "It's just very interesting to see someone who's been given free range and creativity that a lot of us would like to see more of."
Forro said that despite living in a society that does not value art the way it should, it is remarkable that artists continue on such a rocky path. "But they persist," Forro said. "And that's really heartening."