Tyler Zupcic hadn't played baseball in 21 months prior to the beginning of this season.
The fifth-year senior Mountaineer returned this season from an injury suffered against Oklahoma in the 2012 NCAA Baseball Regional. Zupic collided with Sooners catcher Tanner Toal at the plate, tearing his PCL, ACL and fracturing his fibula.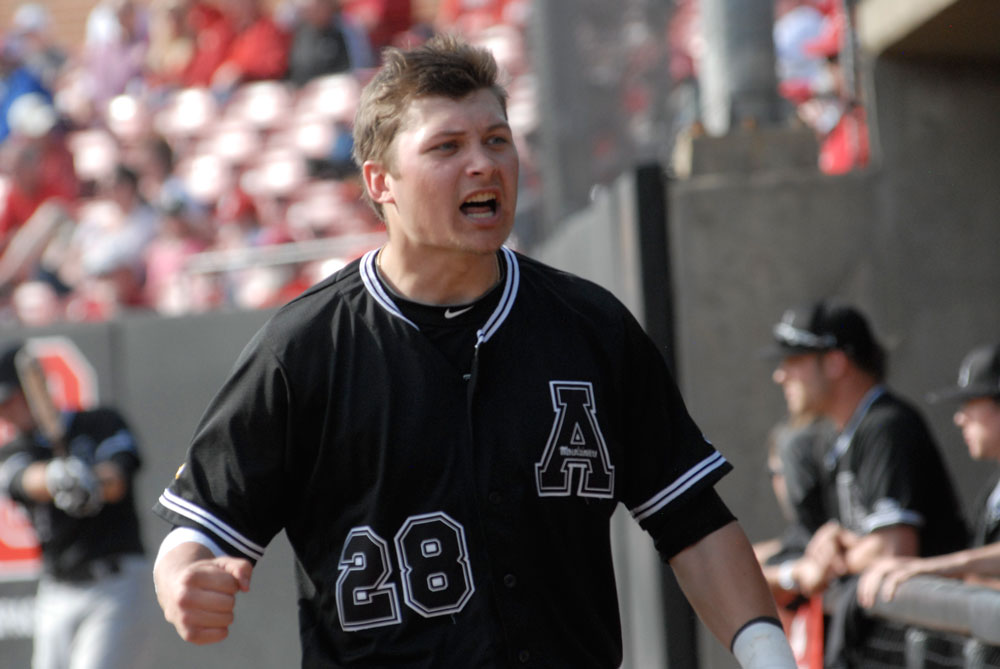 The Mountaineers lost a consistent, versatile player in Zupcic who led the team with a  .350 batting average in 2011 while playing several positions. Zupcic was named all-Southern Conference by coaches and media during the 2012 regular season.
Since his injury, Zupcic has worked to get back on the field and contribute for the Mountaineers.
Zupcic said he consistently attended morning workouts, which included pool workouts and underwater treadmill workouts to strengthen his hamstring and quadricep.
Zupcic said the new goal this season has been maintaining the strength in his leg.
As Zupcic has worked to return from the injury, the team has found his hard work inspiring.
"It's been incredible," junior pitcher Jamie Nunn said. "It's been a pretty big inspiration because it puts it into perspective to see what he has done to be back this year and playing."
But after rehab work, Zupcic is back and gives head coach Billy Jones' team an extra skilled player who can play infield and outfield positions. Jones said.
"He can play," Jones said. "The thing that is going to be tough for him is that I am asking him to do a lot of different things."
This season, Zupcic is one of three players to start all 19 of App State's games, notching 6 RBI and batting .254.
Jones believes that Zupcic will improve his average as he gets more comfortable.
"I told him I was going to hit him down in the [batting] order to take the pressure off him," Jones said. "He's been through it and he knows what it takes. We've moved him up now and we love hitting him in that spot."
Zupcic has 162 career runs, which ranks him seventh in App State history and is ninth in school history with 229 career hits. But beyond accolades, Zupcic said he is pleased to just be able to play the game.
"I am really excited to be back out there," Zupcic said. "It has been a long time since I have been able to play."
Jones said the message to Zupcic is to enjoy his time on the field, without worrying about any expectations that are placed upon him this season.
"When I first got here [in 2013] and I heard of [Zupcic's] injury, I thought 'Well, how's he going to play ever?'" Jones said. "My hat's off to him for what he's had to do."
The Mountaineers take to the field again Friday as they travel to face off against Georgia Southern. The game will begin at 6 p.m.
Story: Katherine Glassman, Intern Sports Reporter 
Photo: Cory Spiers, Sports Editor