LGBT couples more comfortable showing love on campus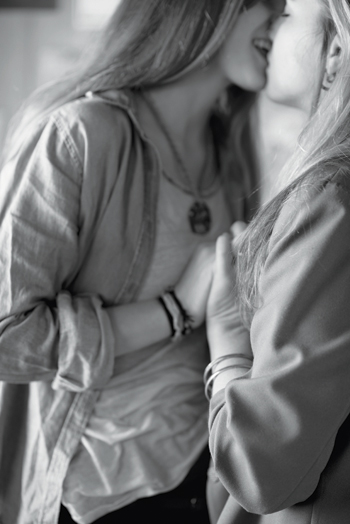 There is a drastic difference for some LGBT couples between celebrating Valentine's Day on and off campus, sophomore undecided major Leah Matthews said.
"Valentines Day is meant for all kinds of love," senior exercise science major Erin Johnston said. "It's not just meant for heterosexual love."
Johnston and her girlfriend, senior recreation management major Mollie Strawn, said they feel comfortable as a couple on campus.
Johnston said the couple holds hands on campus, but off campus it becomes questionable.

"Sometimes we will get looked at or stared at, but I don't think it really limits us," Johnston said. "There are definitely some times we will be holding hands and then some times we will have to stop."
On campus, Johnston knows people aren't judging her for her sexual orientation, but off campus she faces a different environment, she said.
Johnston survived a physical assault off campus last year after being verbally assaulted for her sexual orientation, according to an article published by The Appalachian Feb. 13, 2012.
"The assault hasn't affected what I'm going to do for Valentine's Day," Johnston said. "The assault hasn't affected that kind of stuff, it hasn't made me love her any less. If anything it has made me love her more because she hasn't left my side."
"I think that the people here do a pretty good job of recognizing that we are an open community," Strawn said. "Maybe there are people who don't agree with it but no one is going to glare at us."
Senior art education major Emily Beerbower said there are moments when her and her girlfriend, Matthews, have been out to dinner where holding hands has attracted attention.
"Our love isn't any different at all," Beerbower said. "You love a person for the person. I would just want people to respect that and consider it equal."
Beerbower said she thinks it catches people off guard.
"We were in a really nice restaurant in Blowing Rock and it was us and one other table in the section and we were holding hands on the table and I could tell this woman just kept looking at us," she said.
Beerbower said she doesn't feel uncomfortable, but that she does not want to make other people feel uncomfortable either.
Beerbower said she is sometimes more aware of how she shows affection "just for safety reasons more than anything."
Matthews said the difference between on campus and off is drastic.
"Campus is so liberal," Matthews said. "Students are for it and then you get five miles out of town and its like you shouldn't tell anyone."
On campus is a safe place to begin exposing a relationship because of the accepting group of people, Matthews said.
Junior political science major Tommy Wrenn said he feels comfortable celebrating Valentines Day around campus.
Wrenn said he personally is not one for personal displays of affection. Therefore, he could not see himself holding his boyfriend's hand because he personally would not feel comfortable doing so.
Wrenn said he believes gay people are less likely to act on public displays of affection because it can attract unwanted attention.
"You don't want to bring extra attention to yourself, or at least I don't want to bring extra attention to myself," Wrenn said. "You don't really want to open up the doors for someone to have some snide comment."
Story: STEPHANIE SANSOUCY, Senior News Reporter
Photo Courtesy: COURTNEY TESS PHOTOGRAPHY